Publié le par Bernard Duyck
The explosive activity of Stromboli has increased since the beginning of August at the level of the central craters / south-west and the cones of the NE sector, with explosions rich in ash and scoria at 200 meters height above the terrace; these materials accumulate in the crater zone and on the Sciara del Fuoco, where they produce frequent rolling events.
The effusive activity in the SW sector shows an increase in the feed rate which has now reached values ​​of about 1.2 m³ / s, and corresponds to an increase in SO2 levels.
All measured parameters suggest a new phase of feed rate increase and the arrival at the surface of a gas-rich magma coinciding with phases of sharp increases in both peak explosive activity and ratios. effusion.
Sources:
- Laboratorio Geofiasica Sperimentale (http://lgs.geo.unifi.it/index.php/blog/comunicato-stromboli-4-agosto-h1930)
- & Mirova.
Steam comes out of the main pond at the bottom of Haluma 'uma' u / Kilauea, observable in this photo of Sunday, August 4. Two smaller areas of accumulated water are present a short distance east of this location.
These images compare a normal photo (left) with a thermal image (right) collected on Sunday, August 4th. The white lines of the normal photo delimit the area shown on the thermal image. Several hot fumaroles are present on the slopes of Halema'uma 'uu, the warmest being about 200 degrees Celsius (392 degrees Fahrenheit). The water basin at the bottom of the crater was about 70 degrees Celsius (158 degrees Fahrenheit).
However, no change in volcanic status of Kilauea, always Normal / green aviation code
Source: USGS - HVO & Hawaii NPS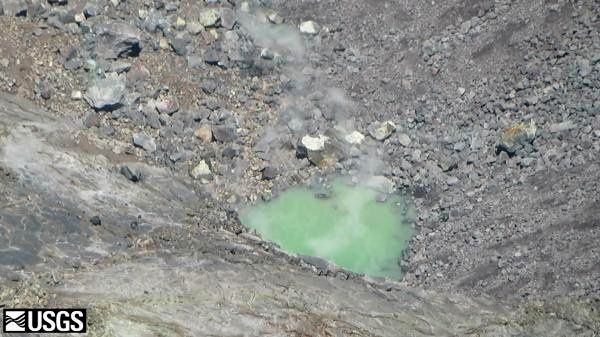 Kilauea - steam is emitted from the pond at the bottom of the crater Halema'uma'u - photo M.Patrick USGS 04.08.2019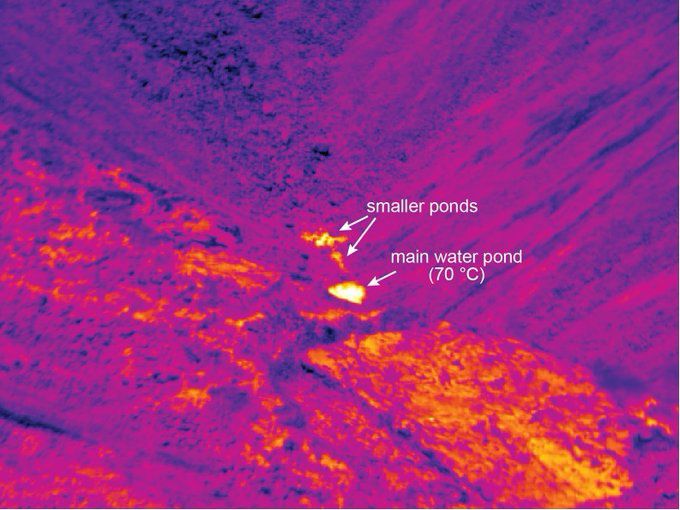 Kilauea - crater of the Halema'uma'u - location of the thermal photo in the white frame - temperatures read at the thermal camera at the level of the fumaroles and the pond - photo 06.08.2019 Hawai'i Volcanoes National Park && USGS

Kilauea - crater of Halema'uma'u- the growth of the pond between August 4 and 6, 2019 suggests a future crater lake formation - doc. Hawaii NPS
In Chile, activity of Villarica in recent weeks is related to a partial obstruction of the upper volcanic conduct, involving minor but almost permanent explosions, generated by the dynamics of the lava lake.
This Strombolian activity causes ballistic ejections of spatters and bombs.
As a result, the Sernageomin has raised the level of technical alert at Amarilla / behavioral change of volcanic activity, and to adapt the area of ​​assignment to a radius of 500 meters around the crater.
Source: Sernageomin
As a bonus, some clear photos
- taken by Sentinel 2 of the Bromo / Tengger caldera on Java,
- the cleaning of the panels at Gunungapi Tangkuban Parahu, under a large amount of water vapor degassing, and
- Piton de La Fournaise on the island of Reunion, in vigilance state, but showing inflation.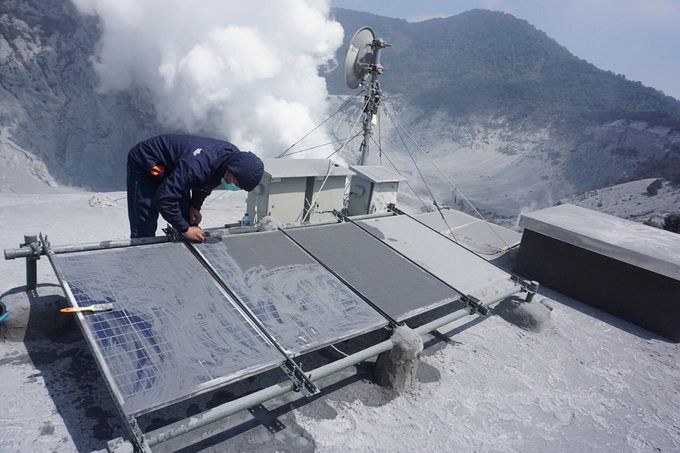 Tangkuban Parahu - cleaning of the panels of power and important degassing of water vapor - photo Badan Geologi