Publié le par Bernard Duyck
Completely disconnected from the global volcanic activity, timid recovery of the blog after eight days on Santorini ...
The volcanism of this island-volcano will be developed in the coming days.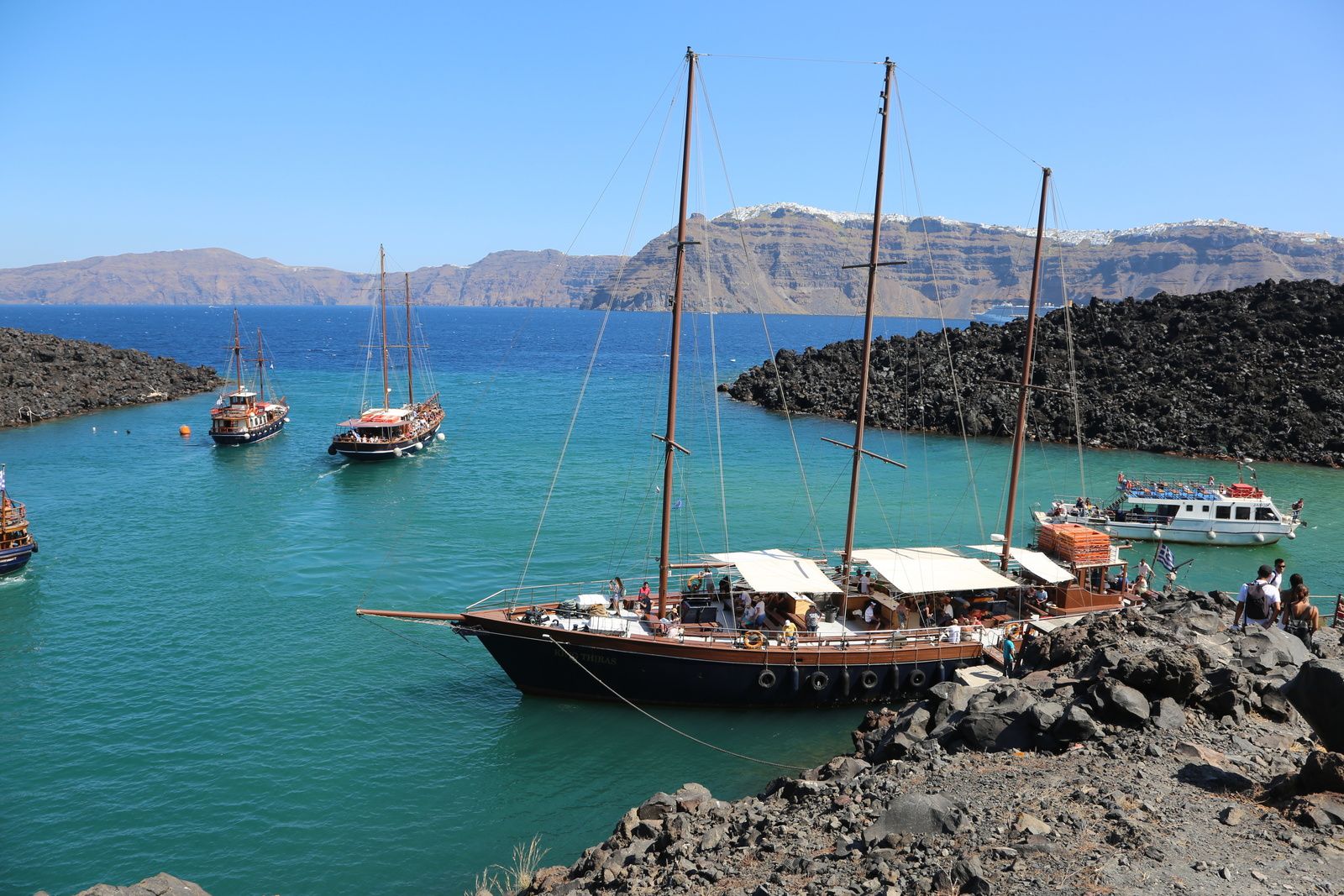 Santorini - docking on Néa Kameni between the lava flows ; in the background, the edge of the caldera, and the city of Fira - photo © Bernard Duyck 2019
At Etna, the activity marks the Northeast and Voragine craters.
Since the morning of September 11th, explosive activity has resumed in Voragine, calm since May 25, 2016.
On September 13, ash emissions are observed at the NEC, scattered in the summit area.
Strombolian activity, with emission of coarse materials, animates the Voragine; it continued in the evening of 14 September, with some explosions, visible from Tremestieri Etneo.
The flux of SO2 measured by the FLAME network of Etna on the 13th at 15:30 UTC showed a daily average value of about 2000 t / day, which is below the attention threshold of 5000 t / day. .
Source: INGVvulcani, Butterfly helicopters / J.Nasi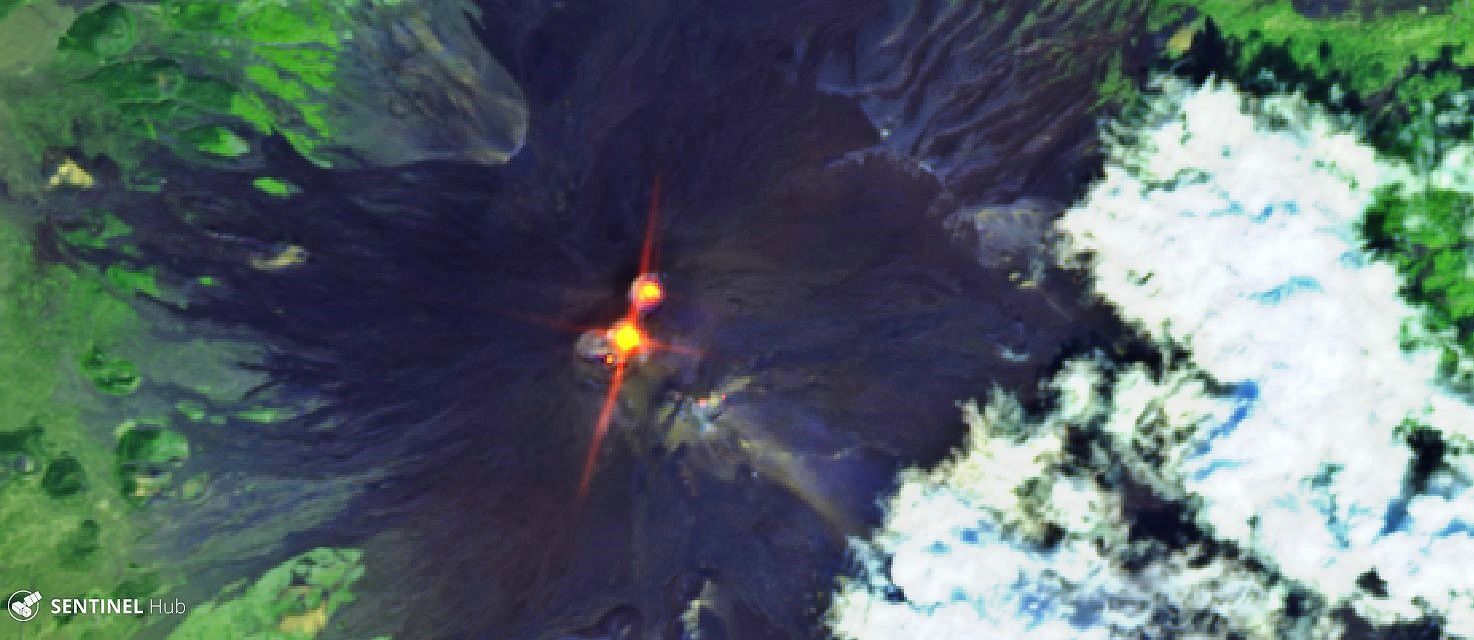 Etna - hot spots on 12.09.2019 at NEC and Voragine - Sentinel-2 L1C image bands 12,11,4 - one click to enlarge
At Stromboli, the typical strombolian activity is maintained and affects the north and south-central of the crater terrace.
Drone surveys, conducted from 11 to 13 September, identify at least seven active mouths in the northern zone and eight in the central-south zone.
The number of VLP earthquakes is 31 episodes / hour on average. There is no significant variation in soil deformation. Degassing is characterized by a characteristic low-average level.
Source: INGVvulcani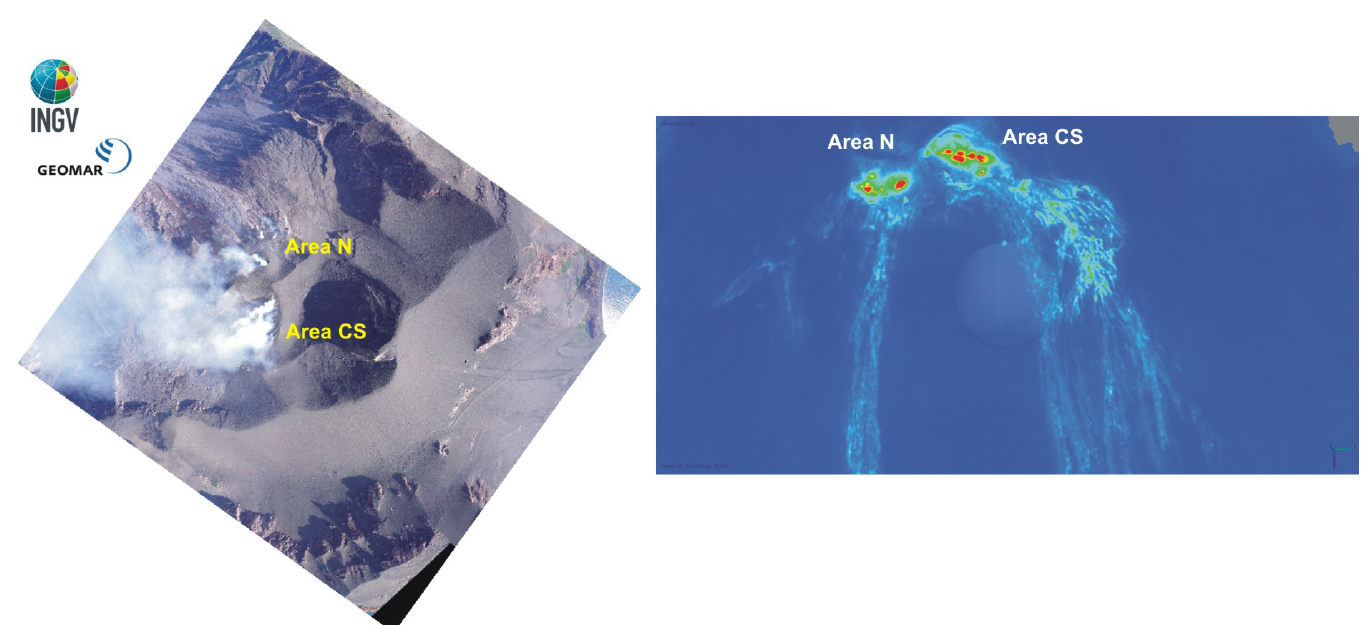 Stromboli - Left image obtained from the mosaic of four photos taken from drone made on September 11, 2019; thermal images on the right, obtained with drone at dawn on September 13, 2 - Doc. INGVvulcani - one click to enlarge
The minor eruption continues in Nevados de Chillan, still on orange alert.
Since Thursday, September 12, we observe the extrusion of a block lava flow from the crater Nicanor on the NNE side of the Nuevo volcano; it extends over 600 meters, and 100 meters wide, for an average thickness of 5 meters. The surface temperature of the lava, measured by the thermal camera is around 800 ° C in the active crater, and is greater than 100 ° C in the casting. - video: https://twitter.com/Sernageomin
This new dynamic is accompanied by ballistic emissions and projections, in some cases visible from the valley to Trancas and Shangri-lá; ash causes deposits 0.5 cm thick 2 km southwest of the active crater.
Source: Sernageomin