Publié le par Bernard Duyck
An eruption occurred in Krakatau on 29 September at 11:42 WIB, without observing the height of the ash plume.
This eruption was recorded on a seismogram, with a maximum amplitude of 4 mm and a duration of ± 5 seconds.
The CCTV of Gunung Anak Krakatau crater is clear, on 29 September 2019 at 11:42 WIB; the eruption was observed with a thin column of white-gray ash and a column of ash thickness about 100 meters from the bottom of the crater.
Currently, G. Anak Krakatau is at Level II Status (Waspada) with recommendations: people / tourists are not allowed to approach the crater within 2 km of the crater.
The summary of the eruptive episodes (in red on the graph of the PVMBG) shows an almost daily activity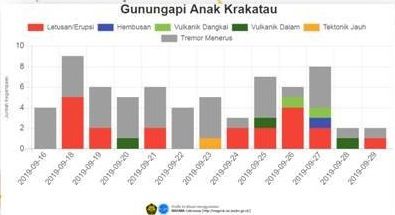 Source: PVMBG - Magma Indonesia
The Rabaul volcano Observatory reports extremely high RSAM / Real time Seismic Amplitude Measurement values ​​for Ulawun.
VAAC Darwin does not report detection of an eruption on satellite images yet. The aviation code is orange.
The most recent activity report published by the Global Volcanism Program mentions minor steam emissions at the Ulawun summit crater on August 7 and 8, 2019, with seismicity dominated by low-level volcanic tremor.
The stratovolcano Ulawun, symmetrical, basaltic to andesitic, is the highest volcano in the Bismarck arc and one of the most active in Papua New Guinea. The volcano, also known as the Father, rises above the north coast of the island of New Britain by a low saddle located northeast of the Bamus volcano, the Son of the South. The upper 1,000 m are unvegetated. An important E-W escarpment to the south may be the result of a large-scale collapse. The satellite cones occupy the NW and E flanks. A steep-walled valley intersects the north-west side, and a flank lava flow complex is located south of this valley. Historical eruptions date back to the beginning of the 18th century. The eruptions of the twentieth century were slightly explosive until 1967, but after 1970, several larger eruptions produced lava flows and basaltic pyroclastic flows, drastically altering the summit crater.
Source: VAAC Darwin & Global Volcanism Program
A loud explosion took place at the end of the night at Popocatépetl.
No pictures could be taken of this episode, again as part of the Amarillo Fase 2 alert, due to poor weather conditions caused by the tropical depression Narda.
Over the past 24 hours, Cenapred has identified 181 exhalations, accompanied by gas and light amounts of ash, as well as 11 minor explosions. At the seismicity level, 565 minutes of low to medium amplitude tremor were recorded.
The Edomex reminds on this occasion not to climb on the volcano, and to respect the radius of security of 12 km, not to laugh his life, or that of the rescuers.
Sources: Cenapred and Edomex