Publié le par Bernard Duyck
Some details on the activity of Poas these last days:
the eruptive activity of the hydrothermal type on September 22 was accompanied by projections of sediments and brine in the crater; blocks of pre-existing lithic material were expelled around mouth A.
Activity continued until 4 pm on September 23, and a collapse was generated on the southern edge of mouth A with a widening of the fumarole field.
Following the drying up of the lake on September 18-19, a vigorous plume of gas and water vapor is observed; As every time the lake is dry and no longer plays its role of buffer, acid rain is increasing. The gases mingle with the rain, and hydrochloric and sulfuric acid are formed ... the Gunnera insignis, also called "umbrellas of the poor", were burned and paint, railings and concrete from the point of view damaged . This chemical attack is accompanied by the formation of a "volcanic foam" which is formed as a result of the acid-base chemical reaction.
Sources:
- Ovsicori & RSN
- Volcanoes Sin Fronteras / Carolina Salas and Gino González, with the pictures of the ranger of the park Carlos Cordero.
Poas - burns on the Gunnera and damage to the guardrail of the terrace following acid rain - photos of Carlos Cordero via VSF - a click to enlarge
At Popocatépetl, 95 exhalations were identified by Cenapred, accompanied by gas and light amounts of ash.
In addition, 16 explosions were recorded this September 24, respectively at 01:31, 02:28, 03:06, 03:20, 03:28, 03:58, 04:13, 04:21, 04:28, 04:59, 05:15, 05:42, 05:46, 07:24, 07:35 and 08:26 h.
In addition, 846 minutes of low and medium amplitude tremor were recorded.
An absence of visibility on the volcano was followed during the day, but emissions of gas and ash were observed dispersing towards the north.
Sources: Cenapred and WebcamsdeMexico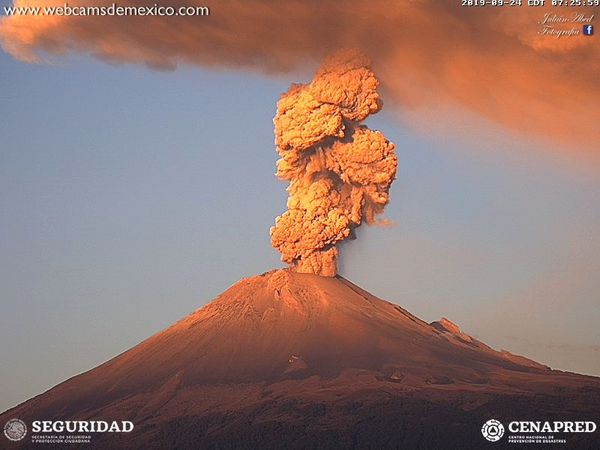 Popocatépetl - explosions of 24.09.2019, at 7:25, 7:07 and 8:28 - webcamsdeMexico / Cenapred - one click to enlarge
In Stromboli, normal Strombolian explosive activity and degassing are reported by INGV.
In the northern crater zone, 5-6 explosions per hour, with a peak at 9 episodes, between 80 and 150 meters high, produced coarse materials, lapilli and bombs, which rolled into the Sciara del Fuoco.
Activity in the south-central zone was characterized by an average explosive of 11 episodes per hour, with peaks at 15 episodes, and an expulsion at heights of up to 200 meters of fine to coarse material.
Seismology and deformation do not show significant changes and the sulfur dioxide flux remains at an average level.
Source: INGV daily bulletin 24,09,2019
The I.G.Peru issued on 24 September at 12:18 local a notice of ash dispersion following the explosions at Sabancaya. The recommendations for ash fall concern the districts of Huambo and Lluta, west-southwest direction.
Source: IGP
An eruption is reported on September 25 at 8:13 WIB at Anak Krakatau, without observation of the height of the plume. The trace on the seismogram is of maximum amplitude of 7 mm and a duration of 13 seconds.
A thick white plume is visible on the webcam, 200 meters above the crater.
The alert level remains at 2 / waspada, with a no-go zone of 2 km radius.
Source: PVMBG