Publié le par Bernard Duyck
In the past 24 hours, Cenapred reports 183 gas exhalations and light amounts of ash to Popocatépetl and 16 explosions. The fumes disperse to the northwest.
Nighttime glow is obseerved.
At the seismicity level, there is a volcano-tectonic earthquake of M 2.6 and 690 minutes of tremor.
The volcanic alert remains at Amarillo fase 2.
Sources: Cenapred & WebcamsdeMexico
On September 20, Poas maintained a vigorous degassing, characterized by a plume of gas and white vapor rising more than 1,000 meters above the crater. The decrease of the wind and the atmospheric conditions made it possible to see this plume of the Central Valley.
At times the column of gas was double, the principal coming out of the mouth A, the second of the fumaroles field.
Source: Dr. Paulo Ruiz
On September 20, the Sabancaya continuously emitted ash; they dispersed in a radius of 10 km towards Huanca y Lluta and its surroundings.
The VAAC Buenos Aires mentions ashes at the altitude of flight 240, ie 7,300 meters.
These broadcasts continue in the early hours of September 21
The authorities recommend the public to protect the eyes and the respiratory tract, as well as the water reserves.
Sources: OVI-Ingemmet, IG Peru and VAAC Buenos Aires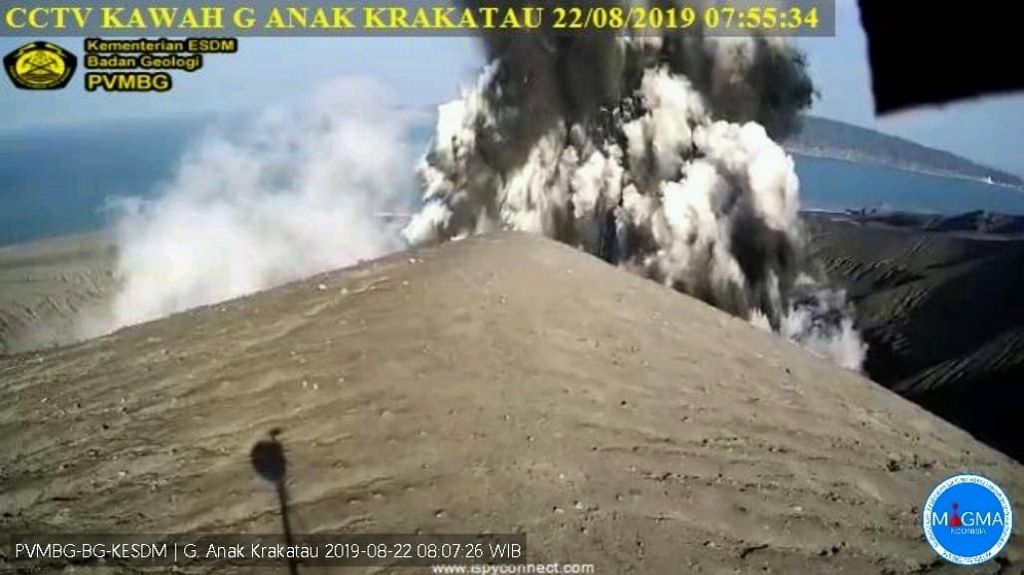 Anak Krakatau - Surtseyan eruption of the same type as that of 18.09 - webcam PVMBG archives 22.08.2019
Observers report a surtseyen-type eruption at the crater lake of Anak Krakatau on 18 September (not relayed for unknown reasons by the VSI, latest daily bulletin dated 15.09). A black cypressoid plume and characteristic vapor plumes are illustrated by the video of (C) Sylvie Loison. in source.
Source: https://www.facebook.com/john.vanmarcke/videos/10221034570000390/