Publié le par Bernard Duyck
In Costa Rica, during the past week, activity continued at Rincon de La Vieja, marked by LP earthquakes.
On September 12 at 08h18, tremor began, becoming spasmodic, before a phreatic eruption at 8:32; it lasted 5 minutes, but could not be observed due to bad weather conditions.
Another small phreatic eruption occurred on September 16 at 12:51, lasting 2 minutes, barely visible on the webcam.
During the week, spasmodic tremor was mainly observed in pulses and with amplitude variations; This seismic signal corresponds to an increase in the fumarole gas flow in the western zone of the crater.
It is recommended to stay away from drainages near the volcano in case of eruption, because of the possibility of
generation of primary lahars. As well as in case of rain, since
secondary lahars could be generated by ashes and accumulated material in the upper parts of the volcano.
In Poas, last week, the crater lake showed significant variations in its level compared to the previous week, due to an increase in activity and heat.
On Sunday, September 15th, more than five phreatic eruptions were observed between 16:55 and 22:40:00. The bubling was also constant during this week.
At the seismic level, a continuous bottom tremor remained, and increased slightly by magnitude on September 17.
Source: RSN weekly report.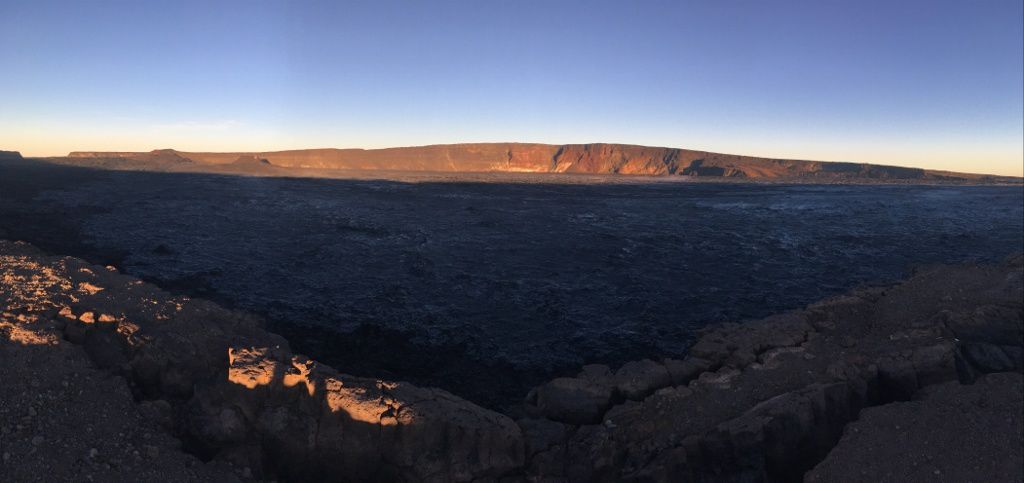 Mauna Loa - morning view over Moku'āweoweo, in the summit caldera of Mauna Loa - photo HVO 08.09.2019
The HVO / Observatory of Hawaiian Volcanoes of the USGS published a weekly report of Mauna Loa :
" The volcano is not erupting, in alert Advisory / Yellow, rates of deformation and seismicity have not changed significantly over the past week and persist above long-term background levels.
During the past week, about 90 low-magnitude earthquakes (all below M2.5) have been detected beneath the Mauna Loa peaks, nearly double the number recorded the previous week. Most earthquakes occurred at shallow to intermediate depths less than 10 km below ground level.
Global Positioning System (GPS) and Synthetic Interferometric Aperture Radar (InSAR) measurements show continued peak inflation, consistent with the magma feed of the volcano's shallow storage system. "

Source: HVO.