Publié le par Bernard Duyck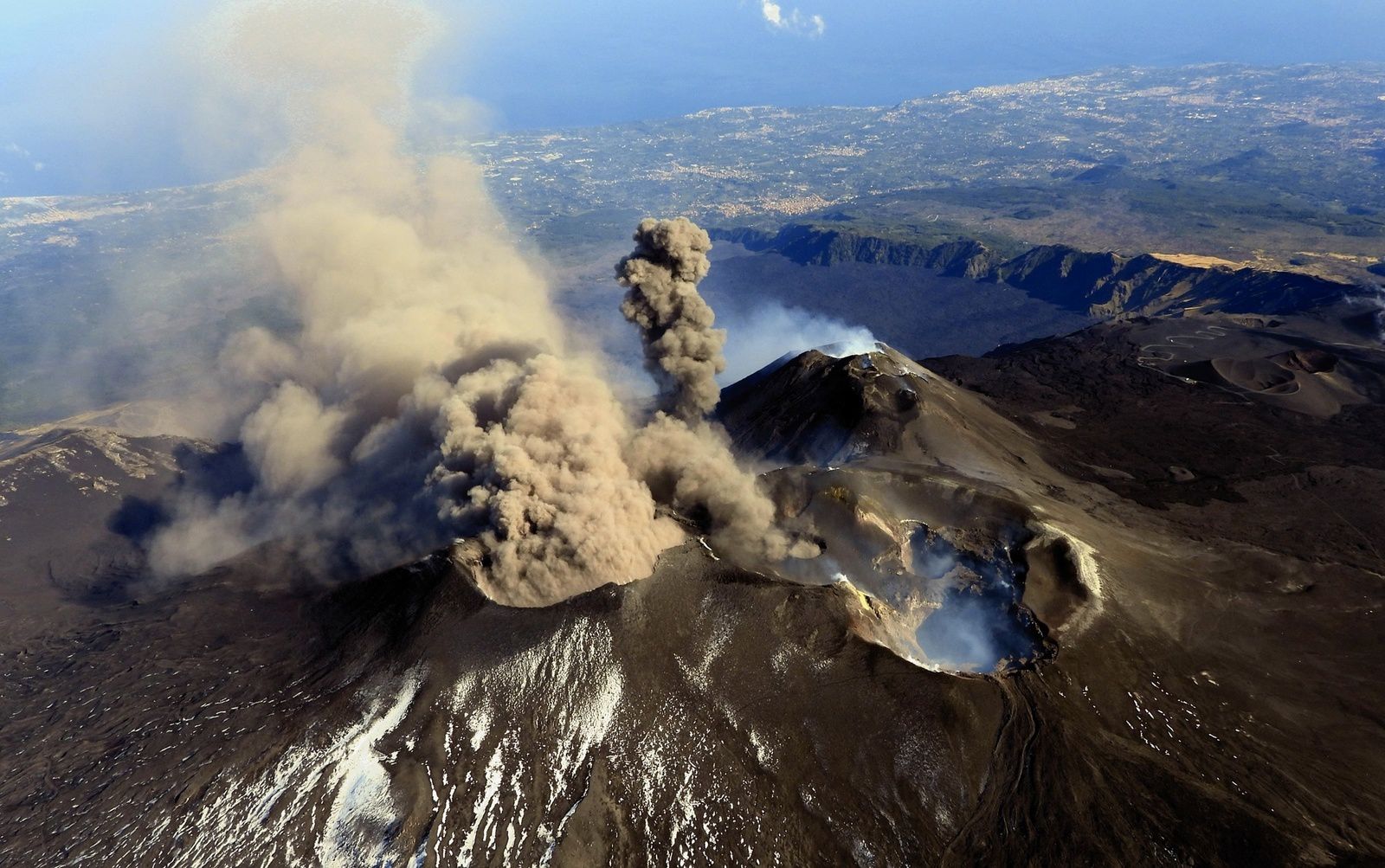 The summit craters of Etna seen from Joseph Nasi's helicopter in the afternoon of October 5, 2019. On the left, the crater North-East, with brown ash emission continues; in the center, the Voragine, an instant after one of his explosions, with a darker plume of ashes; right in the foreground, Bocca Nuova and behind the Southeast crater complex. In the background we can see part of the Valle del Bove, and on the far right of the image, the Barbagallo craters of 2002-2003 - photo J.Nasi via Boris Behncke - one click to enlarge
The INGV reports for the morning of October 5 a gradual increase in ash emissions to the northeast crater of Etna; the ash clouds have spread to the east. The intensity of the tremor has no significant variation.
An overflight on the same day of the summit craters by Boris Bencke and Joseph Nasi allows to observe continuous emissions of brown ash by the NEC, as well as an explosion with a small plume of ash by the Voragine. The panorama of all the craters and part of the Valle del Bove is superb.
Sources: INGVvulcani, Boris Behncke and Joseph Nasi.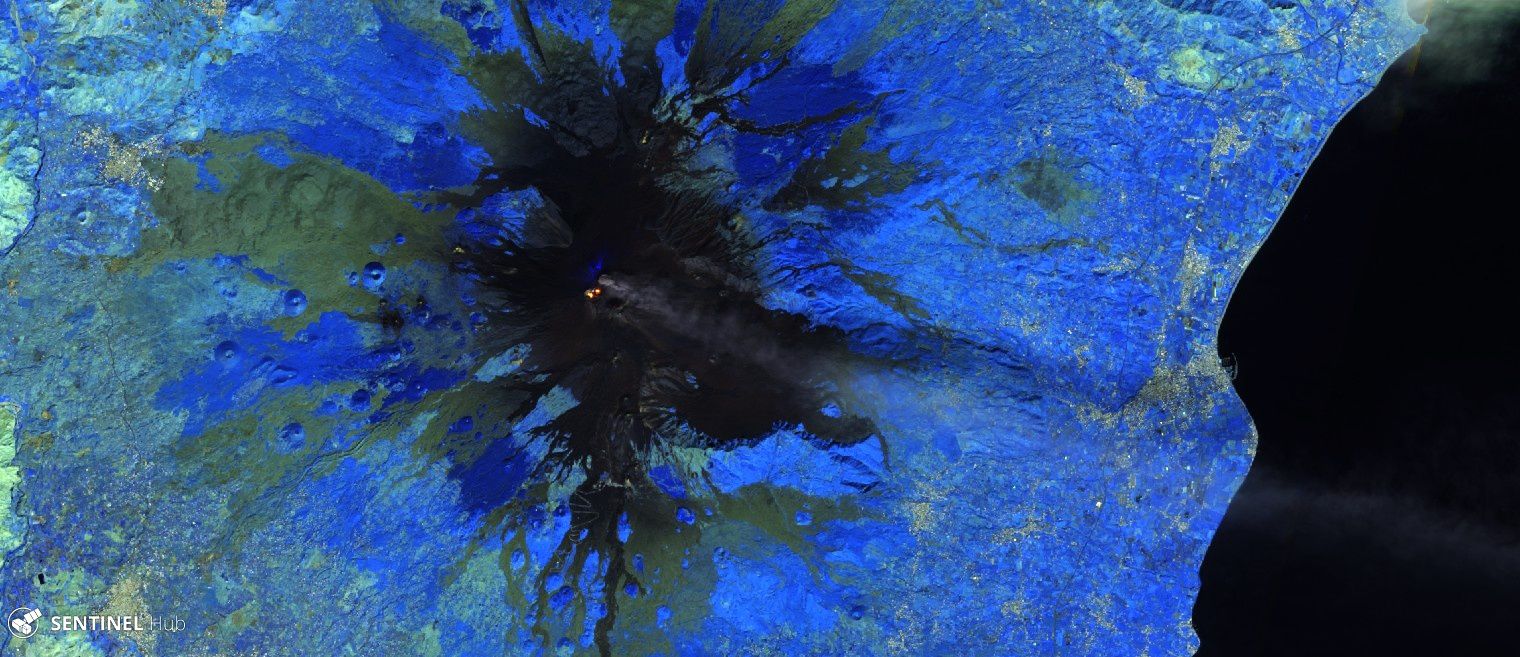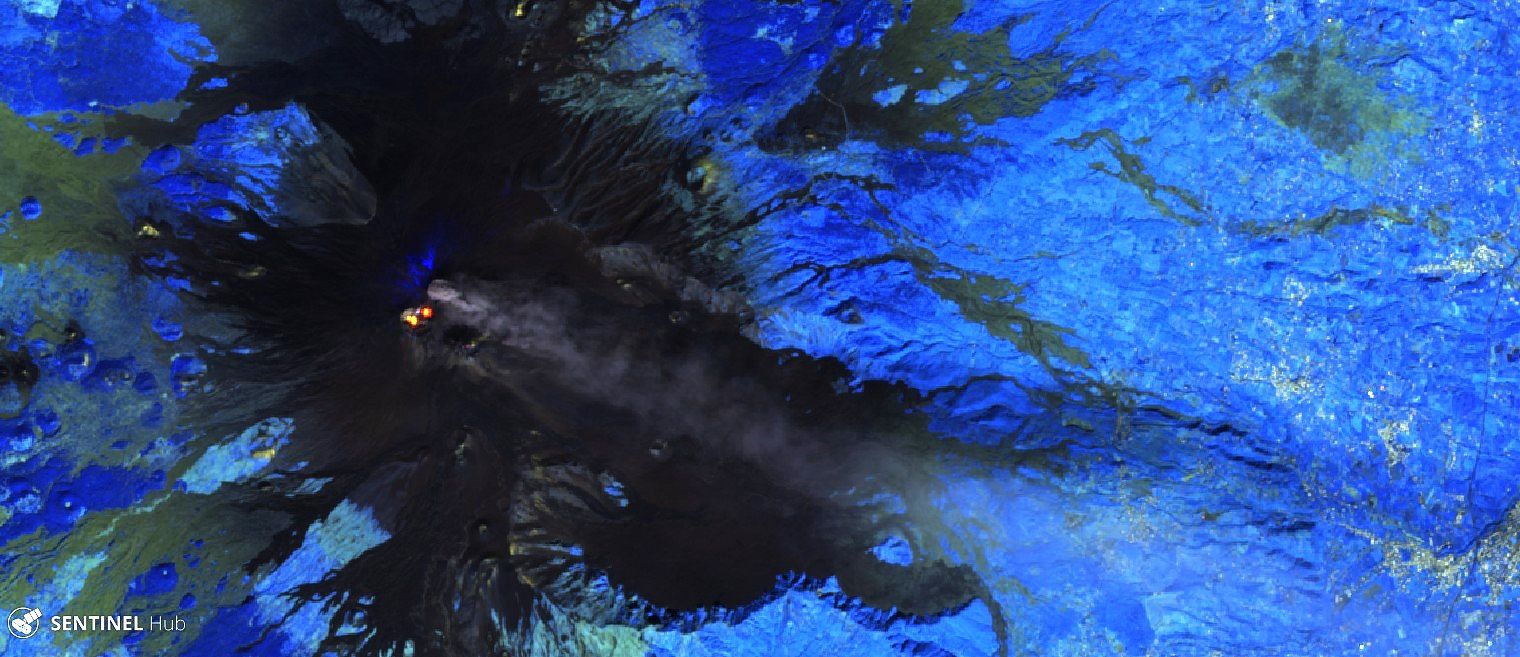 Etna - images Sentinel 2 bands 12,11,8A (atmospheric penetration) from 05.10.2019 - one click to enlarge
The explosive activity of Sheveluch continues, with a plume of ash on October 6 at 03hZ at a height of 10,000 meters asl., located by the satellite Himawari-8. The extension of the ash cloud over 430 km. to NE then E, and continuing emissions, transferred responsibility for VAAC Tokyo's monitoring to VAAC Anchorage.

This activity took the aviation color code from orange to red for a moment.
Oct 06, 06:30 UTC Sheveluch - orange
Oct 06, 03:26 UTC Sheveluch - red
Oct 04, 22:27 UTC Sheveluch- orange
Sources: KVERT & VAAC Tokyo
At Sakurajima, ash falls are announced on the cities of Kagoshima and Tarumi following the Sakurajima broadcasts this October 6, 2019.
Source: JMA
The Santiaguito volcano, in Guatemala, has a white degassing that rises to a height of 3,000 meters above sea level and disperses to the southwest. Fifteen low explosions in 24 hours were recorded, generating ash columns at 3,300 meters above sea level, dispersing to the southwest, and weak avalanches on the south-east and south flanks. Light falls of ash are reported in the perimeter of the volcano.
Sources: Insivumeh & Conred