Publié le par Bernard Duyck
At Sheveluch / Kamchatka, there has been a few days of resuspension of ashes forming a cloud extending south-east of the volcano, 50-80 km., Spotted by satellites.
The aviation code remains orange.
Dome growth continues, accompanied by dome and avalanche incandescence, confirmed by thermal anomalies (between 1 and 116 MW).
Sources: KVERT, VAAC Tokyo and Mirova
At Dukono, on Halmahera Island, in the Moluccas archipelago, explosive activity continues.
The VAAC Darwin reports a volcanic ash plume at 2,100 meters (flight altitude 070) on October 21st.
The aviation code is orange.
This complex volcano experiences explosive eruptions more or less continuous craters Malupang Magiwe and Malupang Warirang since 1933, often accompanied by lava flows.
Source: VAAC Darwin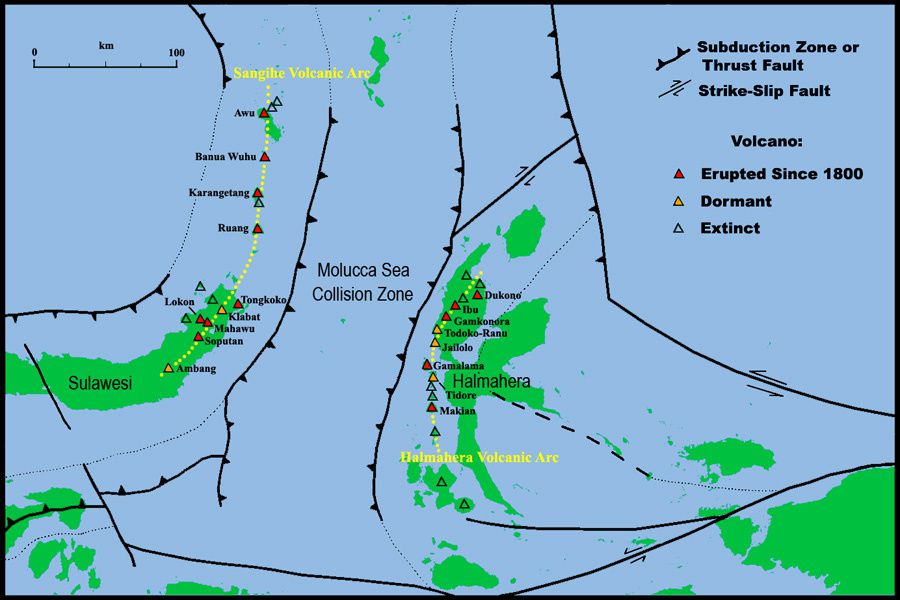 Map of Molucca Sea Region with Collision Zone and Volcanic Arcs indicated. Based on data from Google Maps, MacPherson et al. 2003 (Geol Soc London, Special Publ 219, p.207-220), Siahaan et al. 2005 (World Geol Congress, 5pp). - via Photovolcanica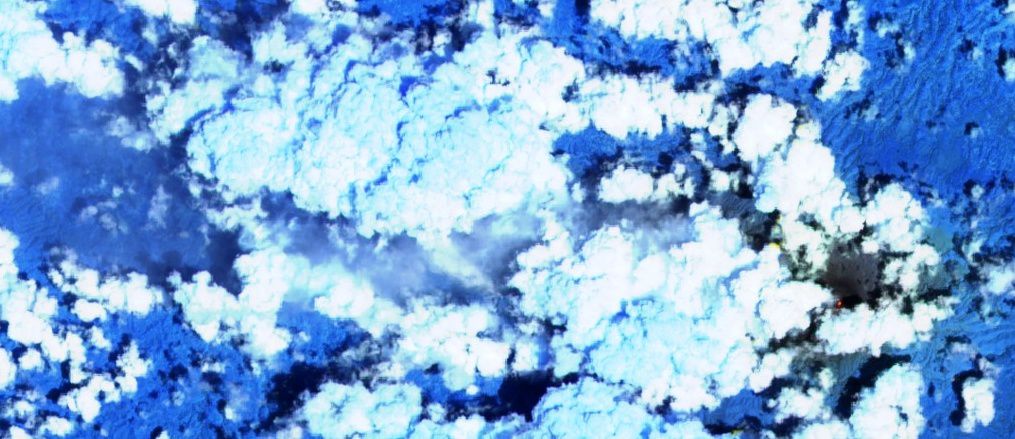 Dukono - hot point visble to the volcano, on the right of the image Sentinel-2 L1C bands 12,11,8A from 21.10.2019 - one click to enlarge
A seismic swarm is observed over the Tjornes fracture zone in northern Iceland, an oblique transformation zone that separates the northern Icelandic volcanic zone from the Kolbeinsey Ridge.
These swarms are normally of a volcano-tectonic nature, and occur during magma intrusion into dykes or sills. Note an earthquake of magnitude greater than 3.
Historically, an underwater eruption was reported in 1867-1868 on the SE part of the fissure system north of the island of Mánáreyjar.
Sources: IMO & Global Volcanism Program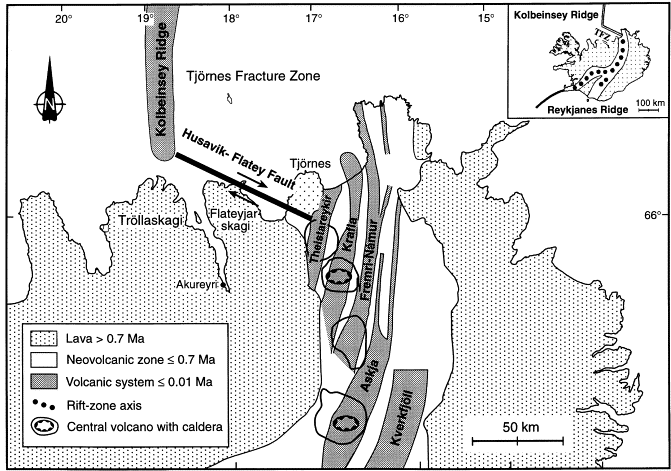 Tjornes fracture zone - oblique transformation zone that separates the northern Icelandic volcanic area from the Kolbeinsey Ridge.