Publié le par Bernard Duyck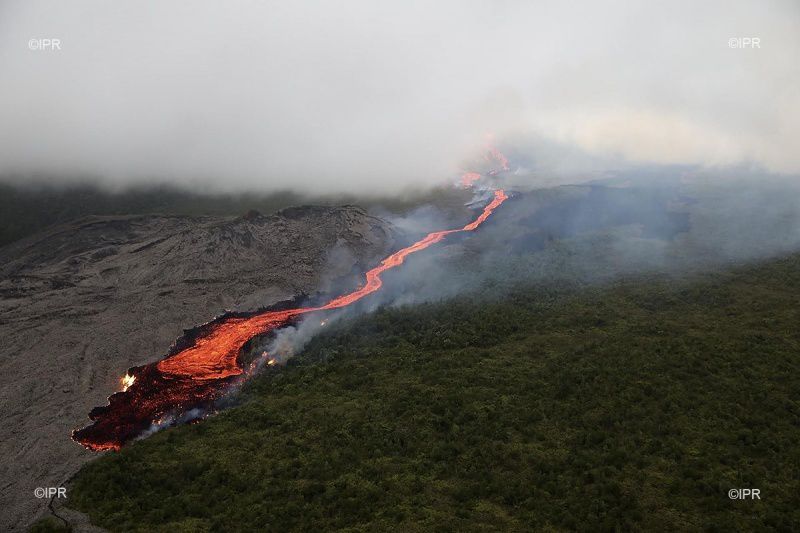 Piton de la Fournaise - main stream at the edge of the forest zone in the Great Slopes 25.10.2019 - photo Imazpress Réunion
At the Piton de La Fournaise, where two eruptive fissures opened at around 14:40 on October 25 at an altitude of 1,400 meters near the southern rampart near the Piton Passage (1976), at least two lava flows were formed advancing very rapidly in the Great Slopes (OVPF).
The activity is intense, with lava fountains about thirty meters high, and the progression of the front of the main stream is of the order of 250 meters per hour.
The location of the eruption is interesting, very close to the position of the previous eruption, and low in altitude.

Around 17h local, the main flow is under the Piton Tremblet, evolving at the interface of the 2007 flows and the forest area; following overflows in the vegetation, fires broke out, quickly taken into account by firefighters. Three passages of the Dash 8 with retardant product release were made to limit the magnitude of the fires.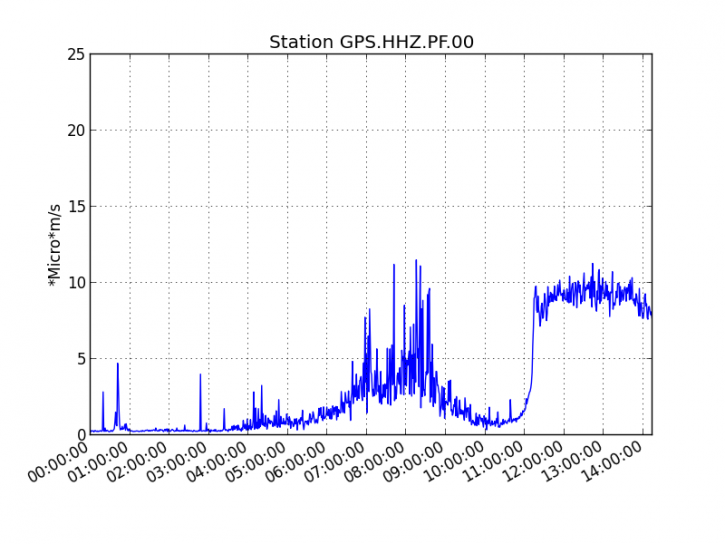 Piton de la Fournaise - Evolution of the RSAM (indicator of the volcanic tremor and the intensity of the eruption) between 04h00 (00h00 UTC) on October 25 and 18h24 (14h24 UTC) on October 25, 2019 on the seismic station GPS, station the closest to the eruptive site. - Doc. OVPF
A press release from La Préfecture announces the closing of RN2 to vehicles for safety, starting at 7 pm on Friday, October 25, 2019 between the 2004 casting (former dump) and the Citron Galet roundabout at Tremblet.
To allow the public to access the views of the current eruption in the best conditions, the prefect of Reunion calls on the civic spirit of each: leave free traffic upstream of the closing points in the two ways, the emergency services may have to intervene very quickly. Check that you are not blocking other parked vehicles or traffic.
In the same spirit to avoid accidents, the Town hall of St Philippe and the ONF have marked the path Symbiose, which offers a beautiful point of view, without danger, on the flows. Staff are on site to guide hikers.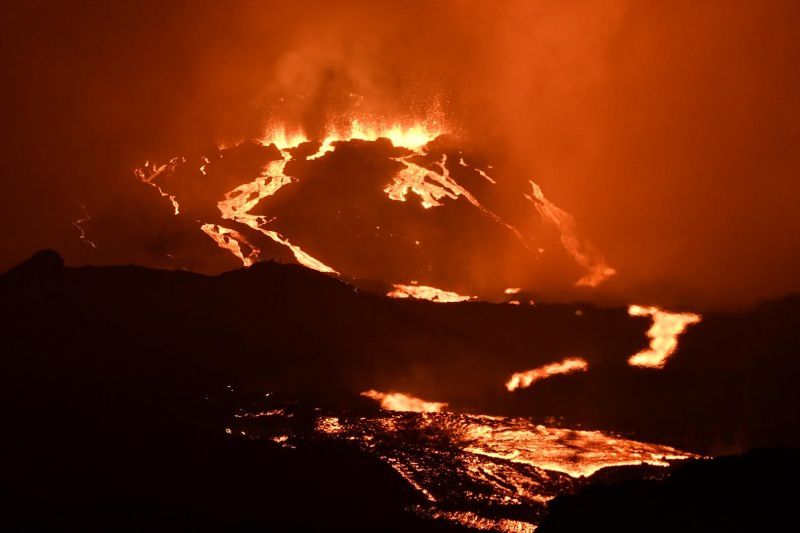 Piton de La Fournaise - the eruptive site and the lava flows at dusk on October 25th - photo Imazpress Réunion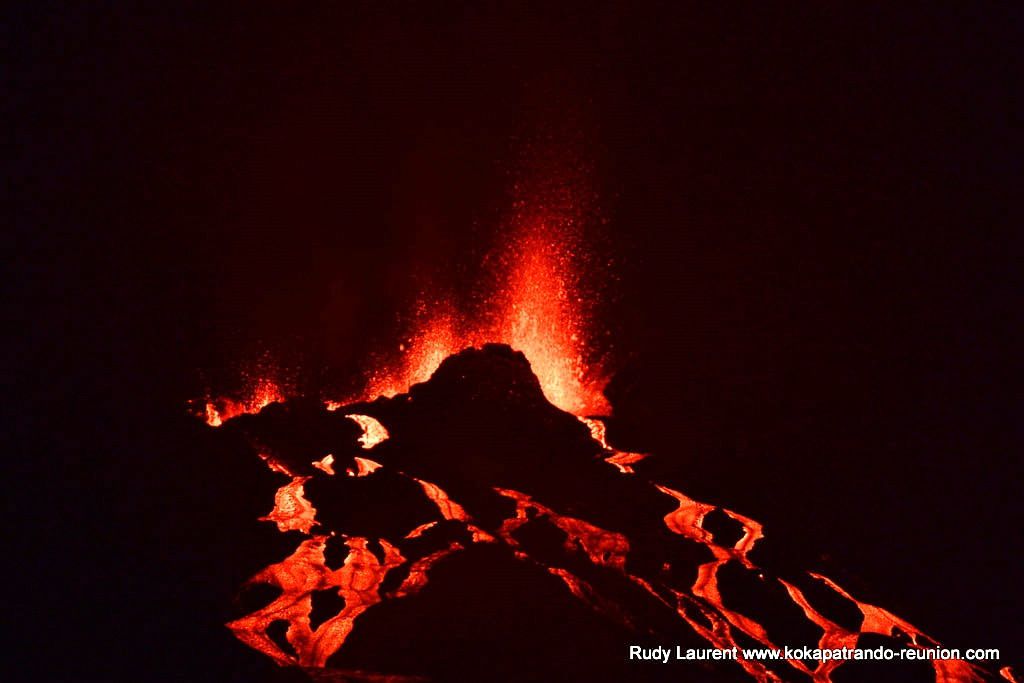 Piton de La Fournaise - the eruptive site and the lava flows in the evening of October 25 - photo Rudy Laurent / Kokapat Rando
The lava then attacked the Grand Brûlé. Various parameters will influence its progression: the feed and the flow down slightly, the nature of the terrain less steep.
This October 26 at 8 am local lava is located 400 meters from the lava road. The OVPF / IPGP teams are on site to perform the first lava sampling and temperature measurements.
Sources:
- OVPF - Find all information related to the Piton de la Fournaise activity on the website (http://www.ipgp.fr/en/ovpf/actualites-ovpf), the Twitter account (https: / /twitter.com/obsfournaise?lang=en), and the facebook account (https://www.facebook.com/Obsvolcanopitonfournaise-2173450076232968/) of the OVPF-IPGP.
- Imazpress - http://www.ipreunion.com/volcan,5/
- Clicanoo - https://www.clicanoo.re/rubrique/volcan
- Réunion 1 ° - https://la1ere.francetvinfo.fr/environnement/catastrophes-naturelles/volcan?r=reunion
- Lava Tunnels Réunion - Rando-Volcano / Vincent Cheville and Rudy Laurent / Kokapat