Publié le par Bernard Duyck
At Popocatepetl, 245 exhalations, accompanied by gas and light amounts of ash, and two moderate explosions have been identified during the last 24 hours, respectively at 23:33 on 3 October and 6:01 on 4 October.
These explosions watered the flanks of the volcano with incandescent fragments and were accompanied by plumes of ash and gas from a height of 1,000 and 1,200 meters, dispersed towards north.
Two minor explosions were recorded at 0:09 and 8:38 on 4 October.
At the seismicity level, the Cenapred reports 217 minutes of tremor.
The alert level remains at Amarillo Fase 2.
Source: Cenapred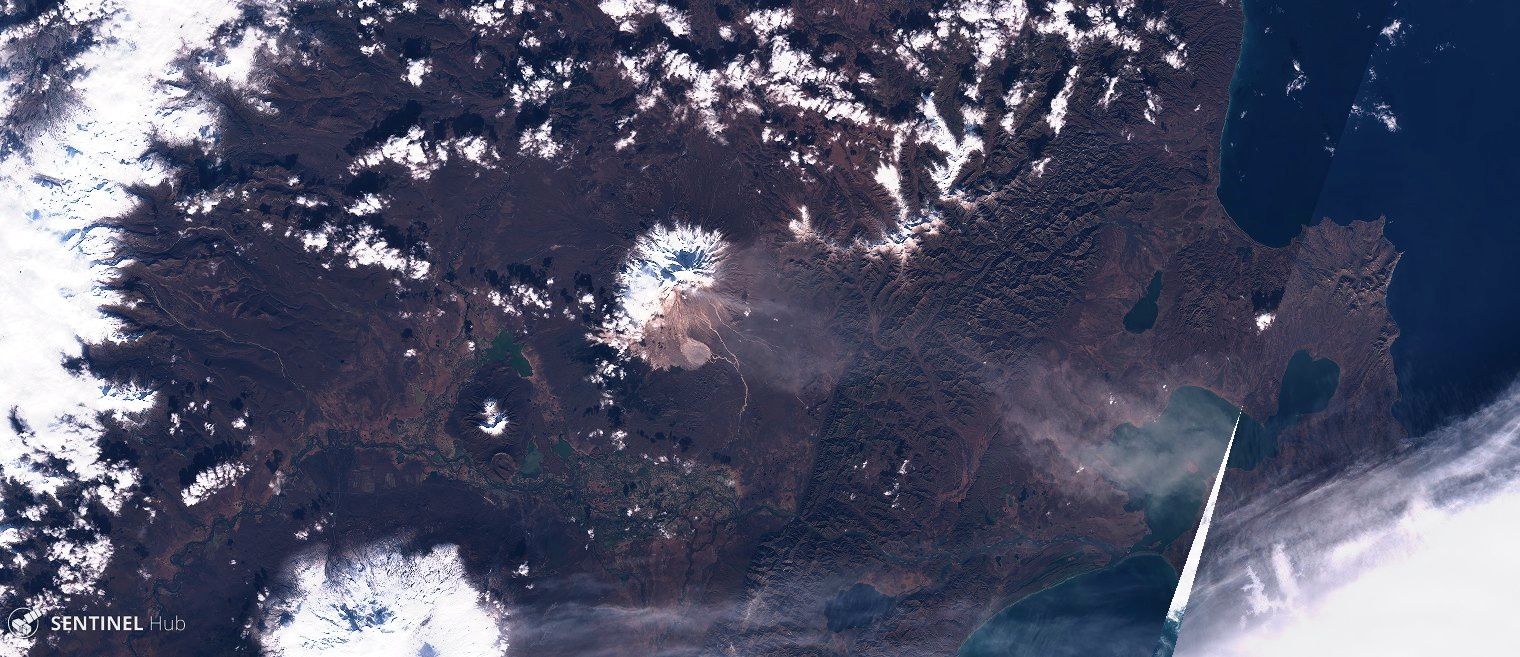 Sheveluch - gas plume eastwards 05.10.2019 - image Sentinel-2 L1C nat. colors - one click to enlarge
In Sheveluch / Kamchatka, the KVERT reports on October 4 a plume of ashes at 3,500-4,000 meters asl., drifting to the ESE for 155 km.
The explosive activity of the 1st October produced a plume of about ten kilometers; Sentinel 5P images from October 2, measuring the aerosol index, show the position of the ash cloud east of the peninsula.
Sources: KVERT & Copernicus
In Guatemala, constant rains over the past few days in the country are likely to cause floods, lahars and landslides.
Especially in the area of ​​the Fuego volcano, weak to moderate lahars are reported in different drainages: the Ceniza, Las Lajas, Seca and Rio Mineral barrancas are involved. These lahars are characterized by the transport of ash, blocks 1 to 2 meters in diameter and generate steam columns and shock waves.
Sources: Insivumeh and Conred
The flank instability and the collapse of the sector, which constitute a major threat, are common on volcanic islands.
A communication in Nature analyzes the signs of activity of Krakatau before its collapse.
On December 22, 2018, an area collapse occurred on the Anak Krakatau volcano in the Sunda Strait, causing a deadly tsunami. Terrestrial and spatial multiparametric data show that before its collapse, the volcano exhibited a high level of activity, including precursor signs: thermal anomalies, an increase in the island's surface, and a gradual southwestern flank movement towards the south and a plunging detachment. Two minutes after a small earthquake, seismic signals characterize the collapse of the volcano flank at 13:55 UTC. This sectoral collapse decapitated the cone-shaped building and triggered a tsunami that left 430 people dead. This study discusses the nature of the precursor processes at the base of the collapse that has resulted in a cascade of complex hazards with important implications for the early detection of potential flank instability on other volcanoes.
Source and full text: Complex hazard cascade culminating in the Krakatau Anak sector collapse - By Thomas R.Walter & al. - Nature communications vol.10, Article number: 4339 (2019)