Publié le par Bernard Duyck
A break in early September brought me to Santorini, in the Cyclades.

Before tackling the volcanism of Santorini, let us situate that of the Hellenic volcanic arc; the Greek volcanoes that form the archipelago of Cyclades are scattered in a string of islands crossing the Aegean Sea for 400 km.
The volcanic arch consists of six volcanoes, from west to east, the Gulf of Aegina, south of Athens, Milos, Santorini, Kos, Yali and Nysiros.
Volcanism began in the Miocene, but mainly occurred in the upper Pliocene - 3.6 / 2.5 Ma - to continue until today, the last eruption of Nea Kameni / Santorini dating from January 1950.
In relation to the subduction of the African plate that plunges under the European plate, the active volcanism of the Greek islands only concerns Santorini and Nysiros.
Two large geomorphological entities mark Santorini, also called Thêra or Callisti ("the magnificent"), known both volcanophiles and archaeologists:

The islands surrounding the caldera: Thêra, Therasia and Apronisi, are the remains of several volcanoes, the main ones are Megalo Vouno, Skaros, Thêra, Elias, Balos, Mavro and Akrotiri.
These islands surround a vast caldera 11 km by 7.5 km., Formed as a result of several collapses; they are lined caldera side cliffs 250 meters high, which extend up to 400 meters below sea level ... outward, the slopes are softer.
On Thêra, a metamorphosed sedimentary ensemble, anterior to volcanism, forms the highest point of Santorini, Mount Elias with its 568 meters.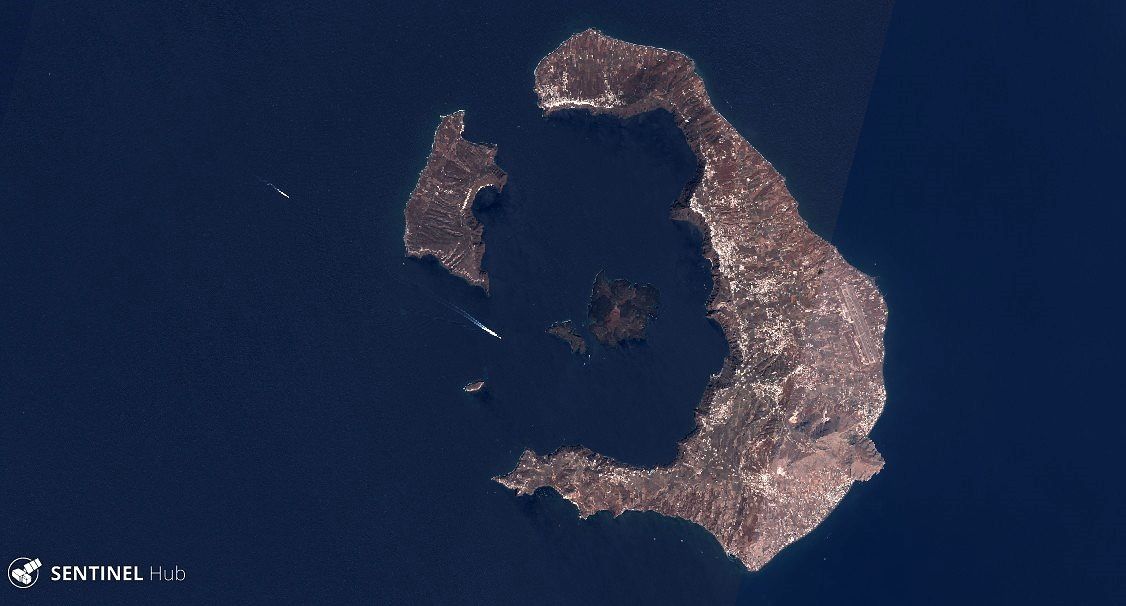 Santorini - 08.09.2019 - Thêra, on the right - Thirasia and Apronisi, on the left surround the caldera - in the center of it, Palea and Nea Kameini - image Sentinel-2 L1C nat. colors - one click to enlarge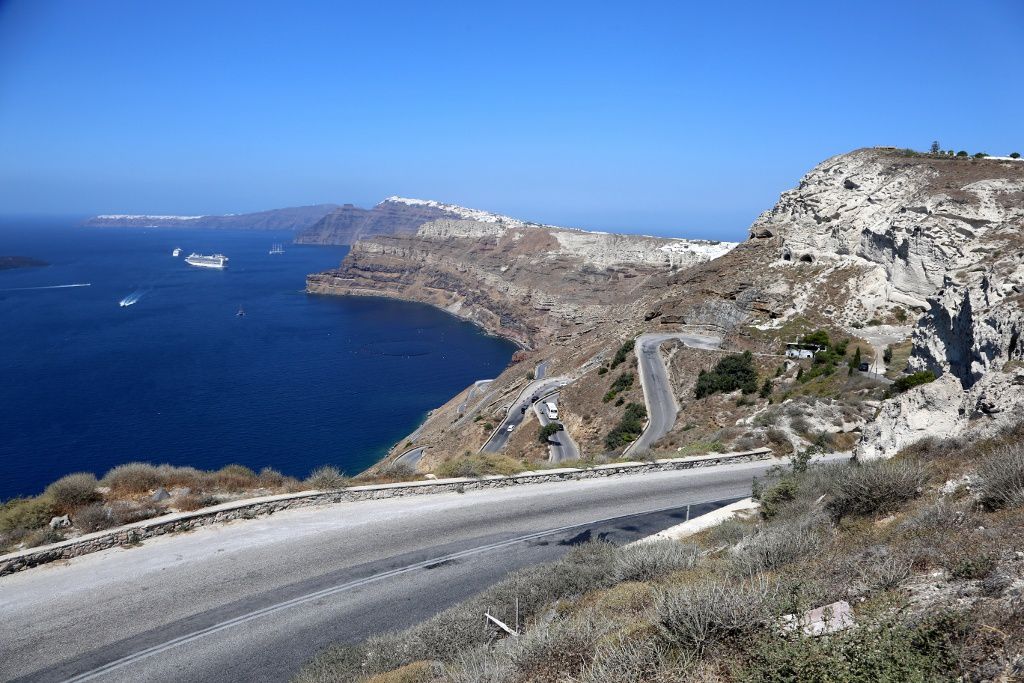 Santorini - The internal cliffs of Thêra are exposed, from left to right, Oia, Fira and the road to the port of Athinios - photo © Bernard Duyck 09.2019
Second entity, on the intracalderic axis forming the Kameni line, the Palea Kameni and Nea Kameni islands ("the old and the new burnt island") have a more recent volcanic history, between 197 BC and the last eruption in 1950 .
Palea Kameni is a volcanic plateau 1,500 m long and 400 m wide, culminating at 102 m, dipping to the northwest, whose cliffs show alternating flows and ash dikes.
Nea Kameni is 2 km in diameter and reaches 130 m. The island is composed of twelve extrusion cones, accompanied by thick flows and a double crater.
These buildings overlap each other.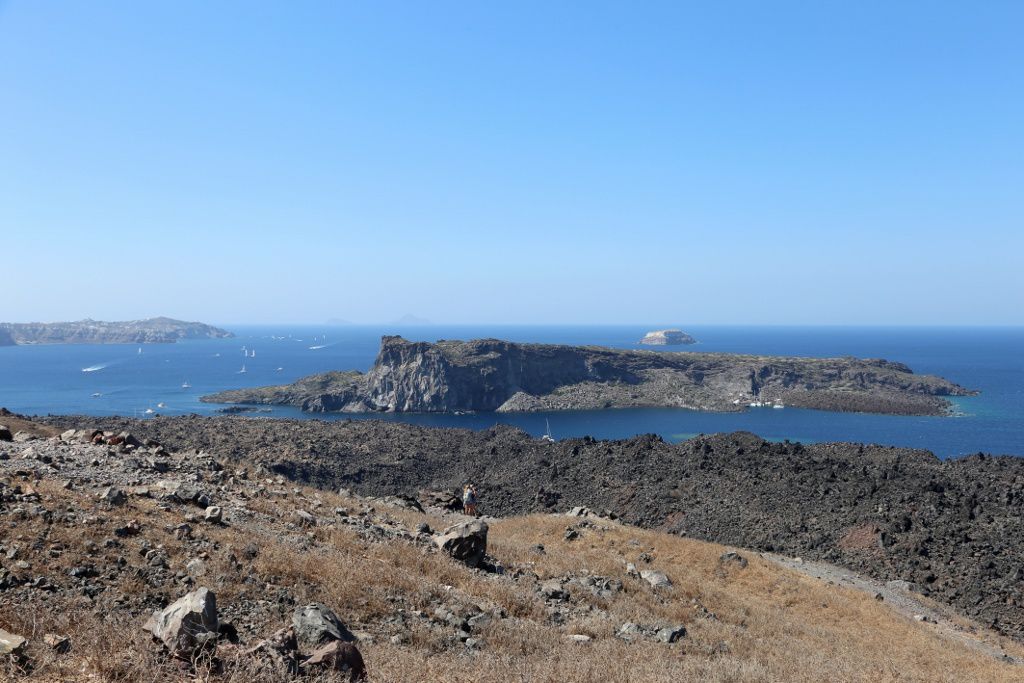 Santorini - Nea Kameni, in the foreground - in the center, Palea Kameini - in the background, on the left, the tip of Akrotiri - photo © Bernard Duyck 09.2019
Sources:
- The morphodynamic evolution of Santorini volcanic complex - 09,2019 - Paraskevi Nomikou, Konstantinos Vouvalidis and Spyros Pavlides
- Geological Society memoir n ° 19 Santorini volcano - T.H.Druitt & al.1999
- Guide to Europe and Canary Islands volcanoes - M.Kraft and F.D. De Larouzière - Ed. Delachaux & Niestlé