Publié le par Bernard Duyck
Historical volcanism has today created two islands in the center of the caldera, Palea Kameni and Nea Kameni.
Their construction probably began shortly after the Minoan eruption; they are the subaerial expression of activity, with the summit 500 meters above the calderal floor. The pyroclastic cone broke through the water level in 197 BC, and the last eruption of Nea Kameni dates back to 1950.
The vents are located on a NE-SW tectonic line, which controls the regional rise of magma : the Kameni line.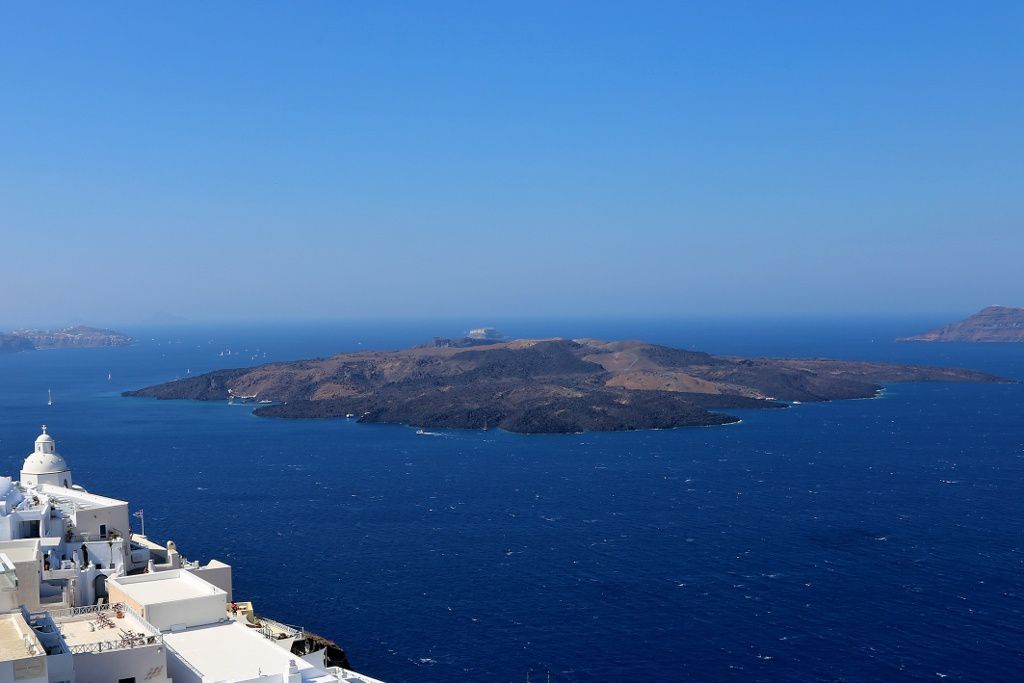 Santorini - Nea Kameni, in the center of the caldera, seen from Fira - photo © Bernard Duyck 09.2019
The evolution of these islands was made during nine subaerial eruptions, whose products are all of dacitic nature: domes, lava flows channeled or with levees, block lava flows, plumes of ash, ballistic products.
Bathymetric data reveal subaqueous / lava flows in cushions, which makes the total issued at 4.85 +/- 0.7 km³.
In the diagram below, the location and the flows cast.
Thumbnail n ° 1: 197 BC - formation of the Iera pyroclastic cone
Thumbnails 2-3 about Palea Kameni, with:
- 46-47 AD - extrusive activity and formation of Palea Kameni
- 726 AD - explosive activity in the northern part of Palea Kameni, responsible for a lava lobe in blocks near Agios Nikolaos.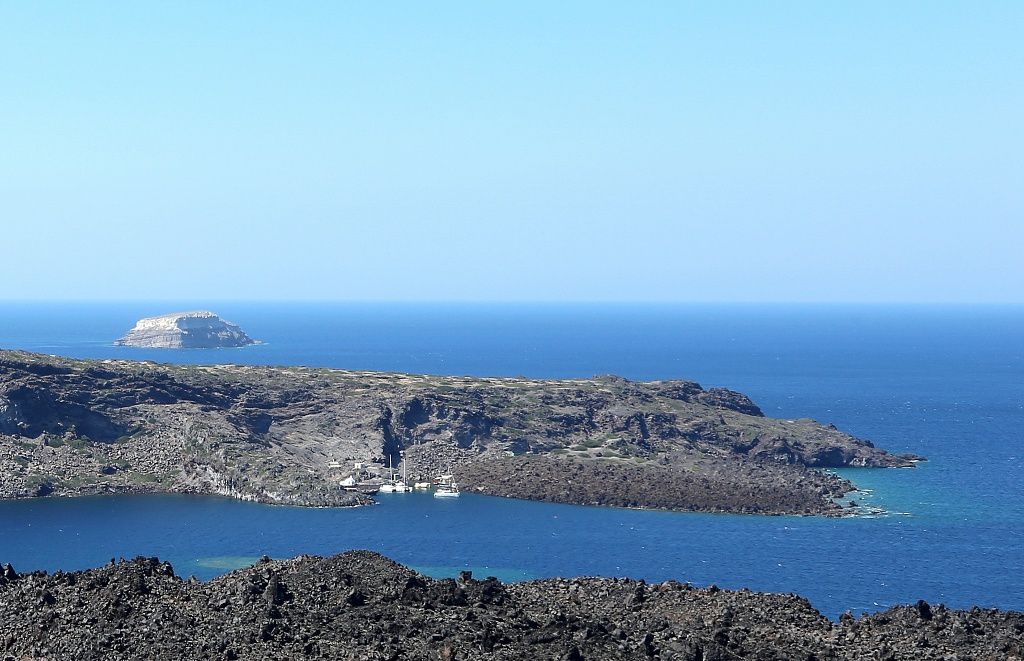 Santorini - Lava lobe in blocks on Palea Kammeni, near Aghios Nicholaos church - photo © Bernard Duyck 09.2019
The activity of Nea Kameini ranges from 1570 to 1950:
- 1570 - (1573): extrusion of the lava dome Mikri Kameni
- 1707 -1711: effusive / explosive eruptions forming the northwestern part of Nea Kameni
- 1866 - 1870: effusive activity concerning the south of Nea Kameni
- 1925 - 1928: extrusion of domes Daphne and Nautilus and castings, explosions at the summit crater and plumes of ash. Growth to the north and east fills the bay between Mikri and Nea Kameni. A plume linked to phreatomagmatic activity rises to 3,300 meters, then the activity becomes phreatic.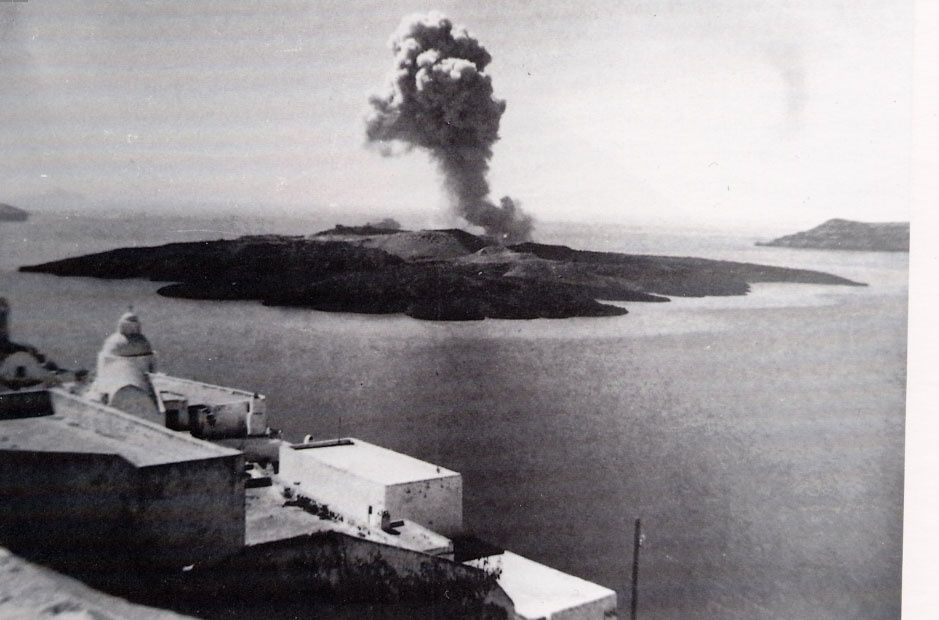 - 1939-1941: Extrusion of the Triton, Ktenas, Fouqué, Smith-Reck, and Niki domes, and lava flows, summit explosions and ash plumes. Typically phreatic explosions precede lava extrusion.
- 1950: extrusion of the small dome Liatsikas preceded by phreatic explosions. The activity lasted a month.
In 2011-2012, a phase of instability marked the caldera, with numerous small volcano-tectonic earthquakes of M <3.3 at a depth of 1-6 km on an almost vertical plane of 6 km in length on the Kameni line, accompanied by inflation of up to ten cm. , which probably corresponds to an intrusion of 10-20 million cubic meters under the caldera at 3-6 km depth (magmatic, magma + fluids, or tectonics origin ?).
The present activity is fumarolic and marks the twin summit craters, and hot springs, with green waters (due to the presence of Fe 2+ / colloidal pyrite, and redheads (near-surface oxidation to Fe 3+).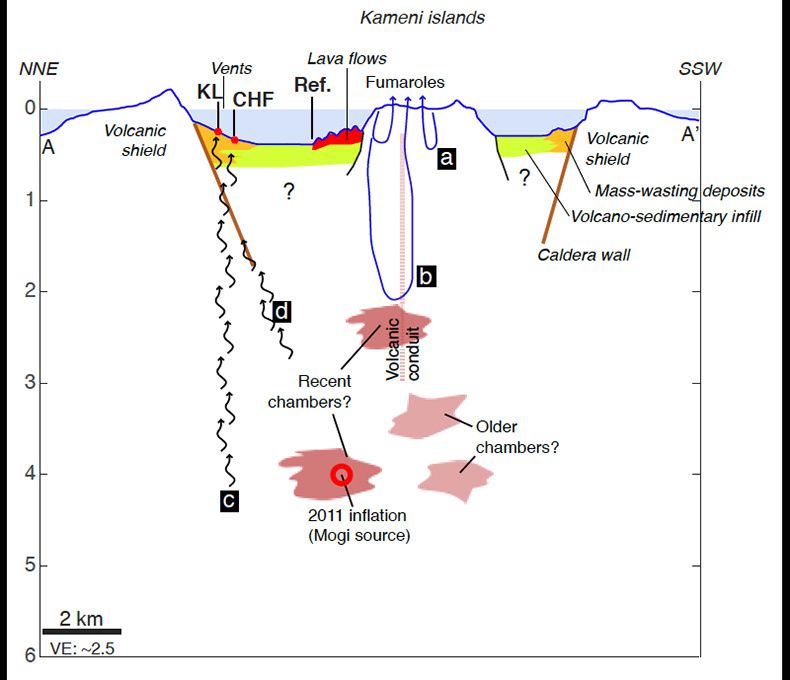 Santorini - possible sources and transfer of magmatic CO2 and He into the caldera - Doc. Moreira & al. 05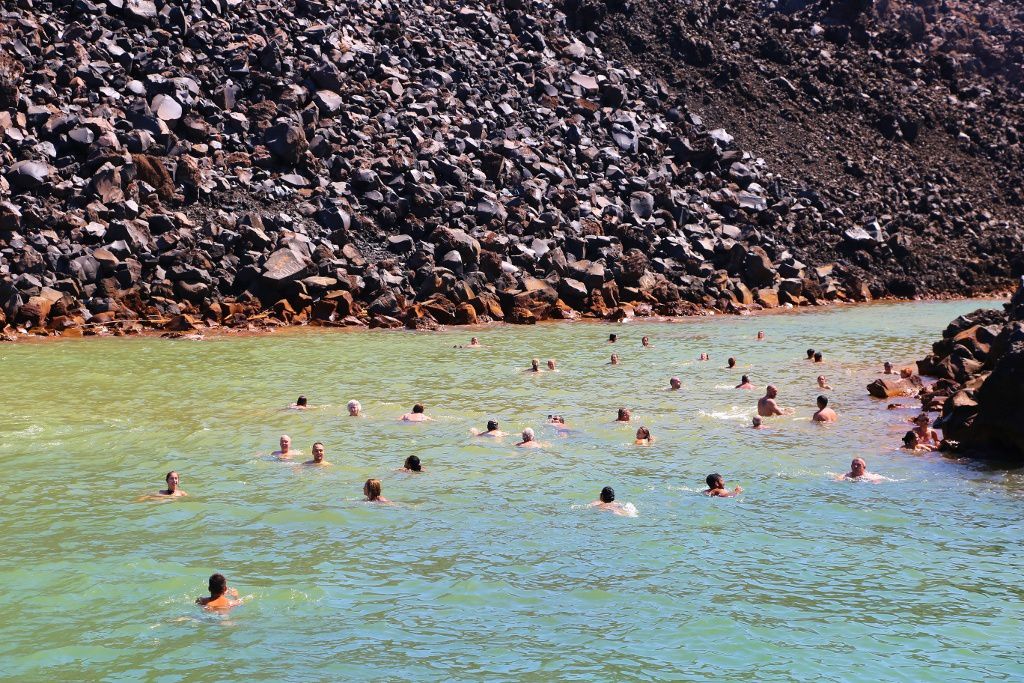 Santorini - Nea Kameni - bathing activity in the waters of hot springs - photo © Bernard Duyck 09.2019
Sources:
The morphodynamic evolution of Santorini volcanic complex - 09,2019 - Paraskevi Nomikou, Konstantinos Vouvalidis and Spyros Pavlides
Geological Society memoir n ° 19 Santorini volcano - T.H.Druitt & al.1999