Publié le par Bernard Duyck
A glance at the inhabited areas, clinging to the walls of the caldera, we discover small white volumes ... which have their roots in the cliff, in the layers of rocks or pumice emitted by volcanic eruptions.
Various conditions pushed the inhabitants to build their houses in troglodytes or semi-troglodytes. The declivity of the land, the nature of the soil, and the proximity of the materials (black rock, red rock and pumice) - without much wood - and the lack of means of transport have favored this type of habitat, named Yposkafa.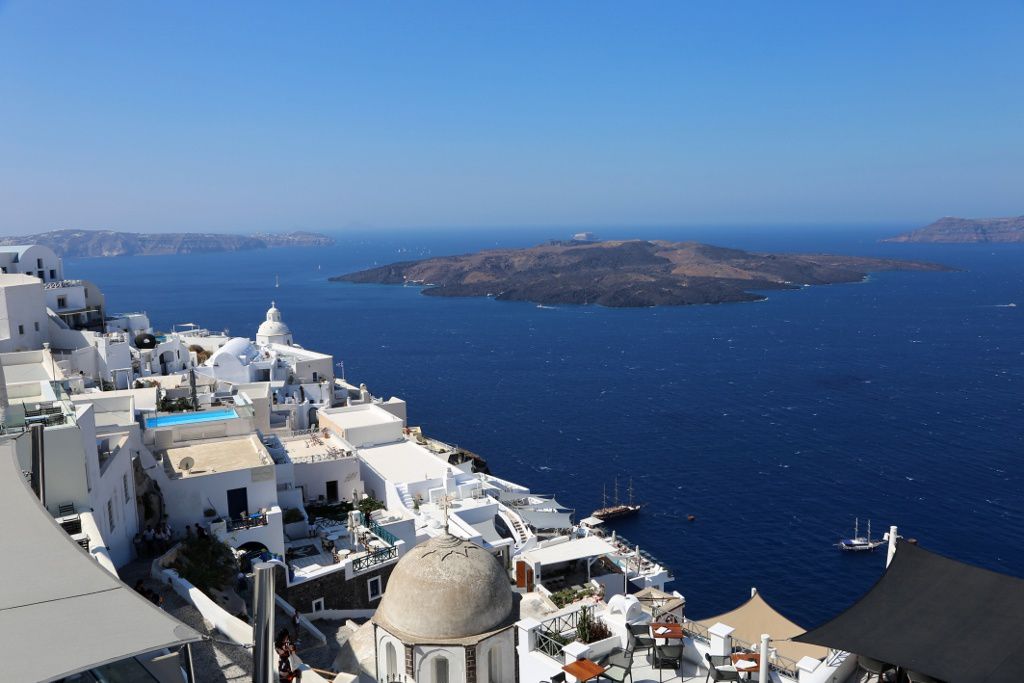 Santorini - the houses of Fira hanging on the walls of the caldera - in the background, the set of domes and lava flows of Nea Kameni - photo © Bernard Duyck 09.2019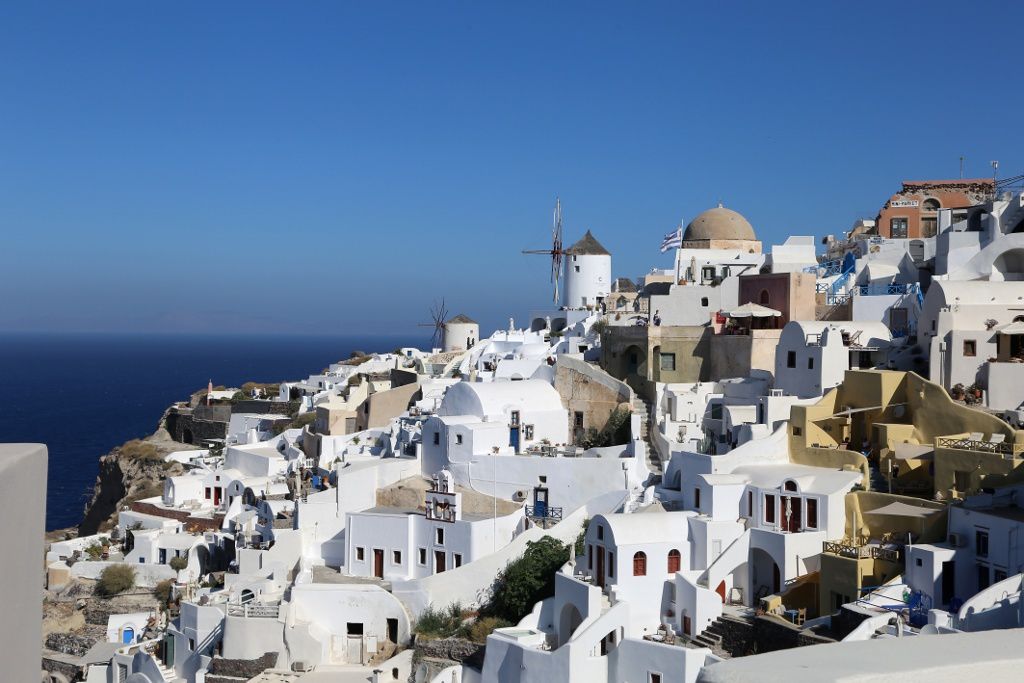 Santorini - Oia, some mills, and its houses with flat roofs, or semi-cylindrical or semi-spherical cupolas, separated by a few alleys on stairs - photo © Bernard Duyck 09.2019
They are houses all in length, with a narrow facade. The exterior volumes are covered with flat roofs, or dome of different shapes and sizes.
The homes designed by native people meet the needs and bioclimatic requirements: the walls are thick, thermally inert, and therefore cool in summer and warm in winter; the habitat is largely buried, with a volume calculated at the fairest and at minimal openings and positioned according to the prevailing winds to ensure good ventilation, ... everything contributes to thermal comfort. The white lime paint reverberates the sun's rays.
The colors are mainly white, and blue, which symbolize Santorini.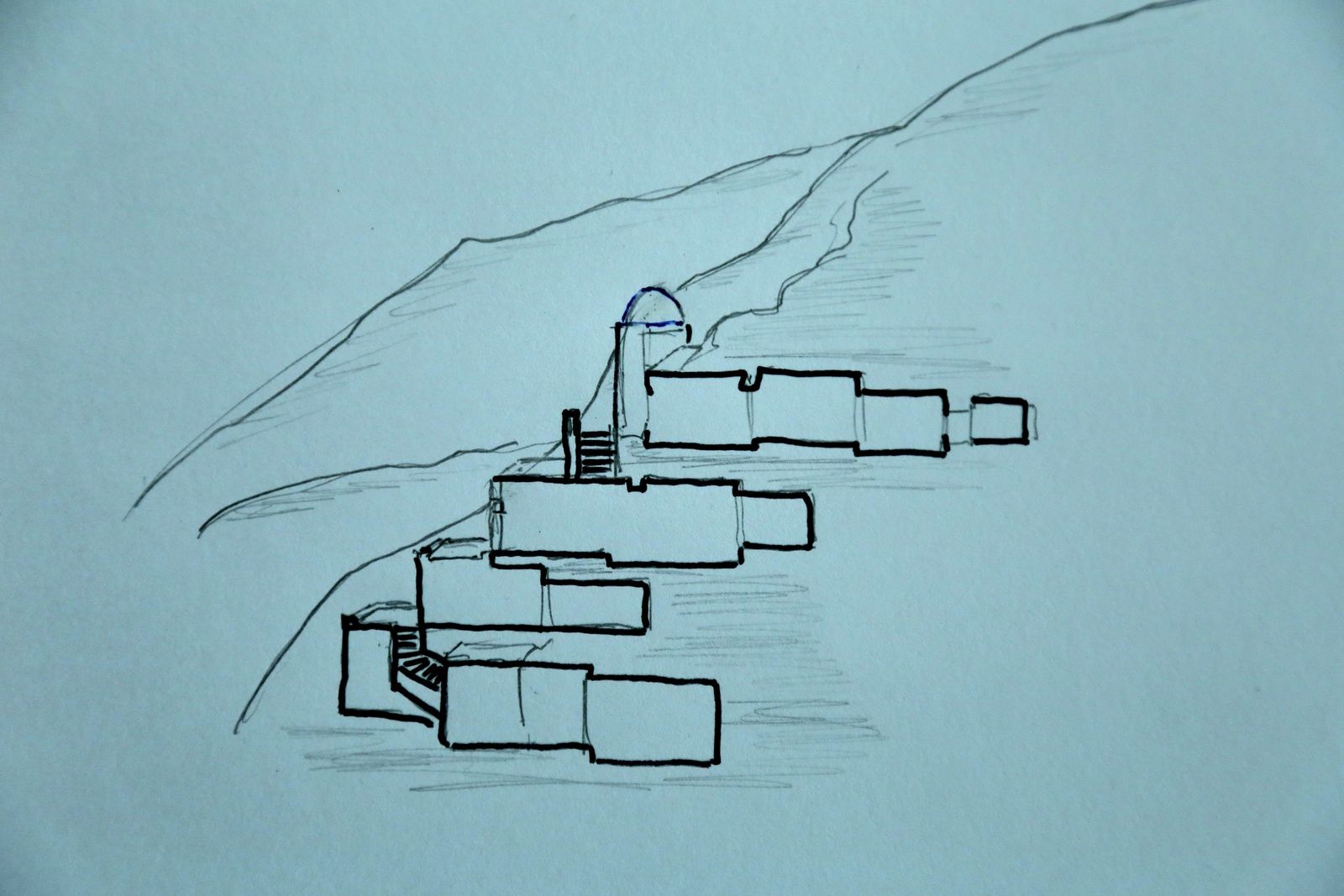 Santorini - the Yposkafas - cut in a wall of the caldera characterizing the troglodyte dwellings dug in volcanic materials - drawing © Bernard Duyck 09.2019
This habitat is found in towns that are open on the caldera, Fira, Imerovigli and Oia, but also in the small fortified towns of the interior, such as Emporio, Pyrgos Callisti, and Megalochori, where a troglodyte habitat remains under a current house.
In the cellar, the house has two small vaulted rooms, with utilitarian cavities, lit by a tiny opening and the entrance door.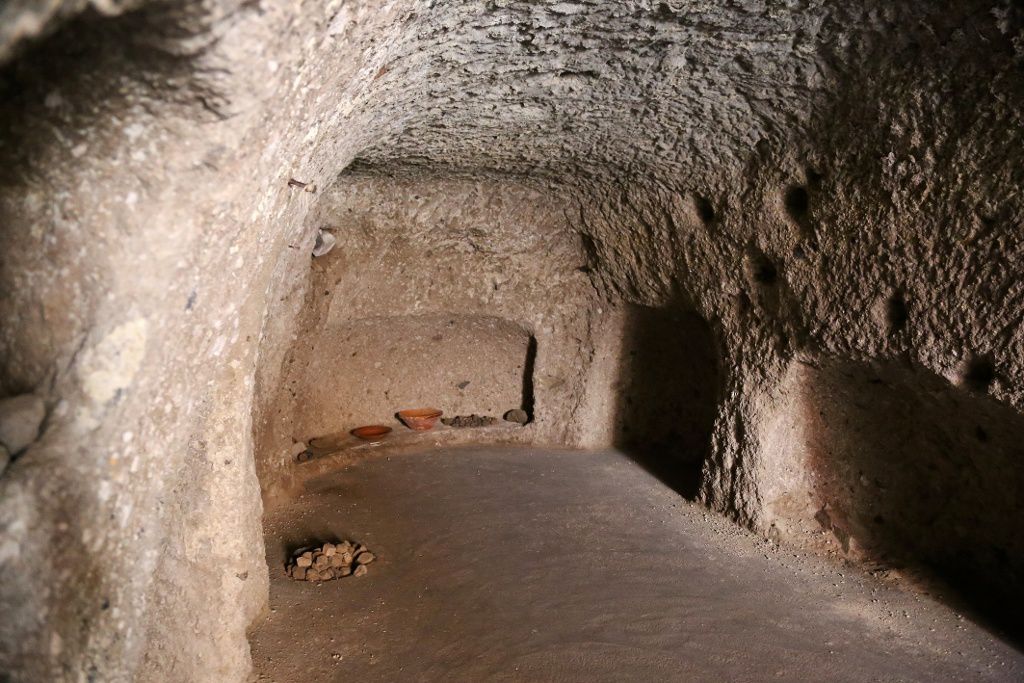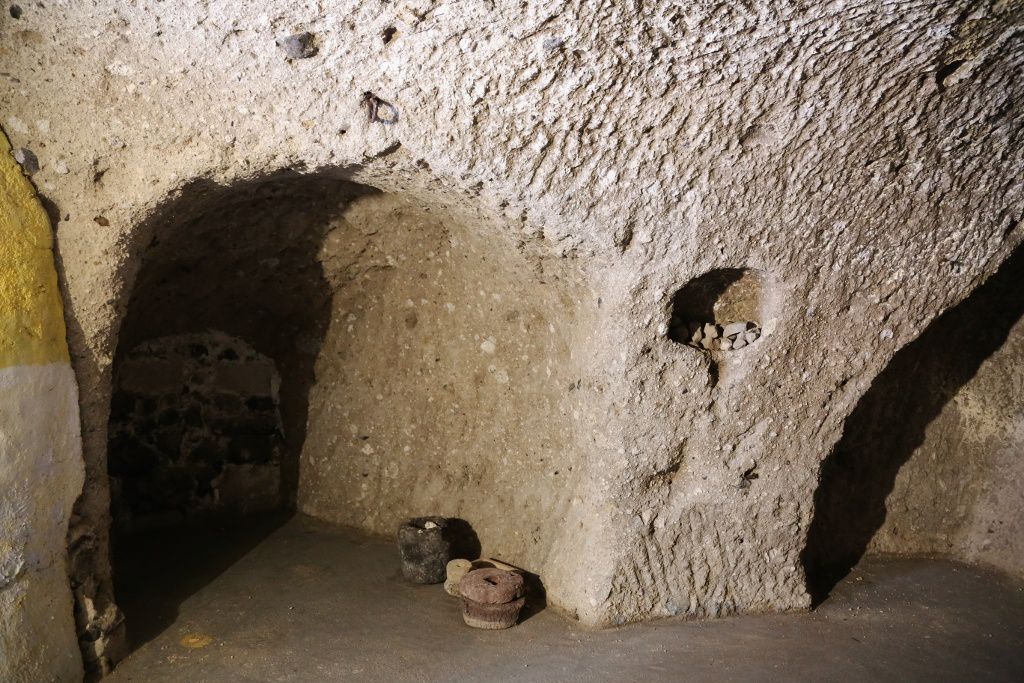 Santorini - Megalochori - the two rooms of a troglodyte dwelling, excavated in cellar in the pumiceous ground under the current house - photo © Bernard Duyck 09.2019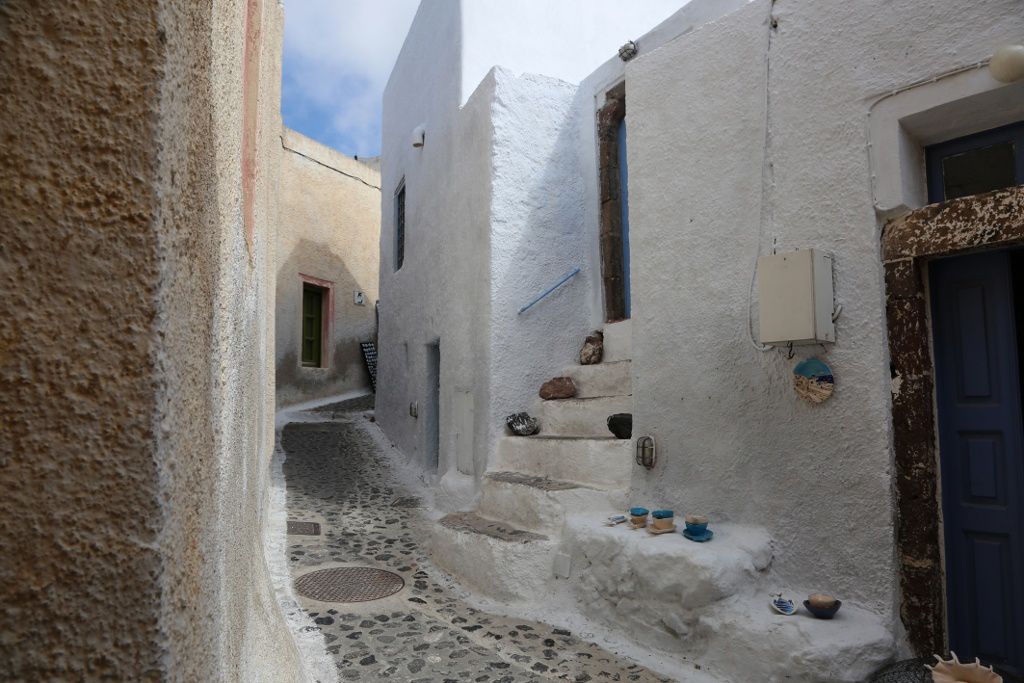 Santorini - Pyrgos Callisti - White houses with blue doors in alleys where it is good to get lost - photo © Bernard Duyck 09.2019
Other typical structures complete the architecture, many small churches with colorful dome, mills, now converted into rent, and Kapetanospita, Captains' houses on the upper and more spacious neighborhoods, neoclastic 19 ° century favorable to the navy.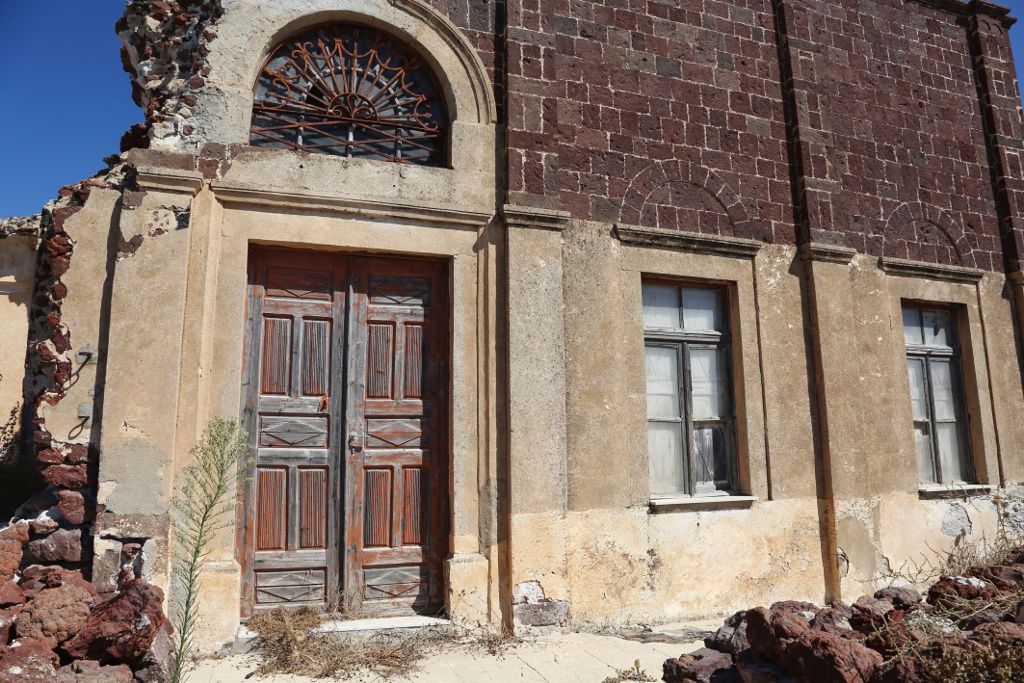 Santorini - Oia - ruins of a neoclassical red lava stone house, plastered on the ground floor - Photo © Bernard Duyck 09.2019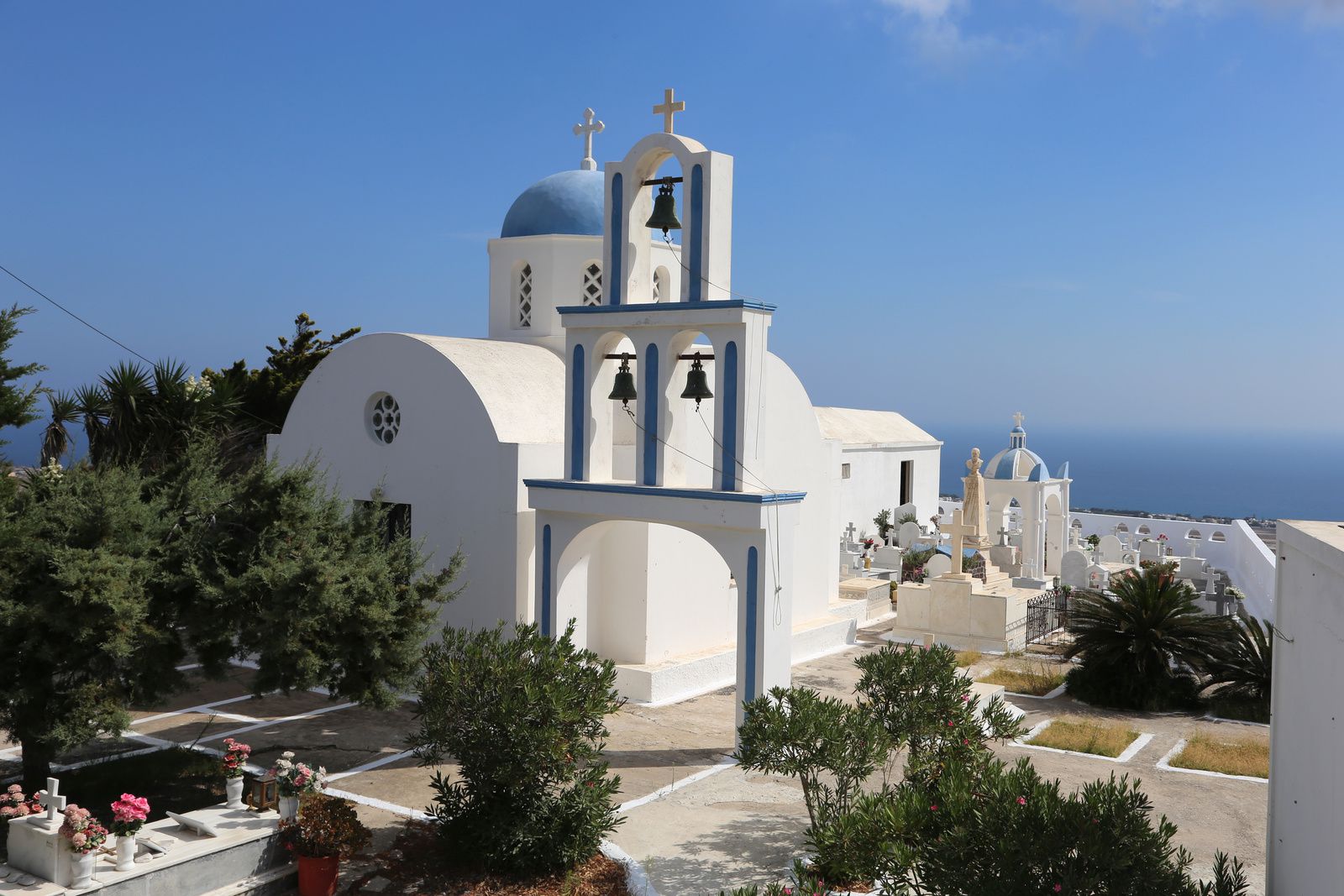 Santorini - Pyrgos - church and its cemetery, overlooking the caldera - photo © Bernard Duyck 09.2019
Sources:
- Petit Futé, Santorini guide
- Ankyra - Travel, architecture and other discoveries - Santorini - link