Publié le par Bernard Duyck
The Fuego, in Guatemala, presents since November 6 a lava flow towards the barranca Seca, long this November 13 of 900 meters.
The activity is effusive, according to the OVFGO, despite a remarkable incandescence in night and hours of low light, as well as a sustained degassing. This activity, similar to that recorded in April, could be prolonged in the following months.
Discrete emissions of ash and gas continue, with a plume at 4,700 m. asl., moving west and southwest for 20 km.
Source: Insivumeh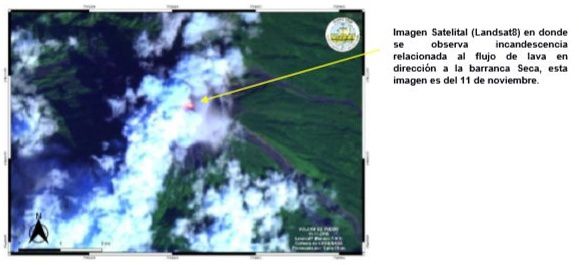 Fuego - incandescence of the lava flow in the Seca gorge, identified by Landsat 8 on 11 November - Doc. INSIVUMEH
Magma Indonesia and PVMBG report a significant increase in local tectonic earthquakes at Lamongan Volcano in East Java.
On November 13, there were 252 earthquakes, and a tremor of magnitude between 10 and 30 mm / dominant at 5 mm.
The Lamongan, a small stratovolcano located between the massive volcanic complexes of Tengger and Iyang-Argapura, is surrounded by many maars and slag cones. The currently active cone was built 650 m southwest of Gunung Tarub, the highest point of the volcano.
About 27 maars of 150 to 700 m in diameter, some of which contain crater lakes, surround the volcano, with about 60 cones of ash and cones. Maars filled with lakes, including Ranu Pakis, Ranu Klakah and Ranu Bedali, are located on the east and west flanks; Dry maars are mainly located on the northern flanks. None of the maars broke out during the historical period, although several young maars cut drainage canals at Gunung Tarub. The volcano was very active from the earliest eruption of 1799 to the end of the 19th century, producing frequent explosive eruptions and lava flows from vents on the west side, from the summit at about 450 m altitude.
Sources: PVMBG, Magma Indonesia and Global Volcanism Program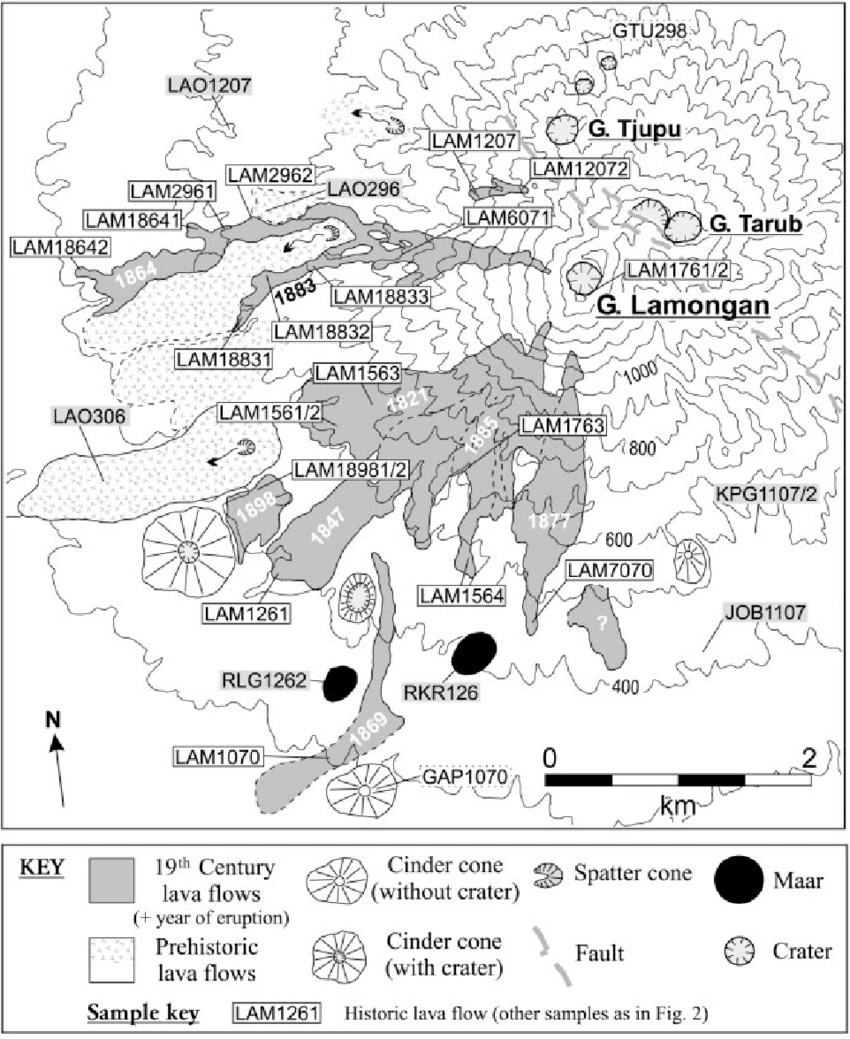 Map of the flanks of Lamongan and its volcanic field issued during the 19th century - Doc.S.Carn 2000
The Copahue, on alert Amarillo / Change of behavior of the volcanic activity, shows a constant degassing, with episodes of expulsion of ashes. Nighttime glow is observed when conditions permit.
On November 12 and 13, thermal anomalies of respectively 33 and 8 MW, are reported by Mirova.
Some instability marks the volcanic system, and higher ash emissions and / or minor explosions can affect the crater's surroundings within 1,000 meters.
Source: Sernageomin