Publié le par Bernard Duyck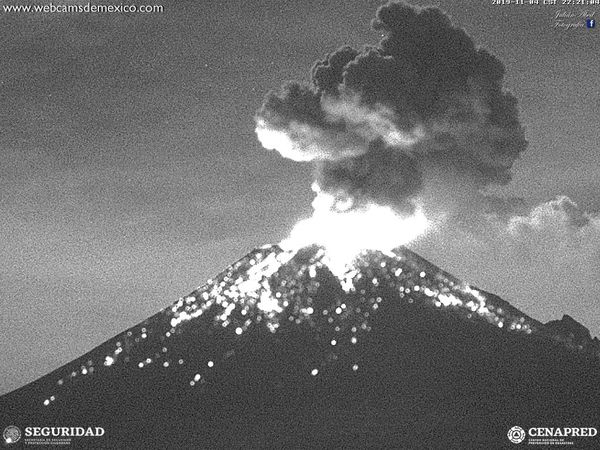 Popocatépetl - activity from 04.11.2019 / respectively to 21:58, 22:21 and 22:28 - WebcamsdeMexico / Cenapred - one click to enlarge thumbnails
The explosive activity of Popocatépetl was intense early in the night of November 4, after a quieter day marked by 92 low-level exhalations and an explosion at 00:38, which watered the flanks of incandescent fragments over 2 km and produced a plume ash of about 1,500 meters.
Explosions occurred at 21:58 and 22:19, the latter marked by a strong incandescence and projections to more than one km. crater.
At 00:09 this November 5th, an explosion was accompanied by a plume of ash 1,000 meters high, with a dispersion to the northwest.
The alert remains at amarillo Fase 2
Sources: Cenapred & Protección Civil Seguridad
Brad Scott and GeoNet report on the eruption of Metis Shoal / Lateiki :
" Since mid-October we have been following the Lateiki eruption with satellite images, and on 1 November an elongated island appeared as the main activity. rightmost image, we have combined the first and the last image showing that the 1995 dome seems to have disappeared. "
Sources: Sentinel-2 and GeoNet / Brad Scott

Metis Shoal - images of the Sentinel-2A, Sentinel-2B and Landsat 8 satellites between 10.10.2019 and 01.11.2019 - Doc GNS via Brad Scott  - one click to enlarge
Some images of the progression of the activity between October 15 and October 30, 2019, recovered by the Satellite Sentinel-2.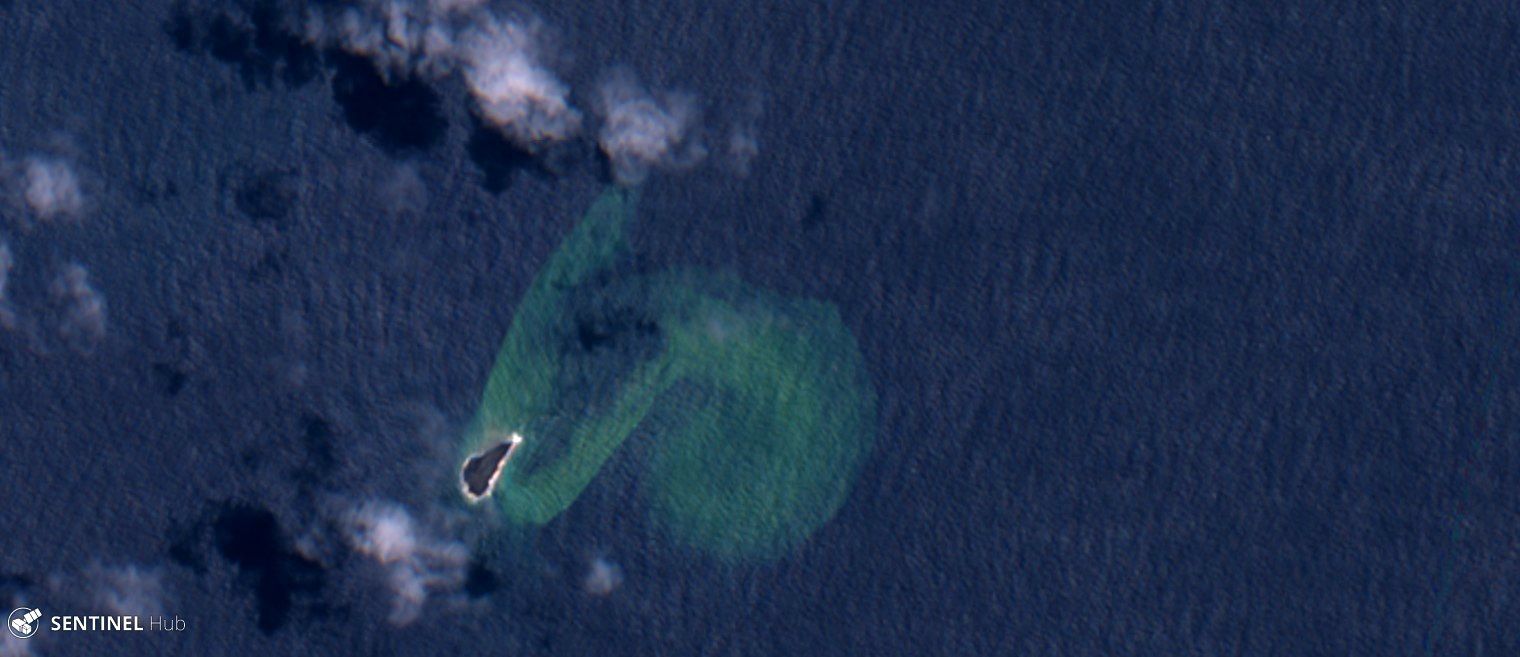 Metis Shoal - small island, surrounded by areas of water discolored by magmatic gases, on this image Sentinel-2 L1C of 30.10.2019 bands 4,3,2
At Shishaldin, the eruption continues; the lava overflows the crater and feeds a flow on the north-west flank in elongation. This one developed in two branches on November 3rd (doubling already visible on the image of 01.11.2019 - article of yesterday), each of them extending on approximately 1.000 meters.
Debris flows / lahars also extended, extending up to 2 km on the north and south flanks;
Sporadic glow is observable at night on webcams, and satellites show hot spatter deposits on the summit cone in relation to explosive activity and / or fountaining.
Small explosions are observed on the seismic and infrasonic networks.
The volcanic alert remains at Watch and the aviation code at orange
Source: AVO, Mirova & Sentinel-2, via Ana Maria Luongo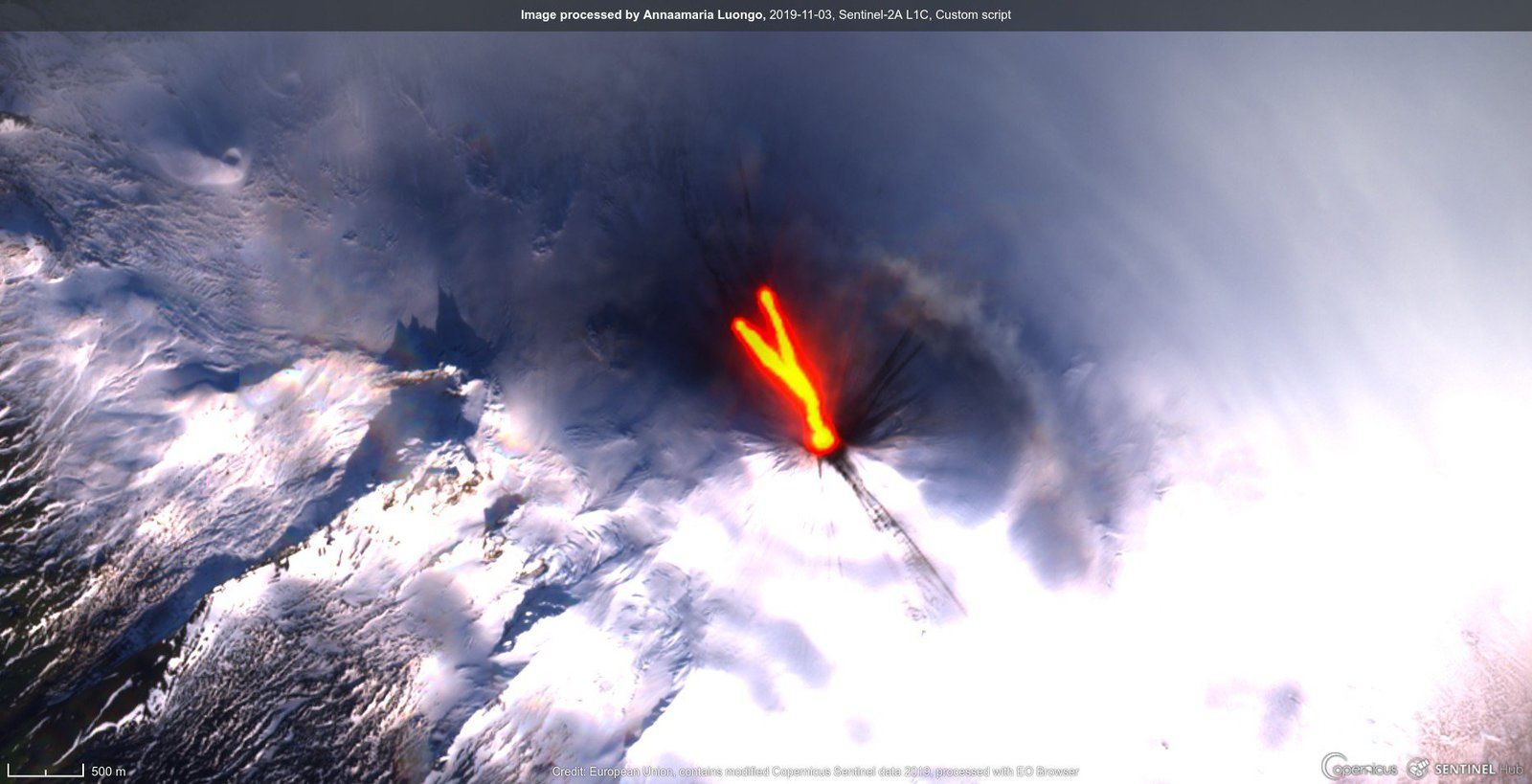 Shishaldin - bifid lava flow and lahar traces - image Sentinel-2A L1C, custom script - Doc. © Ana Maria Luongo / Copernicus