Publié le par Bernard Duyck
A low intensity eruption continues in Shishaldin.
The seismicity remains high with high amplitude tremor periods recorded on the local seismic network.
The lava overflows from the crater to the summit and a lava flow extends for at least 400 meters along the northwest flank of the volcano, as shown by satellite images and photos taken by local aircraft. In addition, a small flow extends 300 m southeast of the summit. Sporadic glow was observed on webcam images during the night, suggesting a minor explosive activity and / or melting lava could occur at the top. The thermal anomalies reported by Mirova oscillate between medium and high, with peaks at 1233Mw on November 3 / 22h15 and 1190 Mw on November 4th.
Small explosions have also been observed at local seismic stations and detected in regional infrasound data.
Shishaldin is monitored by local seismic and infrasound sensors, satellite data, a web camera, a range geodetic network, and remote infrasound and lightning networks.
The volcanic alert remains in Watch and the aviation code in Orange
Sources: AVO & Mirova
The Taal Volcano seismic monitoring network in the Philippines recorded 89 volcanic earthquakes during the 24-hour observation period.
Two of these events, which took place today at 03:17 and 04:07, were felt at intensity I at Alas-as, at San Nicolas and Tibag, at Pira Piraso, Talisay, Batangas and at intensity II at Tibag. , Pira-piraso, Talisay, Batangas, respectively.
Field measurements carried out on October 31, 2019 in the western sector of the main crater lake indicated a decrease in water temperature from 32.9 ° C to 32.5 ° C, a decrease in water level. water from 0.50 meters to 0.47 meters and an increase in acidity from a pH of 2.94 to 2.79.
The soil deformation measurements performed through accurate leveling surveys conducted from September 19 to 26, 2019, revealed a consistent building swelling with recent results obtained from continuous GPS data.
Alert level 1 remains in effect on the Taal volcano. This means that the dangerous eruption is not imminent. However, the public is reminded that the main crater should be strictly prohibited because sudden explosions of steam can occur and high concentrations of toxic gases can accumulate.
Source: Phivolcs
No eruptions are reported in Poas / Costa Rica.
The seismic activity is similar to that of yesterday.
There is an increase in lake level and a decrease in gas emissions through fumaroles.
Seismicity is still dominated by small, low frequency volcanic earthquakes. SO2 concentrations are maintained at 10 parts per million air volume.
Source: Ovsicori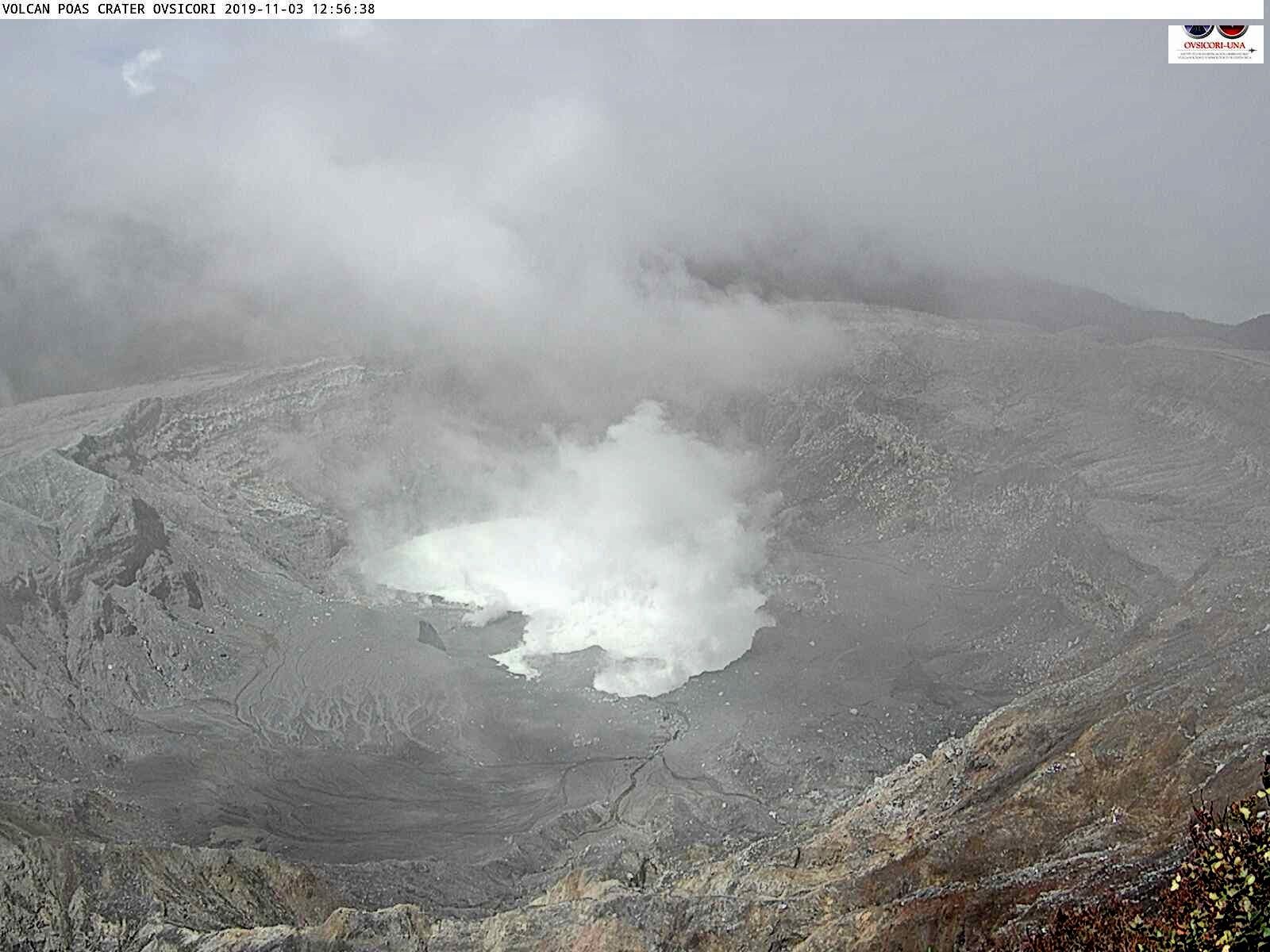 Poas - 03.11.2019 / 12h56 - the lake fills up gradually, with a decrease of fumaroles - bad visibility due to bad weather - webcam Ovsicori