Publié le par Bernard Duyck
Fascinated by the nature and power of the forces that govern the planet, and its hosts whose lives they condition, Joel Rea tries to account for these interactions in his paintings using metaphor and self-portrait.
Then born a dreamlike universe, magnified by a demanding technique and a realization of extreme finesse. His paintings are full of details, which defines him as a hyperrealist painter.
Hyperrealism is an art movement that appeared in the late sixties, of American origin, characterized by a representation of the environment, characters or everyday objects, whose meticulousness and illusionist precision exceeds imitation.
His painting "Forces" depicts with a photographic precision a plume of ashes during an eruption ... and leaves room for the dream, the reflection on the place of man in the face of the power of the volcano.
The character is slightly vaulted, absorbed by the ash that flows between the fingers ... your imagination will do the rest.
Have you ever let fine ash in your knuckles?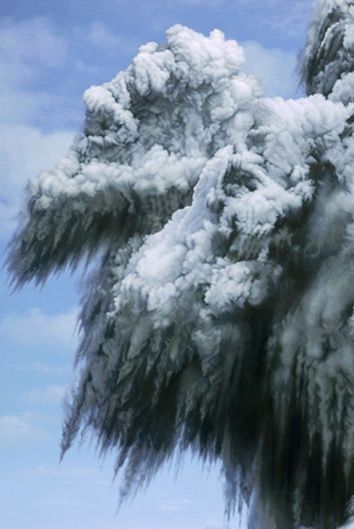 Joel Rea was born in Queensland, Australia in 1983. He graduated from the Queenqland College of Art in 2003.
He then exhibited in Australia and the United States, and received prestigious awards.
In 2013, he was selected for the Archibald Salon Des Refuses exhibition in Sydney, the Black Swan Award for Portraiture in Perth, the Fleurieu Landscape Award in Adelaide, and won the 2013 ANL Maritime Art Award in Melbourne.
This artist is a hard worker who can spend more than 700 hours on a single work
Sources:
Joel Rea official website - link
Artis a day - link

Joel Rea - NEW YORK - BEASTS OF ARCADIA at Jonathan LeVine Gallery, New York. www.joelrea.com.au