Publié le par Bernard Duyck
The Japan Meteorological Agency has raised the alert level of Satsuma-Iojima to 2 / do not approach the crater on November 2 at 17:50 JST, following an eruption at 17:35 local, accompanied by a plume of ash that has desegregated the 1,000 meters above the crater.
The ashes dispersed in a northwesterly direction, with little impact on the village of Mishima.
Source JMA & VAAC Tokyo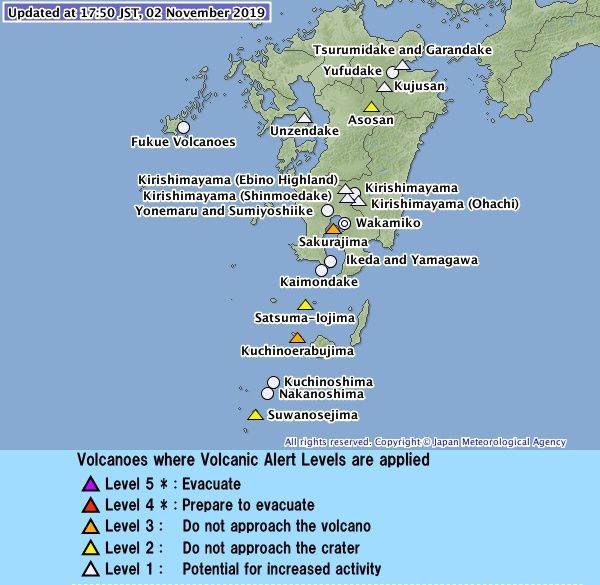 Location of volcanoes on alert 2 and 3 in the south of Japan - we notice the proximity with Kuchinoerabujima on alert raised this week - JMA map 02.11.2019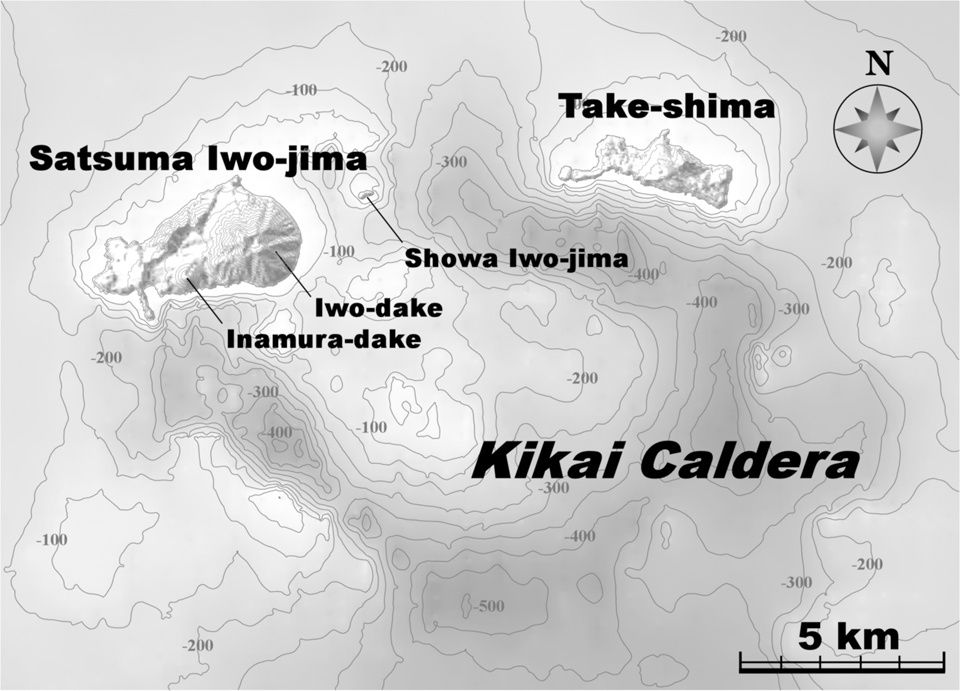 Satsuma-Iojima - the subaerial expression of the Kikai caldera includes two large islands: Satsuma-Iojima (5.5 km long) and Takeshima (4.5 km long), and three small islands: Unose, Asase and Showa Iojima - From Fukashi Maeno (2008). GVP
At Sakurajima, still on the alert 3 / do not approach the volcano, several explosions were accompanied by plumes between 1,500 and 1,800 meters above the crater on November 2; the JMA notes the episodes of 1:45 pm / plume 1,500 m., 17:51 / plume 1,800 m., 17:51 / plume 1,500 m., and 20:34 / plume 1.500 m.
The dispersion of the ashes was towards NNE-NE
Source: JMA, VAAC Tokyo and MyKagoshima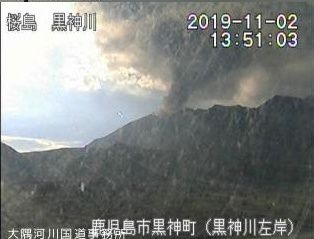 Sakurajima - eruptive episodes of November 2, respectively at 13:51, 17:21 and 20:45 - JMA webcam images - one click to enlarge
At Nevados de Chillan, the seismicity of the past 24 hours is marked by volcano-tectonic earthquakes, the most energetic located 3.4 km northwest of the active crater and 3.2 km deep, LP and VLP earthquakes, and tremor.
Emissions of gases and particles have been episodic; during the night, the explosions projected glowing materials around the crater.
The alert level remains in Naranja.
Source: Sernageomin / OVDAS