Publié le par Bernard Duyck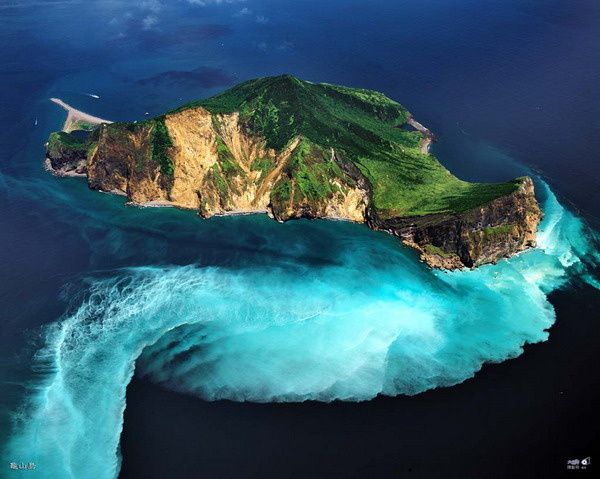 Guieshan island / Taiwan - a large area of ​​discolored water is evidence of submarine volcanic activity - photo Chen Minming
The Kueishan Tao andesitic stratovolcano (KST) off Taiwan, also known as Turtle island, in the form of its emerged part, is associated with numerous hydrothermal vents emitting hot fluids rich in sulfur.
Yellow Vent (YV) is distinguished, with high flow and recorded temperatures above 100 ° C, and White Vents (WV), with lower fluid flow and recorded temperatures below 60 ° C, which have impact on surrounding seawater bodies and ecosystems.
Erupting underwater WhiteVents of Kueishan Tao volcano, off Taiwan
The scientists of Dr. Dieter Garbe-Schönberg and Dr. Mario Lebrato of the CAU Institute of Geoscience have been studying for years the shallow hydrothermal system of "Kueishan Tao". This site is characterized by a large number of carbon dioxide emissions in shallow waters. In addition, the sources release toxic metals. Sulfur discolors water over large areas. Volcanic gases - with a high sulfur content - cause a strong acidification of the seawater.
Through drone monitoring methods, modeling, regular sampling and laboratory experiments on the hydrothermal field thus contribute significantly to the analysis of the effects of ocean acidification on marine communities. Only a few specialized animal species such as crabs, snails and bacteria live in close proximity to the springs. A few meters away, however, is the diverse life of a tropical ocean.
Underwater hot springs testify to volcanic activity - Vimeo / KaiYun Cheng. 2013
The morphological and biogeochemical consequences of an M5.8 earthquake and a C5 typhoon ("Nepartak") striking KST (July 12-10, 2016) were studied over a 10-year time series (2009-2018) combining aerial imagery of drones, technical diving and hydrographic surveys.
These catastrophic disturbances caused landslides that reshaped the shoreline, burying the seabed and, as a result, the accumulations of native sulfur that were abundant on the seabed have disappeared. A significant reduction in ventilation activity and fluid flow was observed at YV at high temperature. The maximum dissolved inorganic carbon (CID) in the surrounding seawater was 3000 to 5000 μmol kg-1 and the total alkalinity (AT) losses were less than 1500 to 1000 μmol kg -1 for one year . A sharp decrease and, in some cases, depletion of the dissolved elements (Cd, Ba, Tl, Pb, Fe, Cu, As), including Mg and Cl, in shallow seawater up to at the high seas followed the disturbance, with Mg and Cl recovery at pre-disturbance levels in 2018.
The White Vents and Yellow Vent benthic megafauna showed mixed responses in their Mg / Ca and Sr / Ca ratios of their skeletons, not always respecting the chemical modifications of the sea water. More than 70% of the organisms increased the skeletal Mg / Ca ratio during the rise of the CID (more CO2) despite the decrease in the ratios Mg / Ca seawater showing a high level of resilience. KST's benthic organisms have historically coexisted with such events by providing ecological benefits under extreme conditions. The sudden and catastrophic changes observed at the KST site have profoundly transformed biogeochemical processes in shallow and offshore waters for a year, but have remained transient in nature, with possible recovery of the system within two years.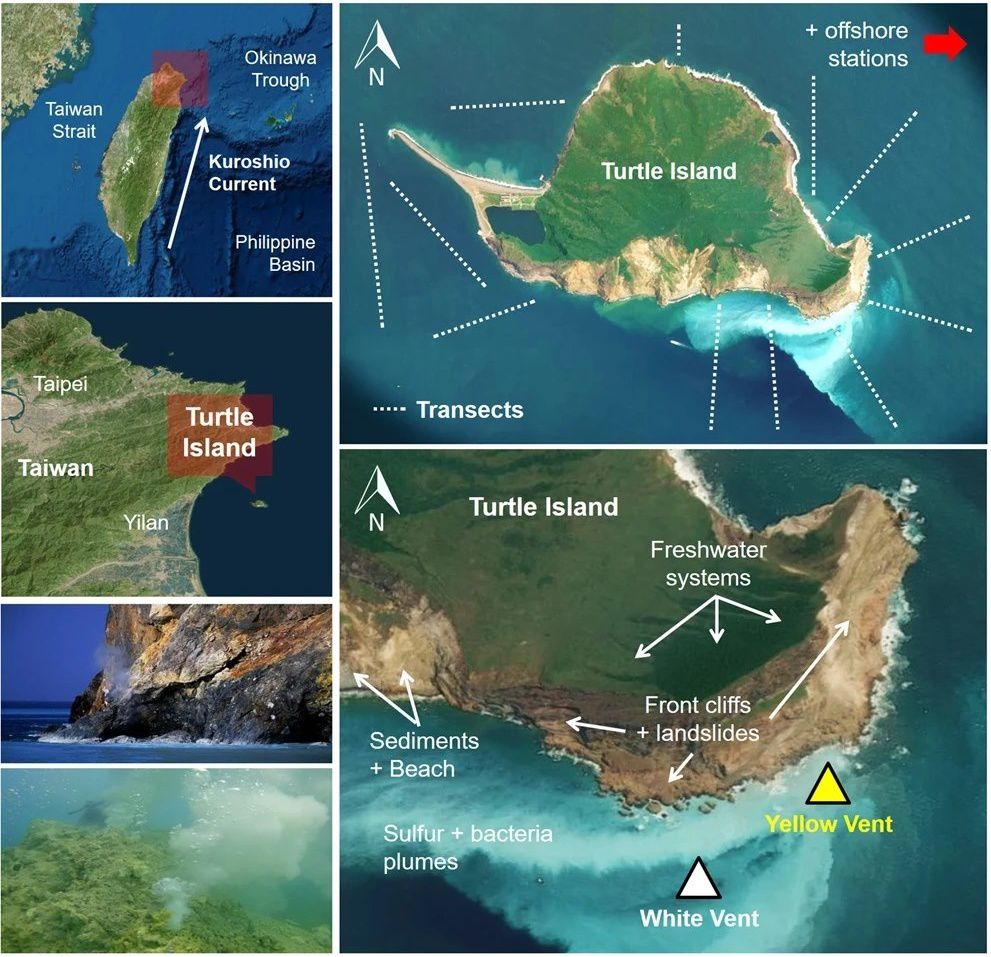 Geographic location of Turtle Island and the catastrophic events that affected underwater hot springs - Doc. Earthquake and typhoon unprecedented trigger transient shifts in shallow hydrothermal winds biogeochemistry. - by Lebrato & al.- Images © 2018 CNES / Airbus, SIO Data, NOAA, U.S. Navy, NGA, GEBCO © 2018 Google.
The heat source for the current hydrothermal processes at Kueishan Tao (KST) is assumed to be a shallow, shallow magmatic chamber and / or a number of dykes and molten pockets beneath the volcano, which solidify and cool slowly unless that a new injection of molten material warms the system to finally cause an eruption of the volcano with a renewed degassing and hydrothermal activity.
Therefore, after an eruption, the heat flux and magmatic gas release should slowly decrease over time. In addition, crystallization of hydrothermal minerals in the upflow zone of a hydrothermal system can lead to clogging of fluid pathways (the plumbing system) and a gradual reduction in fluid flow. Tectonic activity that causes faults and triggers earthquakes can also have a direct effect on the plumbing system by modifying or blocking fluid pathways.
Sources:
- Earthquake and typhoon unprecedented trigger transient shifts in shallow hydrothermal winds biogeochemistry. - by Lebrato, M., Wang, Y.V., Tseng, L. et al. Scientific Reports 9, 16926 (2019) doi: 10.1038 / s41598-019-53314-y - november 15, 2019 - link
- You Tube - https://www.youtube.com/watch?v=h23gm-rKNsE
- Global Volcanism Program - Kueishantao