Publié le par Bernard Duyck
An eruption took place on 17 November at 10:46 WIB at Merapi / Java, accompanied by a plume rising to an altitude of nearly 4,000 meters asl, a height of about 1,000 meters,vand generating ash falls on a southwestern sector. It has been recorded with max. 70 mm, for 155 seconds, on the seismograms.
BPPTKG reports seismicity on 16 November marked by a large number of hybrid earthquakes and volcanic earthquakes.
Sources: BPPTKG, PVMBG and Magma Indonesia
During the past week, the seismicity of the Chaparrastique / San Miguel volcano, in El Salvador, continues to show slight anomalies in the number of earthquakes and their frequencies. These changes are associated with high frequency events with some degree of impulsivity and greater amplitude, highlighting the presence of cracks and ducts associated with changes in fluid and magma pressure in the shallow end. of the duct of the volcanic system.
The activity of the volcano, for the moment, is not considered a danger for the population, but it indicates that there are variations in the equilibrium conditions of the system.
Source: MARN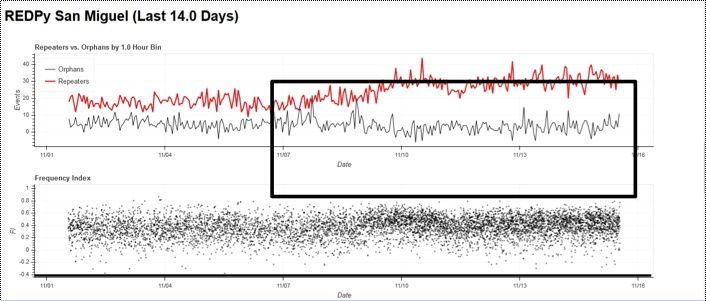 Chaparrastique - The black frame shows a slight increase in the number of earthquakes. The black line divides the frequency index. Black dots above zero represent earthquakes at high frequency and below zero, weak earthquakes. Activity associated with the opening of cracks and ducts due to the pressure due to fluid movements in the internal volcanic system. - Doc. MARN 17.11.2019
A swarm of earthquakes began around noon today on the Reykjanes Ridge.
About 20 earthquakes of M> 3.0 were detected and at 13:17, the largest earthquake of the swarm was M4.5. The swarm is located 45 km southwest of Reykjanes.
Nearly 200 smaller earthquakes have been detected since midday and the swarm continues.
IMO has received reports of earthquakes in the Reykjanes Peninsula, the Capital Region and Akranes.
Earthquakes of similar magnitude were last recorded in June 2018 and an intense swarm occurred in the same area in June and July 2015, the largest earthquake then being M5.0 and seven earthquakes > M4.0.
Source: IMO