Publié le par Bernard Duyck
On November 5, with the support of the National Guard, a reconnaissance flight was conducted in the crater of the Popocatepetl volcano.
During this overview, specialists from CENAPRED, CNPC, and researchers from the UNAM Institute of Geophysics were able to observe the formation of the No. 85 dome, 210 m in diameter and 80 m in diameter. thickness, with an irregular surface. The inner crater has a diameter of 350 m and an approximate depth of 90 m.
During the last 24 hours, 96 exhalations were identified, accompanied by gas and light amounts of ash, as well as six explosions, two moderate at 11:07 and 22:19 which generated a column of 1.5 km and ejected incandescent materials; and four minors at 17:24, 21:49, 22:27 and 00:09 today. In addition, a volcano-tectonic earthquake with a preliminary magnitude of 1.9 and 148 minutes of tremor was recorded.
At 11:00 am on October 5th, there was a slight steady emission of water vapor and volcanic gases. Any emission containing ash will be scattered west-southwest.
The volcanic alert is maintained at YELLOW PHASE 2.
NB: An overview of the Iztaccihuatlcan was made on November 5th, without observing any activity.
Sources : Cenapred, Unam, NCPC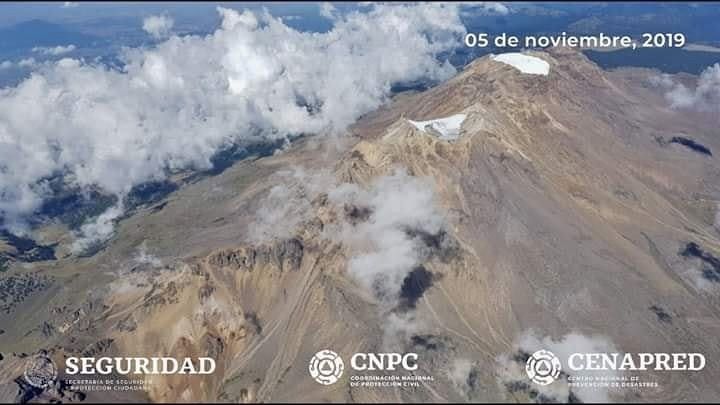 Iztaccíhuatl volcano - no activity noticed during the flight on 05.11.2019 by Cenapred / CNPC / UNAM / Seguridad
On Kyushu, Aso and Sakurajima still have ash emissions.
The ash of the Aso is expected to disperse to the northeast.
A Sakurajima ash plume is reported on October 5 at 4,000 meters altitude, dispersed to the southeast (VAAC Tokyo), moving northeast (JMA Version).
The JMA recorded a total of 31 eruptions and 18 explosions at the Minamidake crater for the period from 1 to 5 November 2019.
In Kuchinoerabujima, in the Ryukyu archipelago,volcanic earthquakes (20 on 05.11), and sulfur dioxide fluxes are increasing. A volcanic plume is reported at 1,050 meters above sea level.
Sources: Japan Meteorological Agency and VAAC Tokyo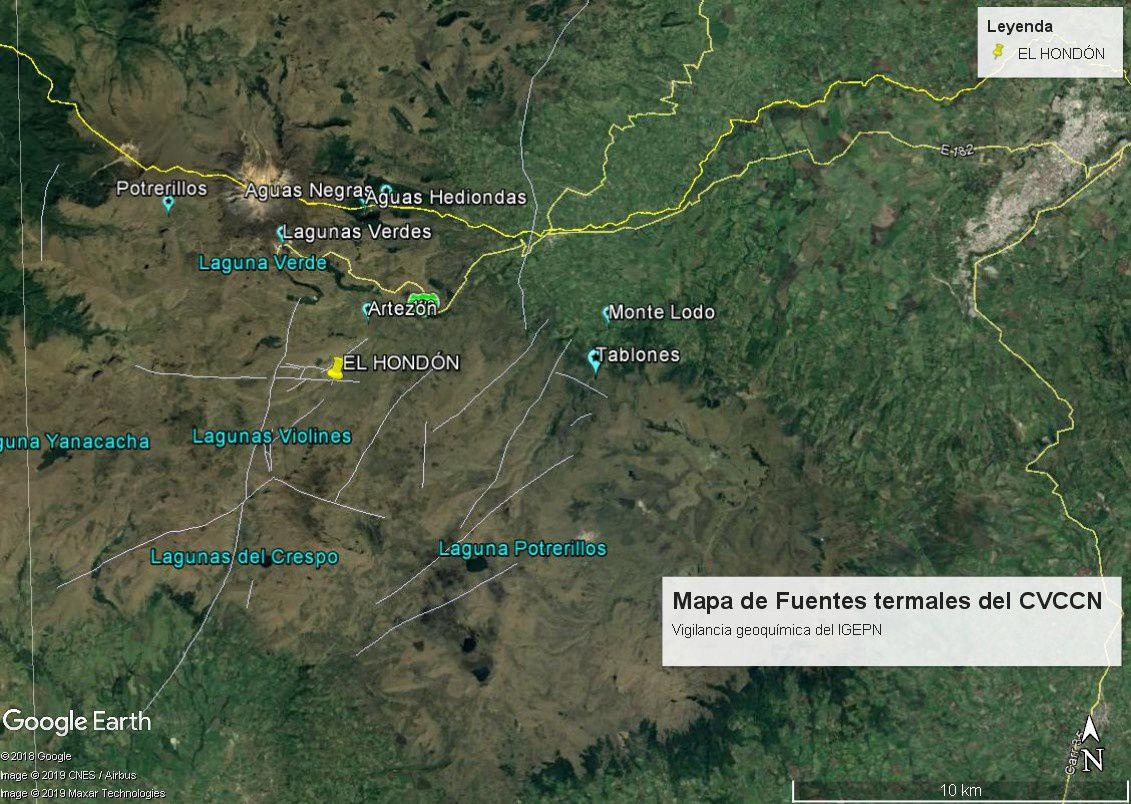 Situation map of the thermal zones and the El Ángel fault system - Chiles volcanoes / Cerro Negros - Doc. IGEPN
Thermal springs and fumarolic zones associated with the Chiles-Cerro Negros Volcanic Complex have been periodically monitored by the IGEPN since 2014.
Due to the remarkable temperature increase of an area south of the volcanic complex, staff members of the Institute of Geophysics conducted gas measurements, with MultiGAS and temperature, pH and conductivity measurements, in the fumarole fields and thermal springs of El Hondón, Aguas Hediondas and Lagunas Verdes, located south of the volcano Chiles, in late October.
The observatory concludes:
• Fumeral zones do not show SO2 concentrations, this gas could possibly be retained in the hydrothermal system.
• The proportion and concentration of CO2 and H2S in Aguas Hediondas and Lagunas Verdes are very high. This must be taken into account by staff in future work campaigns.
• A decrease in CO2 / H2S ratios has been observed, which could indicate a disturbance of the hydrothermal system, with a possible increase in the amount of sulfur.
• The conductivity and temperature of Aguas Hediondas hot springs continue to increase, while the pH continues to decline, increasing its acidity.
• The El Hondón field has the highest temperature (85 ° C) found in thermal springs in the region and throughout Ecuador. The proportion of water in the gas is 96.8% with 3.2% CO2.
Source: IGEPN