Publié le par Bernard Duyck
The INGV - Osservatorio Etneo has put online a new version of its website, expected for years: it puts in the foreground the latest releases, and an easy search of different parameters, tremor, seismicity, webcams and VONA .
For the period from 4 to 10 November, the Strombolian intra-crateric activity of Bocca Nuova (BN), Voragine (VOR) and the new crater South-East (NSEC) of Etna is maintained, accompanied by modest emissions of ash; the Northeast Crater (NEC) degasses, with occasional ash emission.
At the seismicity level, earthquakes linked to fracturing remain low, and tremor levels oscillate between medium and high.
The deformation does not show significant variations from the previous period.
Sulfur dioxide flow remains average, with a slight upward trend.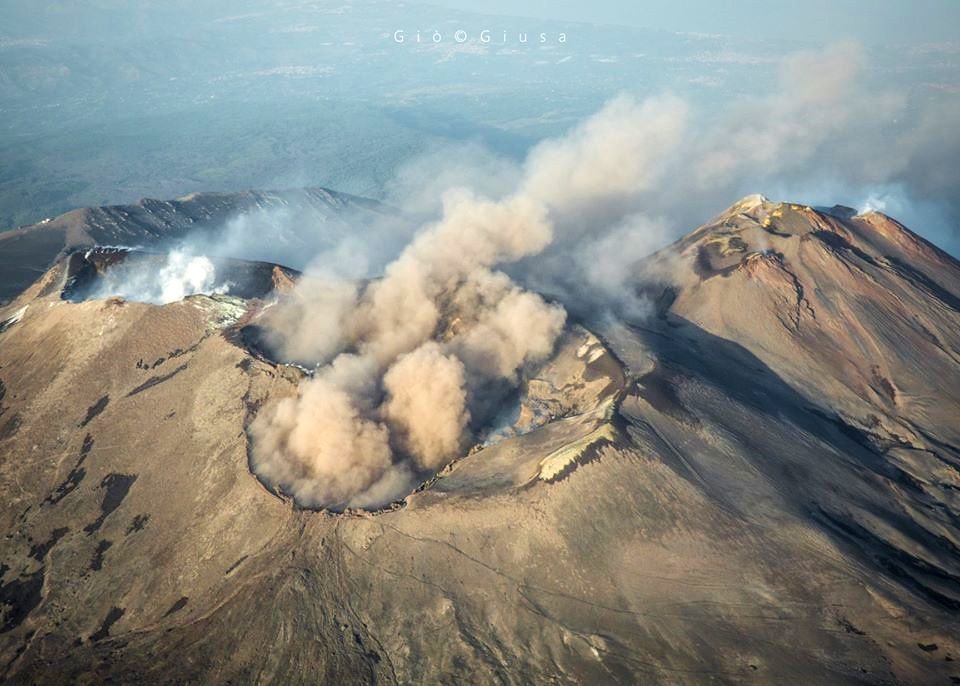 Etna, active craters on 11.11.2019 - From left to right, the NEC, in the center the BN and the VOR, on the right the crater complex SE - photo © Gio Giusa
For the same period, at Stromboli, a normal Strombolian explosive activity accompanied by degassing is maintained; the frequency of explosions remains between medium to high with 16 to 23 episodes per hour.
The parameters of seismicity and deformation do not show significant variations.
The flow of SO2 remains at an average level.
The Civil Protection has raised the alert level from orange to yellow on November 7, without changes in the prohibited navigation zone in front of the Sciara del Fuoco, nor concerning the prohibition of access above 290 meters.
Detailed reports on the new site of the INGV OE
Source: INGV - Osservatorio Etneo - http://www.ct.ingv.it/
The seismic swarm started on Thursday, November 7, just east of Askja, continues.
This morning at 7:30 am, an M3.1 event occurred in Askja.
About 1000 earthquakes have been recorded in the area since the beginning of the swarm. The largest earthquake was M3.4 and occurred on November 9th. In addition to this swarm, an earthquake> M3.0 has been detected during the swarm so far and about 20 earthquakes with a magnitude greater than 2.0.
No volcanic tremor has been detected in the area. This is more like fragile-type tectonic earthquakes related to continental drift. Swarms of earthquakes occur regularly around Herðubreið and Askja. IMO monitors the activity 24 hours a day, 7 days a week.
Source: IMO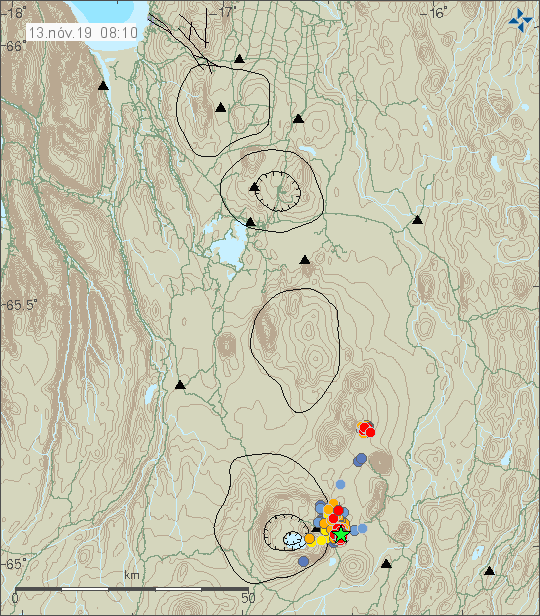 Askja - seismic swarm (location, number of earthquakes and magnitude) at 13.11.2019 / 08h10 - Doc. IMO