Publié le par Bernard Duyck
The activity continues in Karangetang, in alert level 3 / siaga.
Flows are visible by satellite and on webcam images on the west flank , ranging from a hundred meters to more than 1,000 meters. A moderate plume is visible rising 150 m above the summit.
The PVMBG reports, for November 26, 2019, 61 eruption earthquakes, 5 breath earthquakes, a hybrid earthquake, two volcanic earthquakes and a continuous tremor with a dominant amplitude at 5 mm.
The danger zone is kept between 2.5 km and 4 km in different directions.
Sources: PVMBG, Mirova & Sentinel 2
In Ecuador, the Reventador maintains a superficial and internal activity, without variation and qualified as high.
On the morning of November 26th, the ash plume is observed at 400 meters height above the crater, with a dispersion towards the west.
Incandescence is perceptible at night, with falls of blocks on the southern flank over 400 meters from the crater.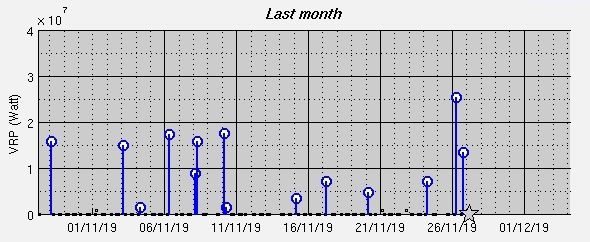 Seismicity, recorded between 25 and 26.11 at 11 am, is characterized by 12 LP earthquakes, 40 explosions, emission tremor and 8 harmonic tremor episodes.
The alert level remains Naranja.
Source: IGEPN
An international oceanographic survey of the sea floor of the Kolumbo submarine volcano, seven kilometers north-east of Santorini, was successfully completed from 19 to 27 November.
NASA's goal is to test new "smart" technologies in land seas with autonomous underwater vehicles (AUVs), which in the coming decades will be used to explore extraterrestrial oceans such as distant satellites of Jupiter and Saturn, where search for traces of underwater life in extreme, unexplored and possibly dangerous environments.
The program, which aims to optimize robotic probe technology, is being monitored by the Massachusetts Woods Hole Oceanographic Institute (led by Richard Camille, also head of the mission), the Institute of Technology. the University of Michigan, the University of Sydney, the Department of Geology and Geoenvironment of the University of Athens and the Institute of Marine Biology, Biotechnology and Aquaculture (ITHAW.V.Y.K.) of the Hellenic Center for Marine Science. (ELKETHE).
International oceanographic survey probes of the sea floor of the Kolumbo submarine volcano - Doc. via Santorini Press - a click to enlarge
Paraskevi Nomikou, Assistant Professor of Physical Geography - Geological Oceanography at the University of Athens, who played a key role in conducting NASA's research in Greece, explained that " the volcanic cone of Kolumbo has a basic diameter of three kilometers and forms a crater 170 meters in diameter, from a depth of 504 meters to a depth of 18 meters below sea level. This underwater caldera is located in a very geodesic environment, very close to the caldera of the Santorini volcano, and has an important hydrothermal system, from which almost pure carbon dioxide is released.
The self-propelled submarines will cross the Kolumbo crater and study its hydrothermal vents and other areas of biogeochemical interest. Robots, equipped with chemical sensors, will seek, among others, conditions in the caldera that could promote the development of life forms, as if they were in an extraterrestrial ocean " (Santorini Press)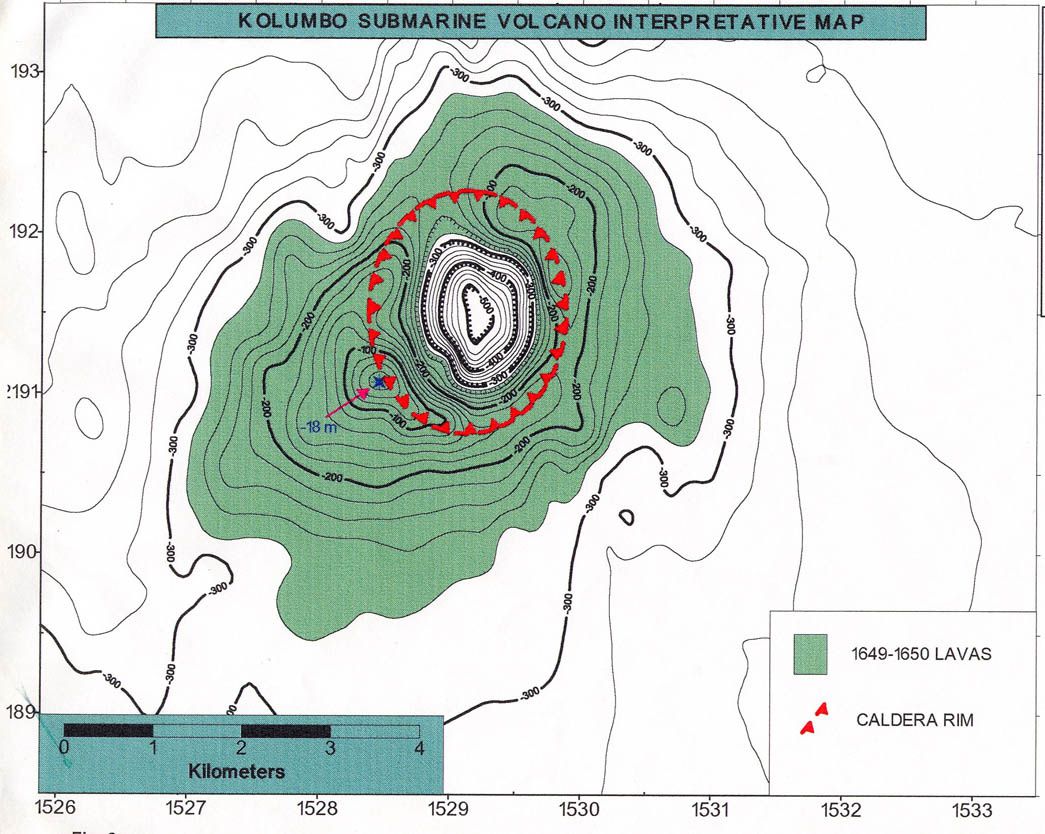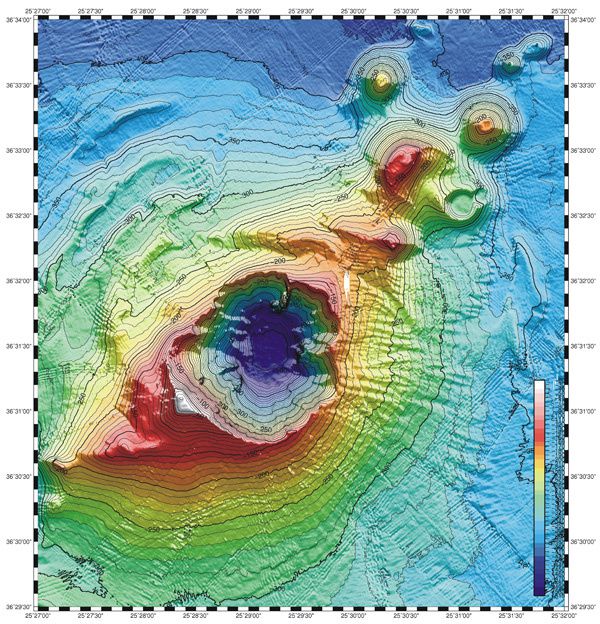 Kolumbo Crater - Bathymetry courtesy of Haraldur Sigurdsson, Steven Carey, Matina Alexandir and Katy Croff.
Although the research program is focused on testing technologies, especially autonomous robots, rather than studying volcanoes, a new chimney has been discovered, to the satisfaction of scientists.
Sources: Evi Nomikou and Greek press.