Publié le par Bernard Duyck
25 years of activity at Popocatepetl (1994-2019)
25 years ago, one of the most active and guarded volcanoes in the world, "woke up again", and has been in operation from then until now; Its current stage of activity is within the framework of the natural dynamics of the lava domes in the internal crater of the volcano.
The first dome dates from March 1996; the biggest eruption is linked to the destruction of the dome n ° 12 on January 22, 2001, which was accompanied by an eruptive plume of more than 9,000 meters. The current dome is No. 85.
The volcanic alert level remains at Amarillo fase 2.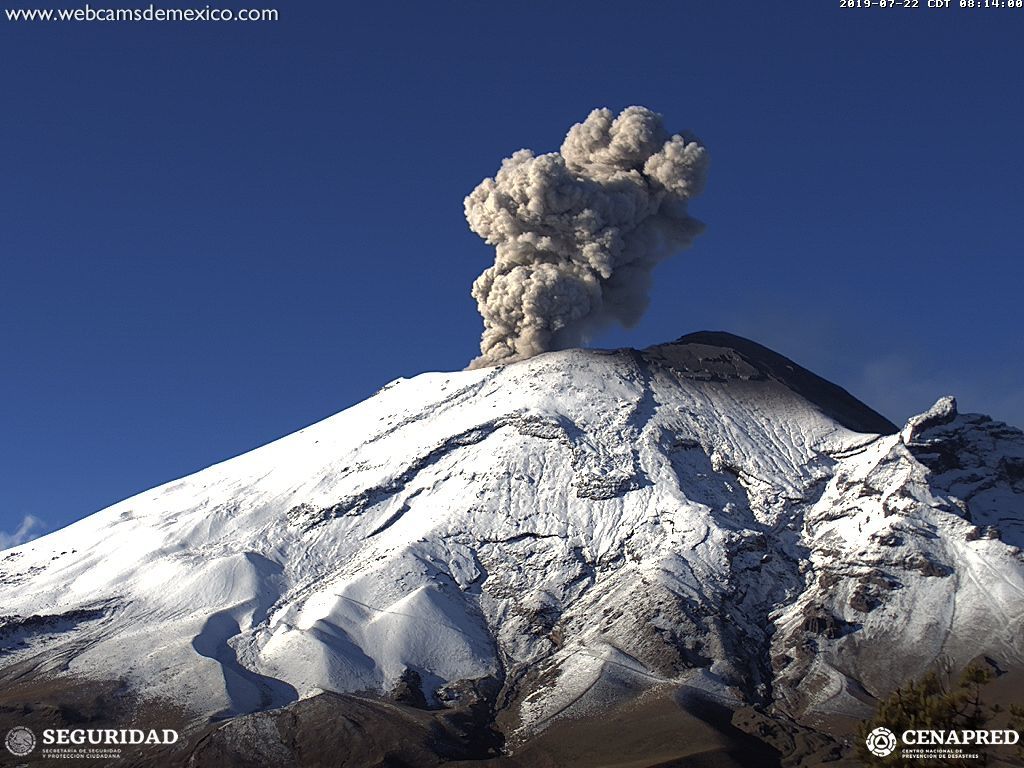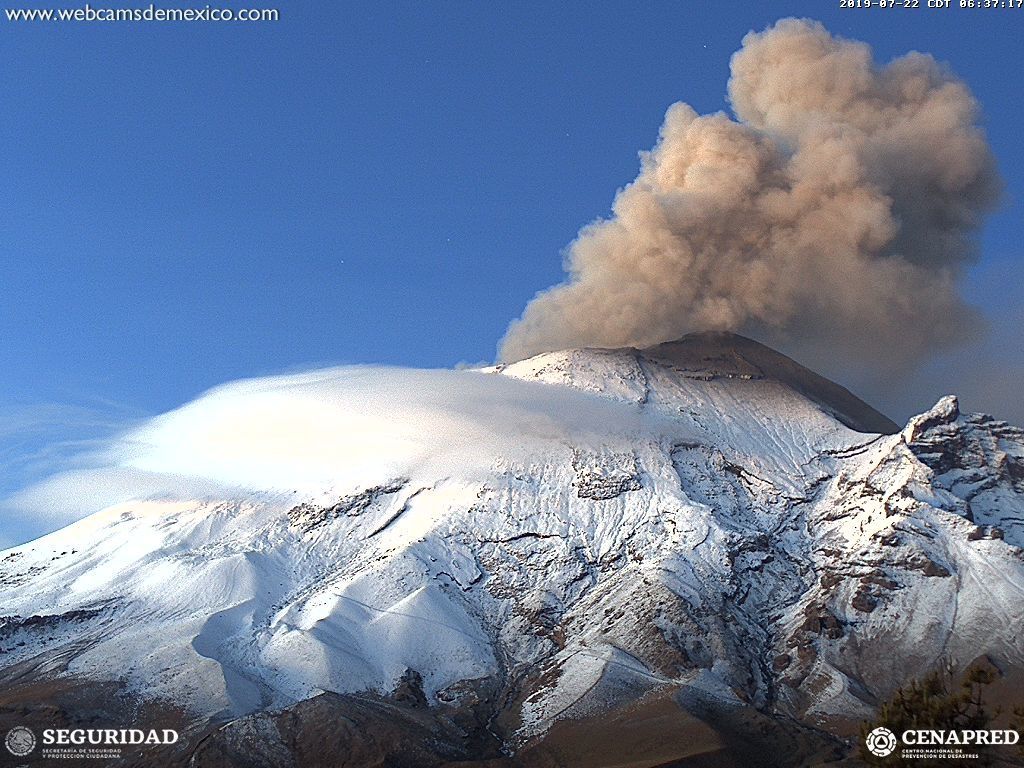 Popocatépetl - sharp images, taken with one of the new HD cameras - webcams image from Mexico / Cenepred / Seguridad
In order to improve the visual monitoring of Popocatépetl and Fuego de Colima volcanoes, the National Center for Disaster Prevention (CENAPRED), under the National Coordination of Civil Protection (CNPC) of the Ministry of Security and Citizen Protection (SSPC ), installed, in collaboration with México's Webcams, four high resolution (HD) cameras to obtain details on the ash emissions and the fragments expelled by these volcanoes as part of their eruptive activity.
The new Popocatépetl cameras are located at Tlamacas station, State of Mexico, and in San Juan Tianguismanalco, Puebla, five and twenty kilometers from the crater, respectively.
For the Colima volcano, the camera was installed in Palmillas, Colima, with the support of infrastructure and fiber optic links from Nibble de Colima.
Sources: Cenapred & Global Volcanism Program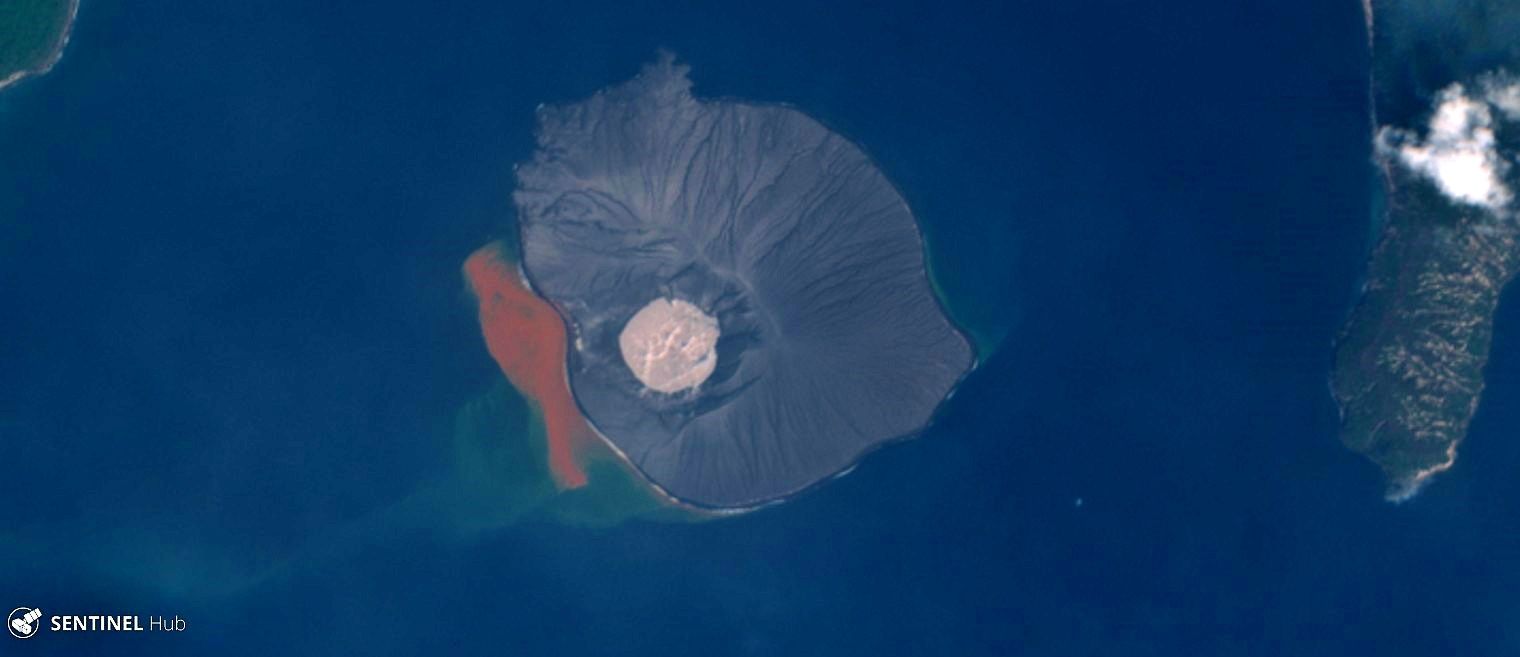 Anak Krakatau - well agitated crater lake on 21.12.2019 - Sentinel-2 L1C image on 2019-12-21 bands 4,3,2 - one click to enlarge
Another, more dramatic, anniversary is that of the eruption of Anak Krakatau, followed by a tsunami, on December 22, 2018. The toll of the losses is at least 426 people dead and more than 14,000 people injured, and countless material damage.
This December 21, the PVMBG reports 9 earthquakes of low frequency and of the continuous tremor, of amplitude 0.5-5 mm (dominant at 1 mm)
Recommendation: People / tourists are not allowed to approach the crater within 2 km of the crater
VONA: The last VONA sent has an ORANGE color code.
Source: PVMBG
The activity of Sheveluch this December 21 around 23:50 UTC is characterized by an explosion of ash at 6,000-6,500 meters asl., Drifting east for 25 km.
The aviation code is orange, the explosive-extrusive eruption continues with possible plumes at 10-15 km asl.
Sources: KVERT & VAACTokyo