Publié le par Bernard Duyck
The aviation code of Bezymianny, in Kamchatka, was raised to orange this December 13 at 11:40 am.
The activity of the volcano started to increase in December, characterized by glow at the summit in dark time, a lava flow and sometimes a strong fumarolic activity.
Thermal anomalies punctuate the increasing activity.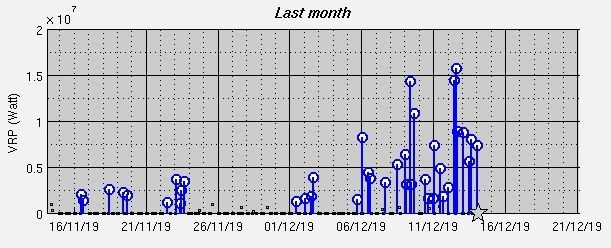 For the moment, no ash cloud is reported, but ash explosions can occur at any time, reaching 10-15 km asl.
Sources: KVERT & Mirova
In Shishaldin, eruptive activity intensified on December 13, with a possible collapse of the spatter cone and lava flows on the north and northwest flanks. The episode was accompanied by an ash cloud at 7,600 meters asl.
Surface temperatures are observed by satellite.
A plume of steam is visible at the top, as well as night glow.
On a photo from December 12, we can see pephra stretching over ten kilometers to the southeast; the pyroclastic flow deposits extend on the north side for 3.5 km, with metric blocks, and lahars extend in the northwest to the north coast of Unimak.
Source: AVO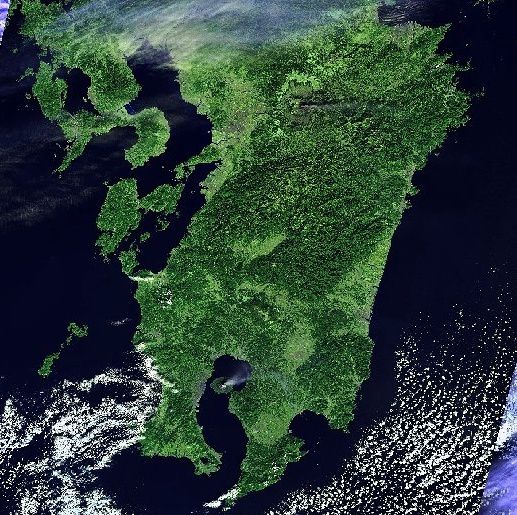 Japan / Kyushu - plumes of sakurajima (bottom) and Asosan (1/3 upper) - Sentinel-2 bands image 12,11,4 dated 13.12.2019
In Japan, the two active volcanoes on Kyushu, the Sakurajima and the Aso continue their emissions, visible on the Sentinel-2 image of December 13.
The JMA reports for Asosan two eruptive episodes on December 14 and 15, the last at 9 am local time.
At Sakurajima, 2 to 3 daily explosions have been reported since December 9.
Sources: JMA and VAAC Tokyo
Seismic activity remains appreciably weak this week at the Poás volcano with essentially volcanic earthquakes of long period of low frequency (LP) and of very low amplitude. There are no eruptions or volcanic tremors.
The level of the new acid lake continues to rise due to the amounts of precipitation and the marked decrease in the heat flow from the interior of the volcano to the surface.
The new acid lake has a temperature of about 55 degrees Celsius, an extreme acidity (pH = 0.23), a salinity greater than 200 mS / cm and a turbidity greater than 1000 UNF. The green color of the lake indicates the prevalence of iron minerals in reduced form and fine particles of colloidal sulfur (hydrothermal conditions).
The fumaroles are mainly found under the lake. The concentration of SO2 gas measured by the MultiGAS system at the western edge of the crater fluctuates at maximum values ​​of 10 parts per million, while the CO2 / SO2 ratio shows a tendency to remain around 1.0.
The field of sulfur-rich fumaroles in the NE sector continues to operate. In mouth A, bubbling and gas emissions are observed. On December 13, a low amplitude background tremor (2 to 4.5 Hz) is maintained, as are LP low amplitude earthquakes.
Sources: Ovsicori and RSN