Publié le par Bernard Duyck
Etna NSEC - Strombolian activity of 07.12.2019 / 22:10 of the Mareneve road near the village of Fornazzo on the eastern flank of Etna - photo INGVvulcani
From 18:00 UTC on 6 December, the cameras of the CCTV system of the INGV show, in addition to the Voragine / Bocca Nuova activity, a gradual intensification of Strombolian activity at the New Crater of South-East of the Etna, who manifested already from 16:00 UTC with weak and discontinuous explosions. The activity produces, for the moment, the fallout of incandescent material along the slope of the cone. An increase in the tremor is observed around 22:10 local.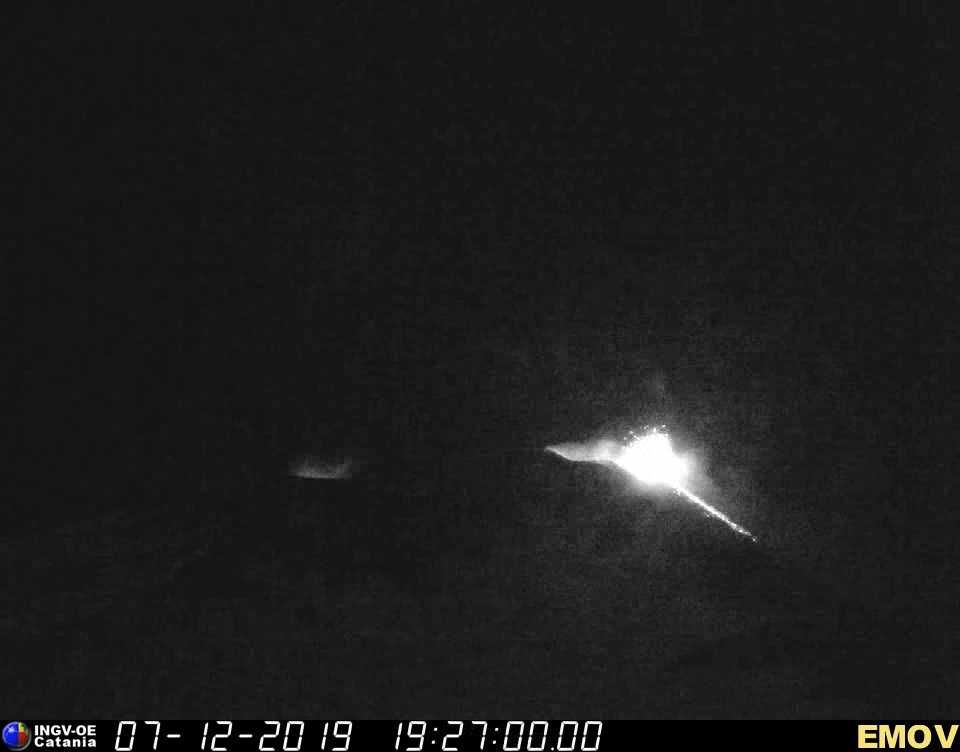 This activity continued on December 7, marked by thermal anomalies between 71 and 169 MW, according to Mirova.
December 8, values ​​of 54 and 144 MW are recorded at 0:15 and 1:50. This morning, ashes are emitted by the crater northeast.
Sources: INGV OE, INGVvulcani and local observers.
In the Aleutian arc, an eruption was detected on December 7th in Semisopochnoi, starting at 0h26 AKST, with an episode of strong tremor and the emission of infrasound.
Cloud cover around 3,000 meters prevented the detection of an ash plume of greater height.
The aviation code and the alert level were increased respectively at Orange & Watch.
Intermittent explosions continued during the night, and seismicity remains high.
No surface activity or significant ash emissions were observed.
Source: AVO
A moderate eruptive activity continues in Ebeko, in the northern Kuriles. It is characterized by explosions generating a plume of ashes high of 2500-2700 meters asl, drifting towards the northeast of the volcano.
The continuation of the activity justifies the maintenance of the orange aviation code, explosions accompanied by ashes that can occur at any moment and reach up to 6000 meters asl.
Sources: KVERT & VAAC Tokyo