Publié le par Bernard Duyck
In the Aleutian arc, the AVO recorded in Shishaldin on December 4 afternoon and evening high surface temperatures, related to an effusion of lava, confirmed by an increase in seismicity.


A lava flow on the flank of the volcano was observed by a pilot; no ashes were emitted.
The volcanic alert remains at Watch, with an orange aviation code
Source: AVO
In Papua New Guinea, small thermal anomalies are reported by Mirova on December 5, 2019.
Sentinel - 2 SWIR images from 1 December show gas (bluish) and vapor plumes to the southwest and the main island.
For Manam, the low anomalies are between 1 and 9 MW.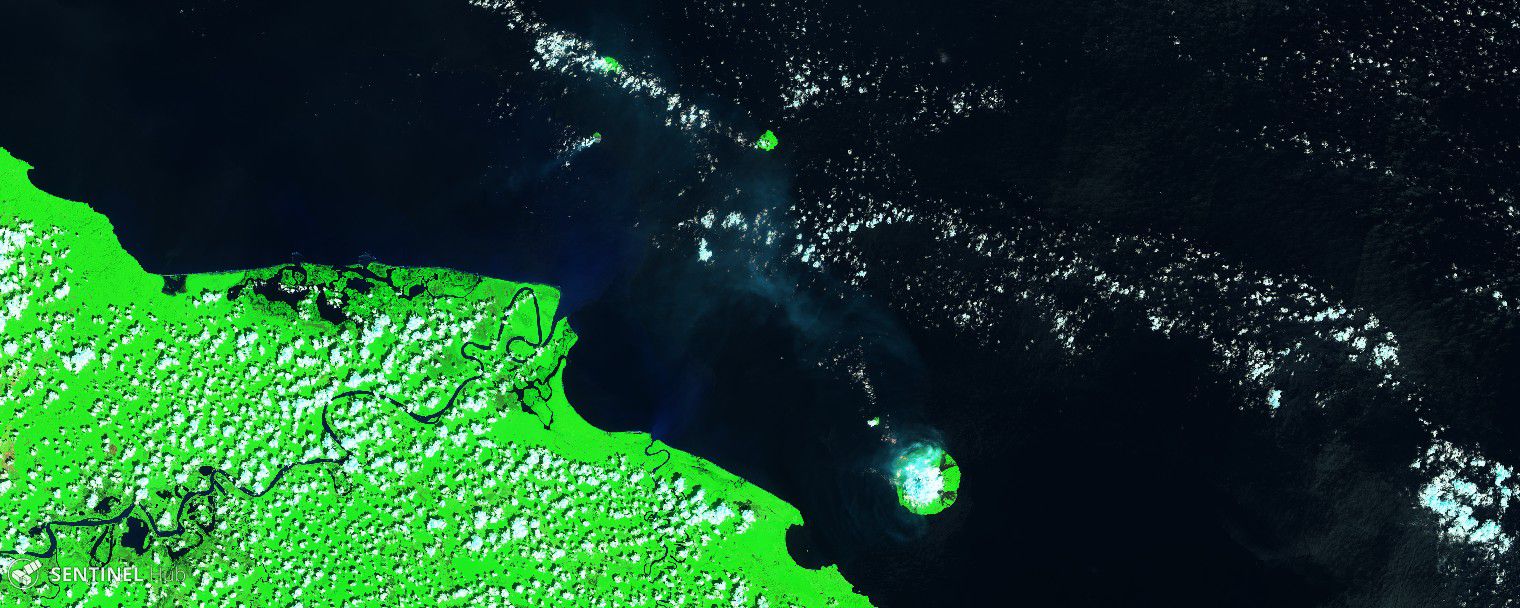 Papua New Guinea - image Sentinel2 SWIR from 01.12.2019 emissions from volcanoes Kadovar (center) and Mamanm (bottom right) - One click to enlarge
For Kadovar, an anomaly of 5 MW is reported today.
Sources: Mirova and Sentinel-2
The Sangay, in Ecuador, continues its current eruptive phase that began on May 7, 2019 (a total of 212 days).
With seismic and acoustic monitoring, it is evident that the internal activity is dominated by signals of fluid movements and explosions. A small deformation of the volcano has been observed during the last month, probably due to the entry of new deep magmas.
On the surface, a semi-continuous activity is maintained from two eruptive centers: the central crater and the Ñuñurco vent (southeast).
The central crater has explosive activity that generates small clouds of gas and ash. During the last month, emissions reached 2 km above the crater and are mostly dispersed to the northeast with high variability, causing small ash falls in the provinces of Chimborazo, Morona Santiago and Azuay.
On the other hand, the Ñuñurco vent has an effusive activity that results in an almost continuous emission of lava flows that are deposited along the southeast flank of the Sangay. At the edge of the lava flows, small rock falls (pyroclastic flows) reach the basin and the upper channel of the Volcán River. These deposits cause small temporary dams in the Volcán, which are remobilized by precipitation, forming mudslides and debris (lahars).
Source: IGEPN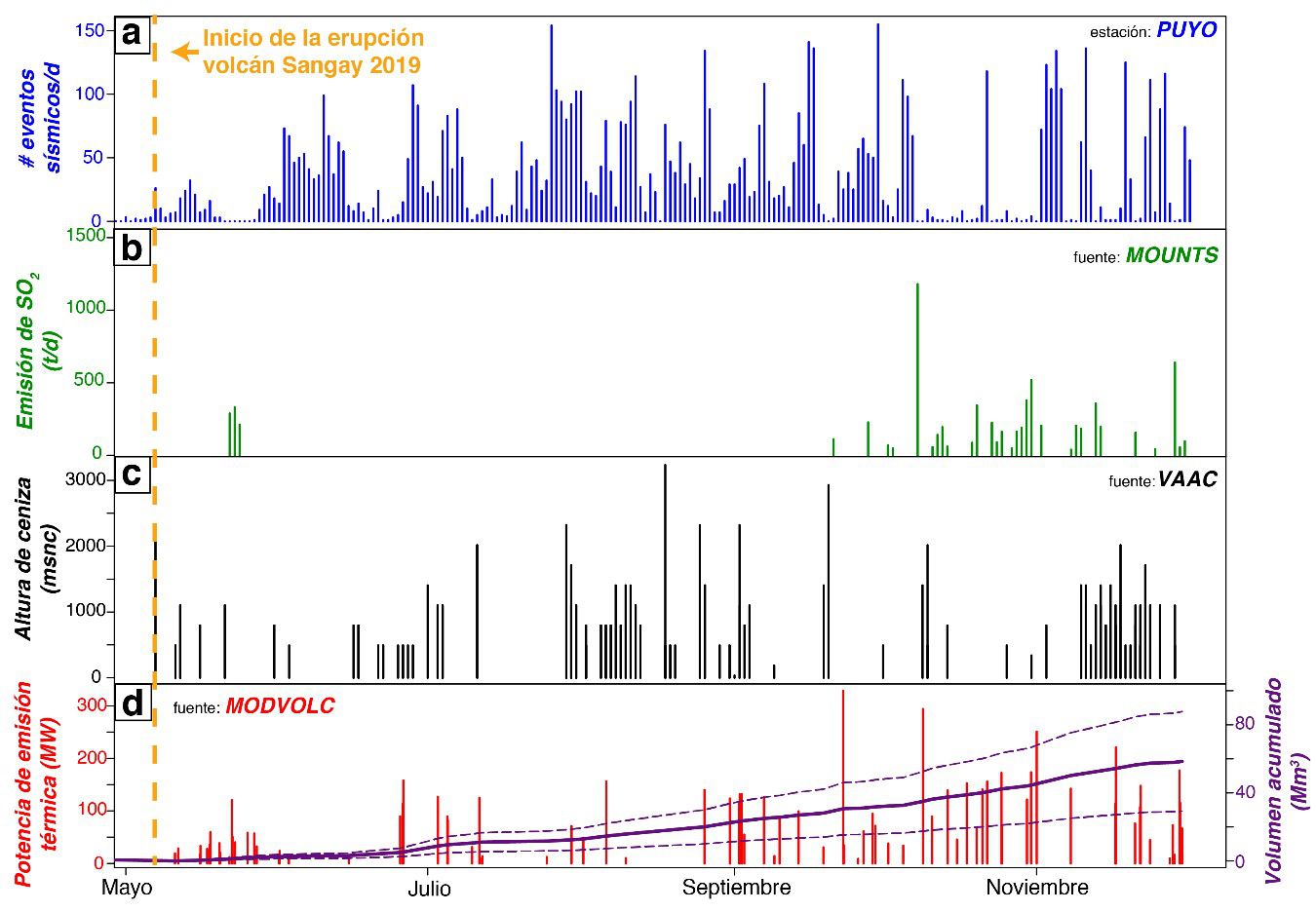 Multiparametric map of Sangay volcano activity from May to 1 December 2019. a: seismic activity (number of events per day) detected at PUYO station (source: IG-EPN); b: SO2 emissions (tonnes per day) detected by the Sentinel-5P satellite sensor (source: MOUNTS); c: height of ash plumes (m above crater level) detected by GOES-16 satellite sensor (source: Washington VAAC); d: thermal emission power (megawatt) detected by the MODIS satellite sensor (source: MODVOLC) and estimated accumulated lava volume (million m3, the dotted lines represent the error range).