Publié le par Bernard Duyck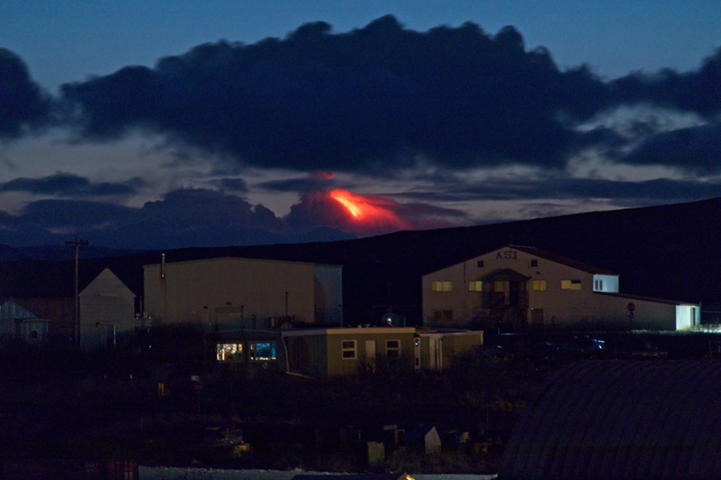 Shishaldin - 12.12.2019 The eruptive activity seen from Cold Bay. Photo courtesy of Aaron Merculief / via AVO
A small eruption of Shishaldin in the Aleutian Arch produced a plume of ashes reaching 6000-7600 meters asl, dispersing to the northwest.
A burst of tremor was observed on December 12 at 7:10 a.m. local (4:10 p.m. UTC) and lasted 3 minutes, as well as lightning.
A flow is visible on the satellite images and on the photos taken from Cold Bay.
The volcano remains unstable and other explosions could occur.
Sources: AVO & Mirova
The Nevados de Chillan eruptive cycle continues, with this December 12, vulcanian explosions (overpressure in the lava dome) accompanied by plumes 2,000 meters high and minor pyroclastic flows on the northern flank.
The seismicity consists of VT earthquakes, LP earthquakes (linked to the explosions) and tremor.
The situation remains under the current orange alert.
Source: Sernageomin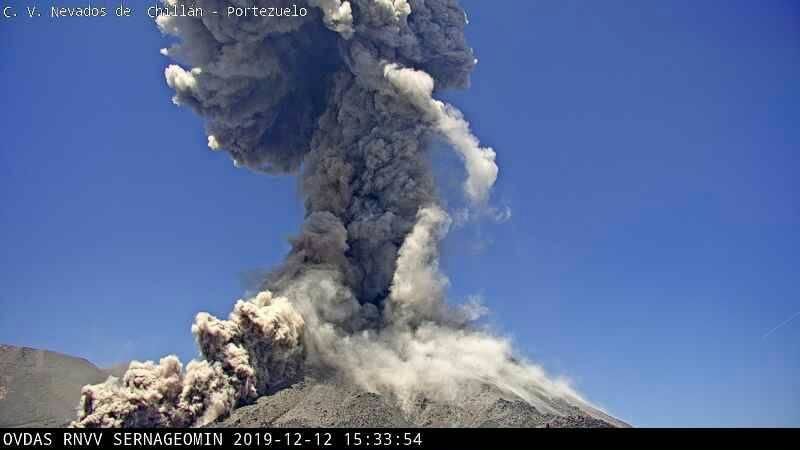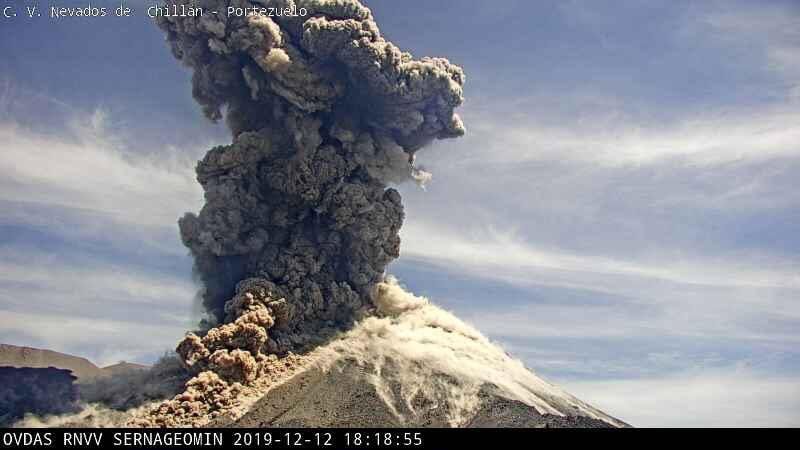 Nevados de Chillan - 12.12.2019 - explosions with pyroclastic flows, respectively at 15:33 and 18:18 - webcam Sernageomin - a click to enlarge
The modest explosive activity continues in the summit craters of Mount Etna. These images, from the night of December 11 to 12, 2019, show a strombolian activity at the crater of Voragine, two mouths of the new southeastern crater (NSEC) and the crater northeast.
A novelty was the opening of a new small vent on the eastern flank of the "saddle cone" of the NSEC, which from the end of December 11 produced intermittent and weak strombolian activity, sometimes simultaneously and sometimes alternately with the more oriental mouth of the same NSEC.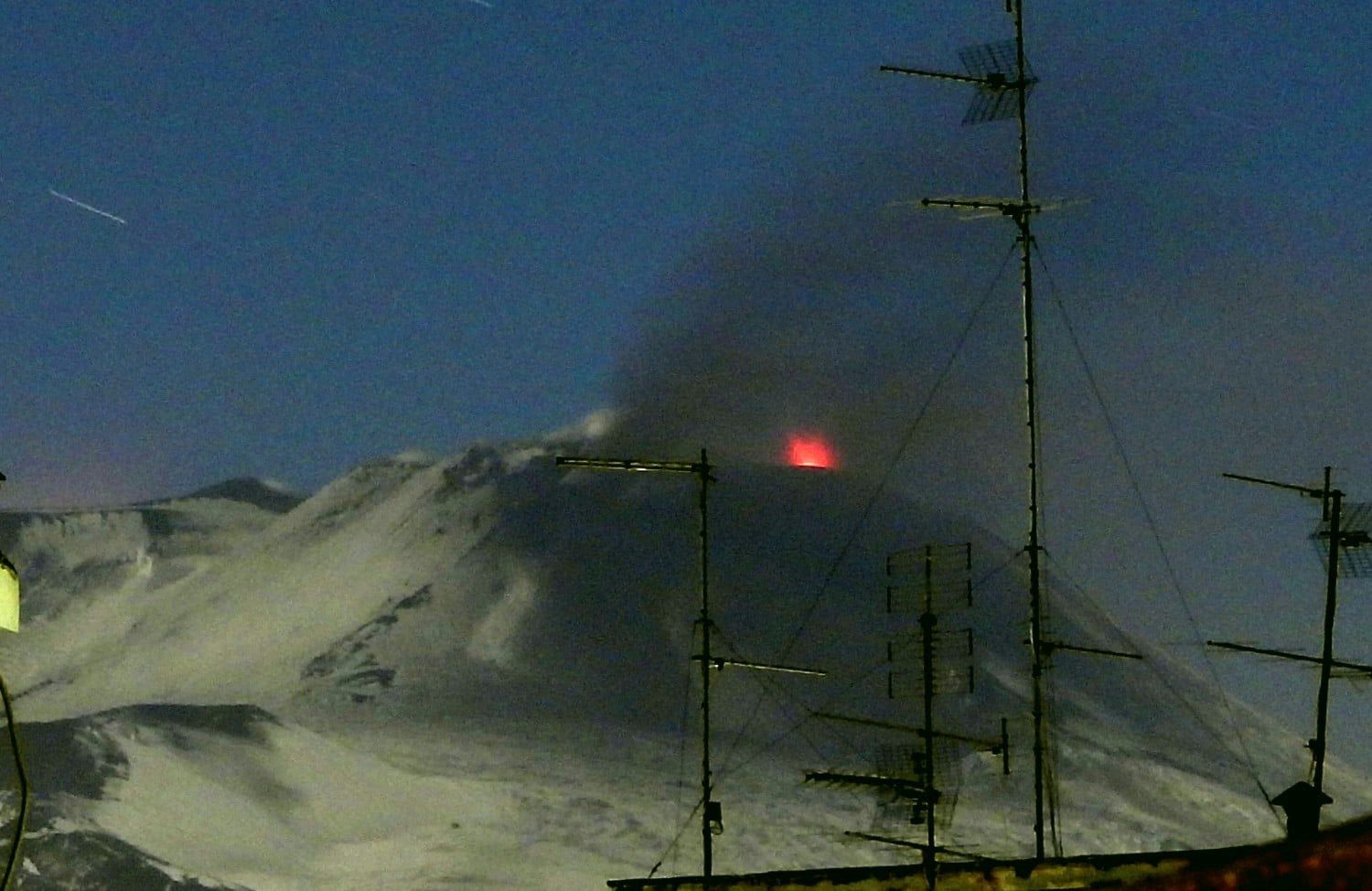 Etna - Strombolian explosion at the eastern mouth of the NSEC at 1:10 a.m. (local time) on December 12, 2019 - photo INGV OE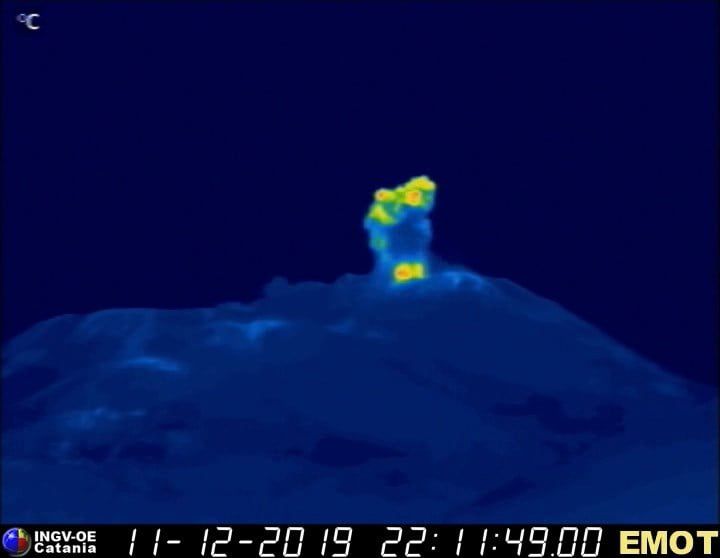 Etna - explosion at the new mouth on the "cone of the saddle", recorded by the thermal camera on the Montagnola "EMOT" at 11:11 pm (local time) on December 11th. - Doc. INGV OE
A comment by Boris Behncke, from surveillance during the night of 11 to 12.12.2019
"It should be noted that these phenomena do not represent an increase in the intensity of eruptive activity, which, on the contrary, appears to have decreased slightly over the past two days, and the magnitude of the volcanic tremor has decreased considerably. since last night. Thus, L'Etna is once again asserting that the extremely versatile and mysterious volcano ... "
Sources: INGVvulcani and Boris Behncke
The level of the volcanic tremor has dropped, but remains high at Whakaari / White Island; no eruptions have occurred since December 9, and the alert level remains at 2.
According to the BBC, a team of 8 specialists from the New Zealand Defense Forces arrived by helicopter on the volcano, well equipped with protective suits and breathing apparatus (which somewhat lengthened their reconnaissance action).
The position of six people was known, and the bodies were taken to the north island. Efforts continue to locate the other two bodies, at least one of which is in the water, where divers are in action.
Sources: GeoNet updated alert bulletins # 8 and 9 - BBC News - Sentinel 2