Publié le par Bernard Duyck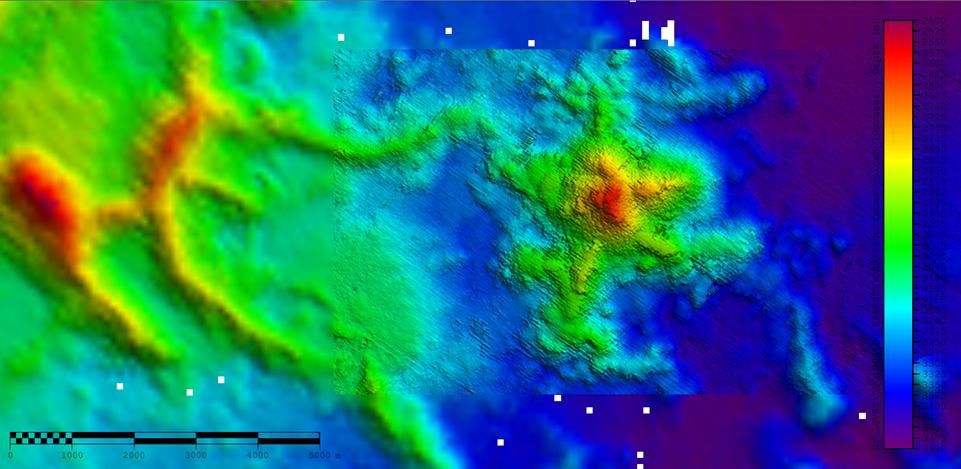 Bathymetry of the submarine volcano of Mayotte and its flows - Doc SHOM 07.2019 - one click to enlarge
According to REVOSIMA bulletin # 9 - 16 at 30.11.2019 - the new underwater eruption site in Mayotte has produced at least 5.1 km3 of lava since the beginning of its construction.
Over a period of 11 months (July 2018 - beginning of surface deformations recorded in Mayotte - June 2019), the eruptive lava flow is about 150-200 m3 / s.
Since the discovery of the volcanic edifice, three new remote exit points have been identified that have produced:
- in the south about 0.2 km3 of lava in 28 days (18 May-17 June 2019) for an average minimum flow of about 83 m3 / s;
- in the west, about 0.3 km3 of lava in 44 days (between June 17 and July 30, 2019) for an average minimum flow of 79 m3 / s;
- north about 0.08 km3 of lava in 20 days (between July 31 and August 20, 2019) for an average minimum flow of about 44 m3 / s.
These eruptive flows remain high. These eruptive volumes and flows, especially at the beginning of the crisis, are exceptional and, given the uncertainties, are generally the highest observed on an effusive volcano since the eruption of Laki (Iceland) in 1783 whose average eruptive flow had been estimated at 694 m3 / s over 245 days of eruption.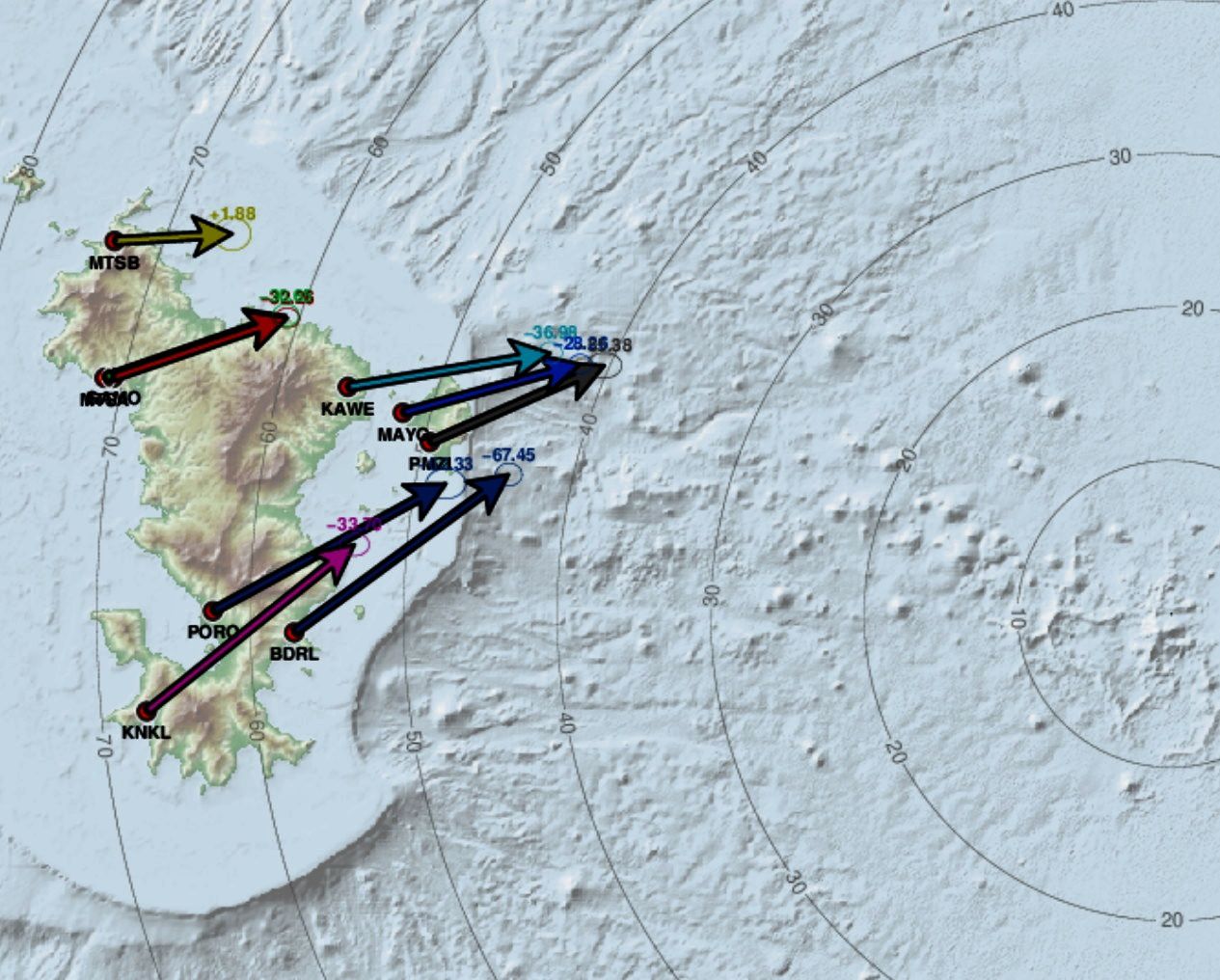 Mayotte: Soil movements recorded on Mayotte GPS stations during the last 3 months from 1-09-2019 to 30-11-2019. The horizontal displacements are represented in vectorial form and the vertical displacements are indicated by the numerical values ​​in color. Post-processing of this data by IPGP (© OVPF-IPGP / REVOSIMA).
Since August 2019, the vectors of horizontal displacements point more towards the north, resulting in a relative displacement of the simple isotropic pressure source, which can explain these displacements, about 20-25 km more to the north-west compared to beginning of the year.
Several hypotheses are formulated:
Thus, for the last 3 months, the best single model (one-source model, isotropic and elastic medium) that can account for these displacements would be a source of localized deflation between 26 and 73 km east of Mayotte and at a depth between 45 and 75 km at 95% probability. Over the last fifteen days the flows associated with the best models would be between -30 to -80 m3 / s. Note that in the case of a source in deflation, the evolutions of position of the source towards more superficial depths do not translate a source migration but could be linked to the effect of the closure of a conduit (being gradually from the bottom up).
More complex models, under evaluation, suggest that several sources of pressure (in deflation and inflation), geometry and variable volume, located at different depths, could also explain the deformations observed over different periods of time.
Nevertheless, the dominant source remains a source of deflation. Whatever the models, these deformations confirm that transfers of magmatic fluids are still continuing in depth, and that in the current state of the art these fluids seem to circulate between 20 and 60 km deep without being able to elaborate. more refined scenarios on the future evolution of this activity.
Source: BRGM / REVOSIMA - https://brgm.fr/content/volcan-seismes-mayotte-suivi-activite-sismo-volcanique-revosima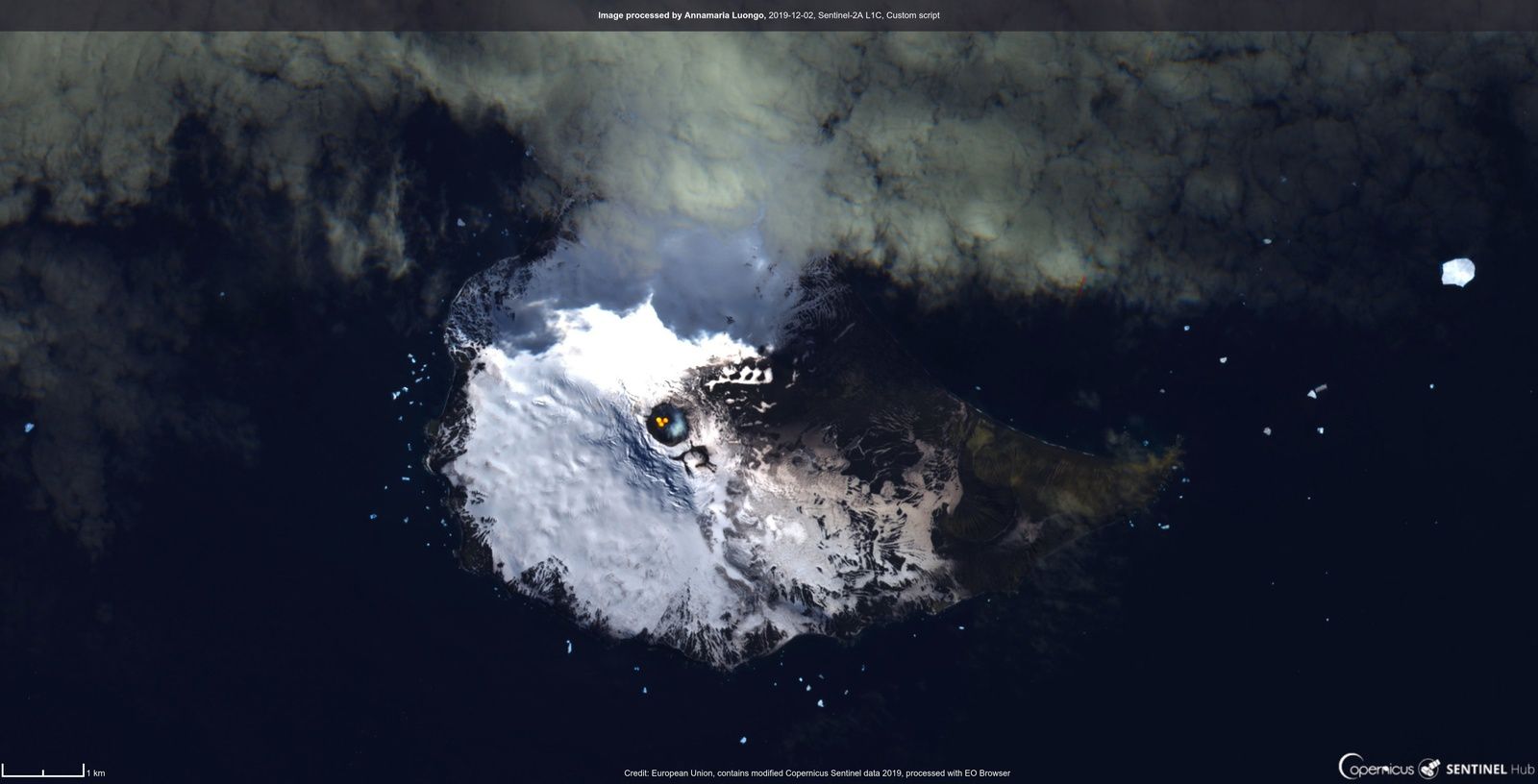 Mt Michael - hot spots on the Mawson peak on 02.12.2019 - Sentinel-2A L1C - customscript / Annamaria Luongo / Copernicus - one click to enlarge
A beautiful image of Mt.Michael on Saunders Island / South Sandwich was put online by Annamaria Luongo, detailing three hot spots to Mawson Peak on December 2, 2019.
The last periodic observations of this retracted volcano (GVP) by satellite, between January and July, show volcanic plumes. The last thermal anomaly dates from April 3, 2018.
Sources: Annamaria Luongo / Sentinel-2A - Mirova - Global Volcanism Program.
On March 3 at 5:59 pm, an eruption occurred at Sakurajima (crater atop Mount Minamidake) and reached 2300 m above the edge of the crater.
Volcanic ash disperses to the south and affects Ibusuki and Kagoshima. A fall of Tephra is planned in the city of Tarumi, in the prefecture of Kagoshima.
Ashes are expected before 00:00 on 04 in the following municipalities:.
Miyazaki Prefecture: Miyakonojo City, Nichinan City, Kushima City
Kagoshima Prefecture: Kagoshima City, Kanoya City, Tarumi Town, Suo Town, Shibushi Town, Osaki Town, Higashi Kushira Town, Kinko Town, Minamiosumi-cho, Kitsuki-cho.
These ash emissions continue this December 4th.
Sources: JMA & VAAC Tokyo