Publié le par Bernard Duyck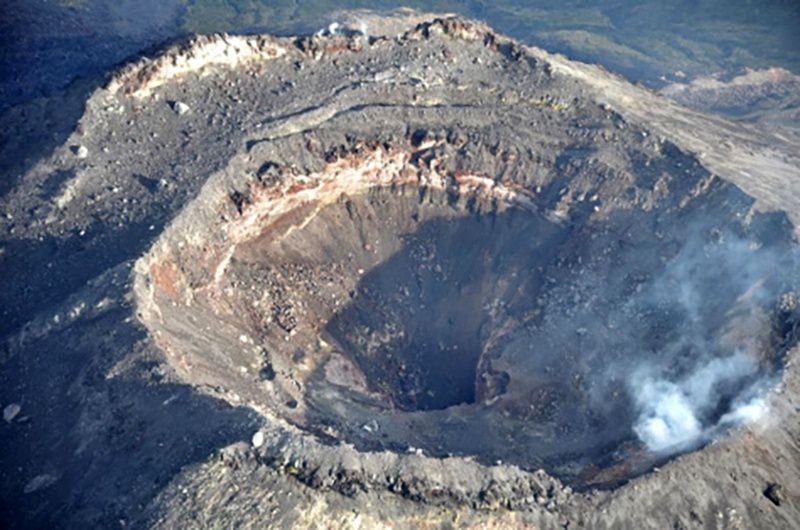 Colima - collapse / subsidence of the crater interior - photo 08.07.2019 / Courtesy of CUEIV-UdC (Boletin Seminal of the Colima Volcano Actividad 12 julio 2019 no 129)
A special opinion of activity of the Colima volcano in Mexico was issued by CONAGUA on November 30 at 9am.
An emission of ash and / or gas and water vapor began its trajectory to the northeast of the state of Colima, and moves north northeast of Mexico, based on information Cenapred-Segob and from NOAA / VAAC Washington.
No new field observation supports this info.
After two years of calm, the Colima has resumed activity since the end of April 2019, with an increase in seismicity. An explosion is reported by the CUEIV-UdC / lCentro Universitario de Estudios e Investigaciones de Vulcanologia - Universidad de Colima - on May 11, 2019, and small explosions and intermittent emissions of gas and steam recorded between July 5 and 12. An overflight of the volcano on July 9 reveals the increase in the diameter of the vent, probably caused by subsidence in the crater.
Sources: Conagua special opinion of 30.11.2019 at 9 am and 1 pm ; VAAC Washington and Global Volcanism Program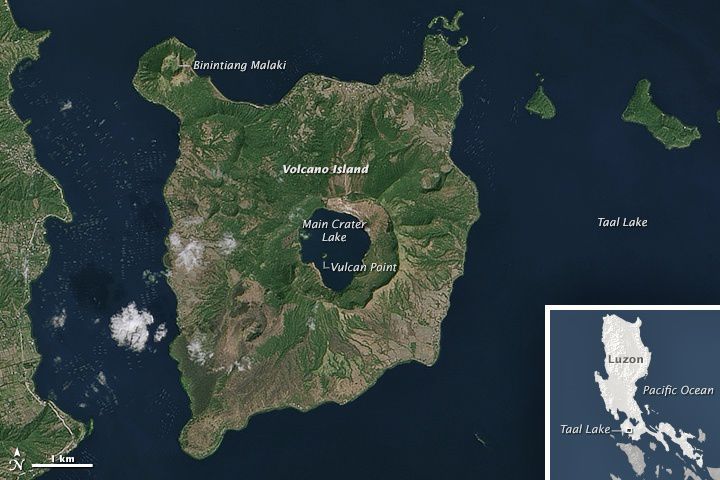 Taal - photo NASA Earth Observatory images by Joshua Stevens, using Landsat 8 / OLI data from the U.S. Geological Survey. Caption by Kathryn Hansen.
A note of December 1 by the Phivolcs recalls the current level of activity of the volcano Taal, in alert level 1.
Since March 28, 2019, date of raising the alert level, the Phivolcs recorded a total of 4,857 volcanic earthquakes, intensity felt levels of 1 to 3, accompanied by rumblings.
Measurements from November 21 to November 29, 2019 confirm an inflation of the volcano, consistent with GPS measurements, an increase in carbon dioxide emissions (started in April 2019). They do not notice any significant changes in water temperature or acidity in the main crater lake.
Vigilance is recommended for communities on the volcanic island, especially in view of the December 1 weather report regarding the trajectory of Typhoon Tisoy. The main crater remains strictly forbidden due to possible and sudden explosions of steam and an accumulation of toxic gases. The northern part, close to Daang Kastila road, is considered dangerous because of a possible increase of steam emissions. at the level of cracks. The entire island -volcano is considered PDZ / permanent danger zone.
Source: Phivolcs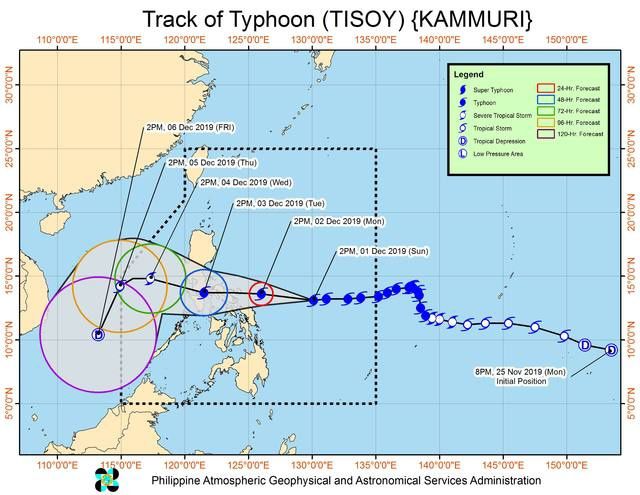 Philippines archipelago - Expected trajectory of Typhoon Tisoy / Kammuri on 01.12.2019 - PAGASA image