Publié le par Bernard Duyck
Since about 4:00 am this December 11, the level of the volcanic tremor has increased significantly on the island of White island. This was accompanied by vigorous steam and mud thrown in several of the craters created by Monday's eruption.
GeoNet volcanologists interpret these signals as evidence of the continued high pressure of the gases inside the volcano. (GeoNet Volcanic Alert Newsletter Update # 4)
At 17:30, the level of volcanic tremor has continued to increase and is now at the highest level observed since the eruption of 2016.
All of this monitoring data to date, including yesterday's gas flight, suggests that the shallow magma inside the volcano is responsible for the tremor, gas flow, and jet activity. observed in the craters created during the eruption.
According to GeoNet experts, there is an average probability (40 to 60% chance) of a future eruption in the next 24 hours.
The volcanic alert level remains at level 3. (GeoNet Volcanic Alert Update # 5)
Source: GeoNet
At Etna, four craters show activity between 2 and 8 December 2019 according to the INGV: Strombolian activity marks the Voragine, the Bocca Nuova and the new crater southeast, and the crater northeast.
From December 7, the amplitude of the tremor is on the rise.
Sulfur dioxide flows remain at a moderate level, and those of carbon dioxide in the soil have a slight tendency to increase. (INGV Weekly Etna Newsletter)
At NSEC level, there are small black ash puffs on December 9 and night glow, also visible at NEC and Voragine.
Sources: INGV OE and INGVvulcani
In Stromboli, the week of December 2 to 8 is characterized by explosive Strombolian activity, at an average rate of 12 hourly episodes (06.12) to 24 hourly episodes (08.12), accompanied by degassing and spattering. It is located in the north and south-central crater areas.
Seismicity and deformation do not show significant variations.
The sulfur dioxide flux remains at a medium-high level.
Source: INGV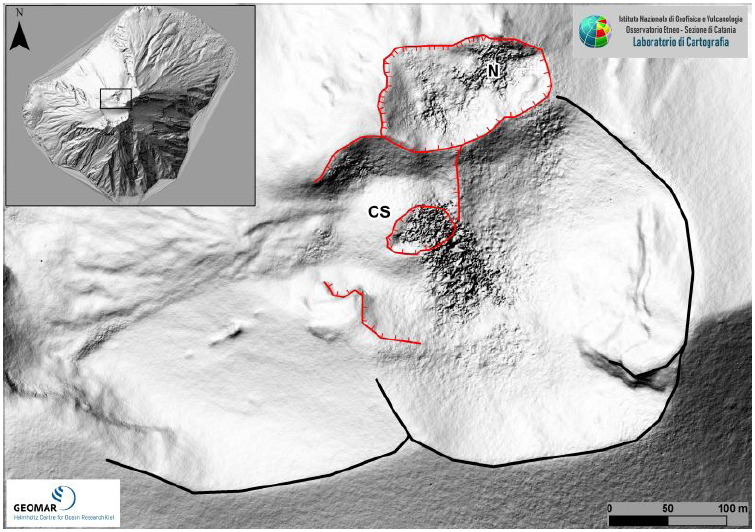 Shaded relief of the Stromboli crater area obtained by image processing acquired by drone on July 9, 2019 (Collaboration with drone group GEOMAR Helmholtz Center for Ocean Research Kiel, Germany). At the top left of Stromboli Island, the black rectangle indicates the area of ​​interest, the black curved line and the red serrated line indicate, respectively, the morphological slope and the edges of the crater.