Publié le par Bernard Duyck
Cenapred has identified, in the past 24 hours at Popocatépetl, 268 exhalations composed of water vapor, volcanic gases and low ash content have been identified. In addition, 90 minutes of tremors were recorded, a volcano-tectonic earthquake recorded yesterday at 10:04 am with a magnitude of 1.4.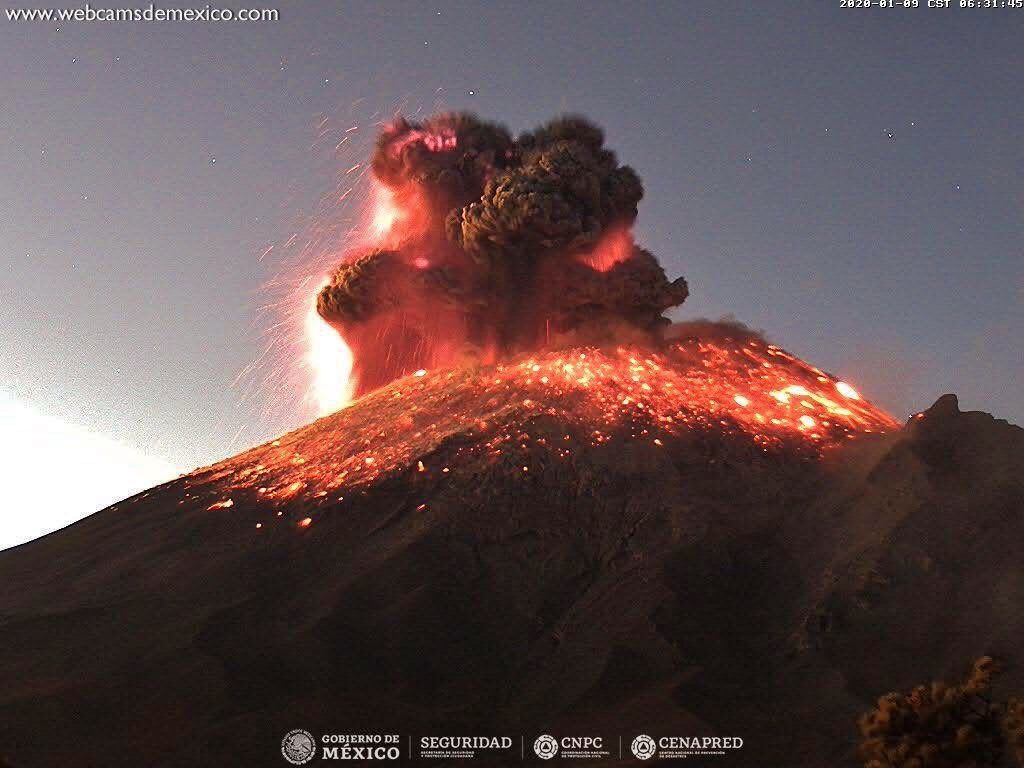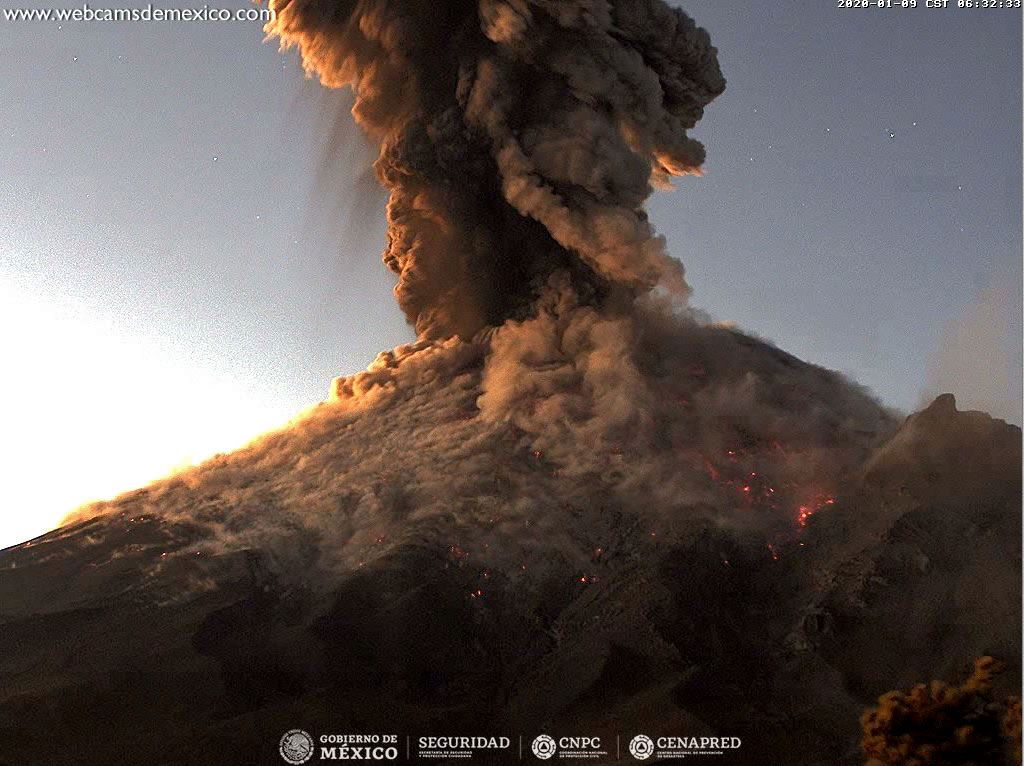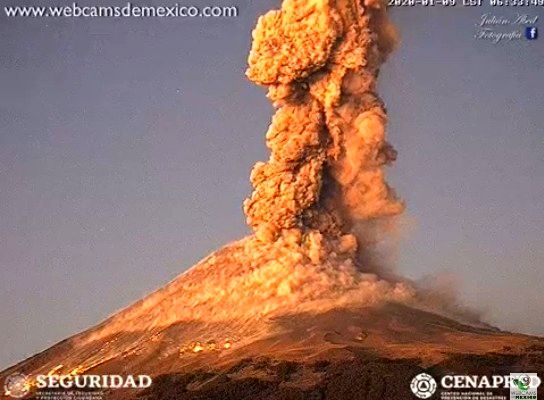 Popocatépetl - explosion on 09.01.2020, respectively at 6:31 am, 6:21 am, 6:33 am local - Photos Webcams of Mexico
An explosion was also recorded today at 06:31 h, with a height of the ash column of 3,000 meters in the northeast direction, with the ejection of incandescent materials at a distance of 1 km from the edge of the crater .
Data supplied by the VAAC Washington, on the other hand, indicates two successive ash clouds, reaching respectively 11,300 m. at 1:46 p.m. UTC and 8,200 m. for the second.
Slight ash falls are reported on Ozumba, Puebla, San Nicolás de los Ranchos, Chiautzingo, San Matías Tlalpaneca, and Teotlalzingo.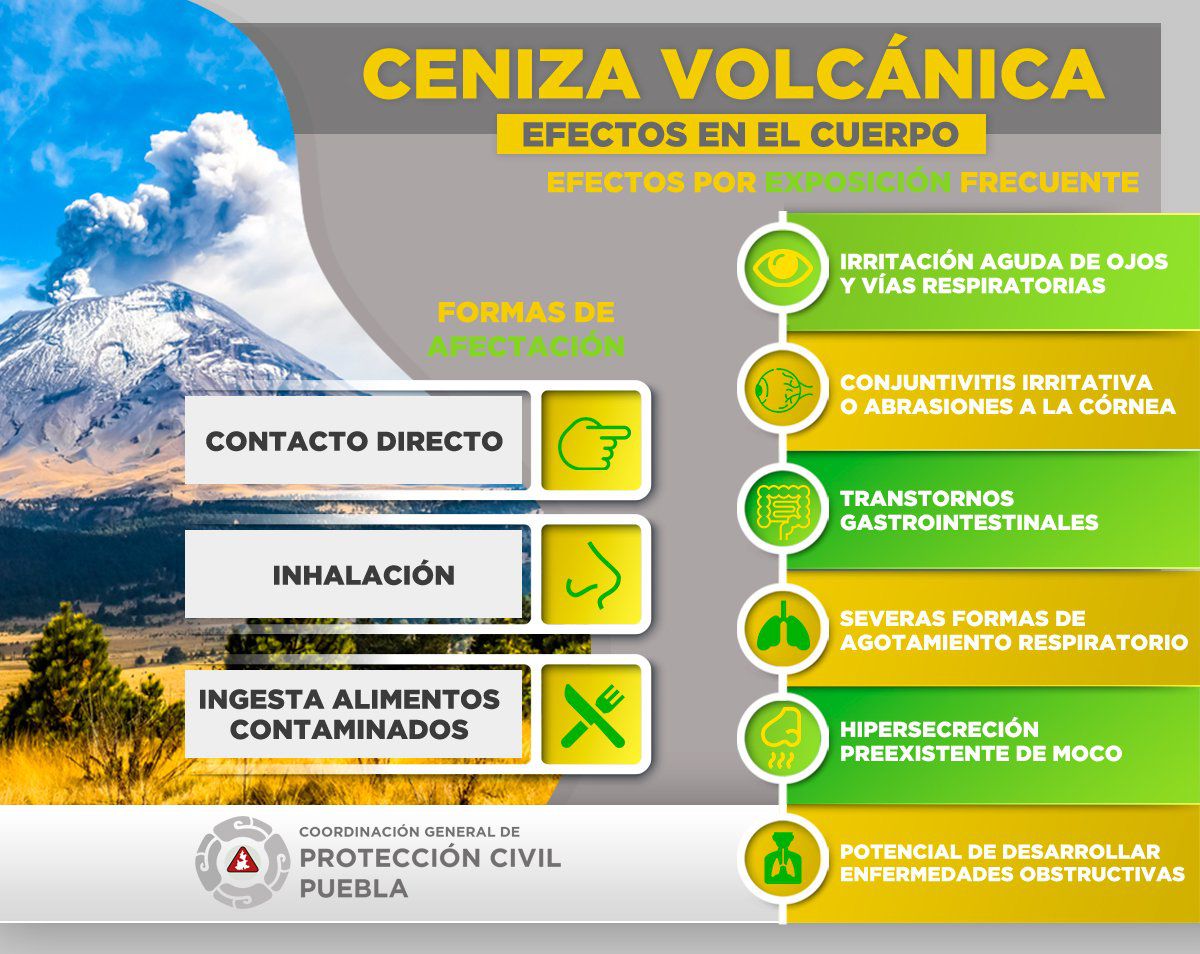 Popocatépetl - reminder of the health effects of frequent exposure to volcanic ash - Doc.CPC Puebla 09.01.2020
Since the morning, it is visible towards the volcano with the emission of water and gas vapor which dispersed preferentially towards the northwest.
Sources: CENAPRED, CNCP, WebcamsdeMexico & VAAC Washington.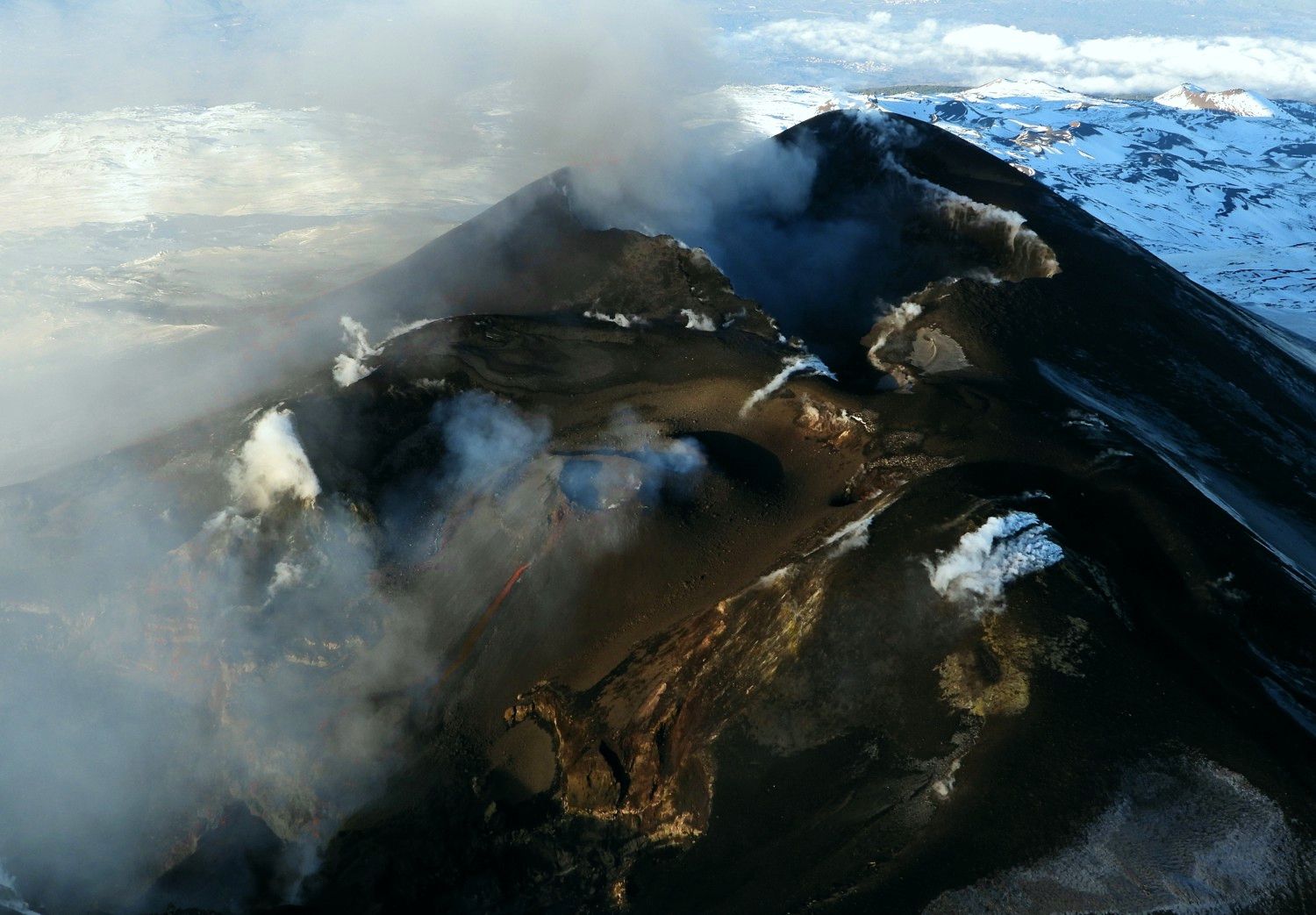 Etna - 09.01.2020 / afternoon - small lava flow from the Conetto de la Voragine (center) towards the Bocca Nuova (left of the photo) - Photo INGVvulcani
At Etna, the pyroclastic cone, which has been building since September in the Voragine crater, emits a small lava flow this January 9 in the afternoon; it pours into the crater of Bocca Nuova.
In the evening of January 8, the INGV noticed a glow in the Northeast craters and Voragine.
On January 9, around 6:20 am local, a glow was observed at Voragine and at Bocca Nuova, followed by a Strombolian explosion at Voragine at around 6:23 am local. At 7:03 local, this January 9, an explosion is observed thanks to the thermal camera with the cone of the Selle of the new south-eastern crater.
The activity is therefore modest, and marks three summit vents.
Source: INGVvulcani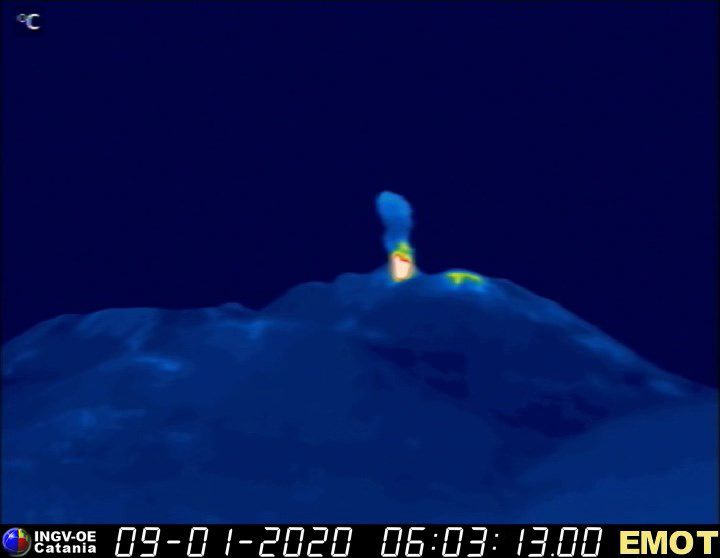 Etna 09.01.2020 / 6:03 am - explosion at the Selle cone of the new southeast crater. - therm webcam INGV OE EMOT - INGV OE (720x558)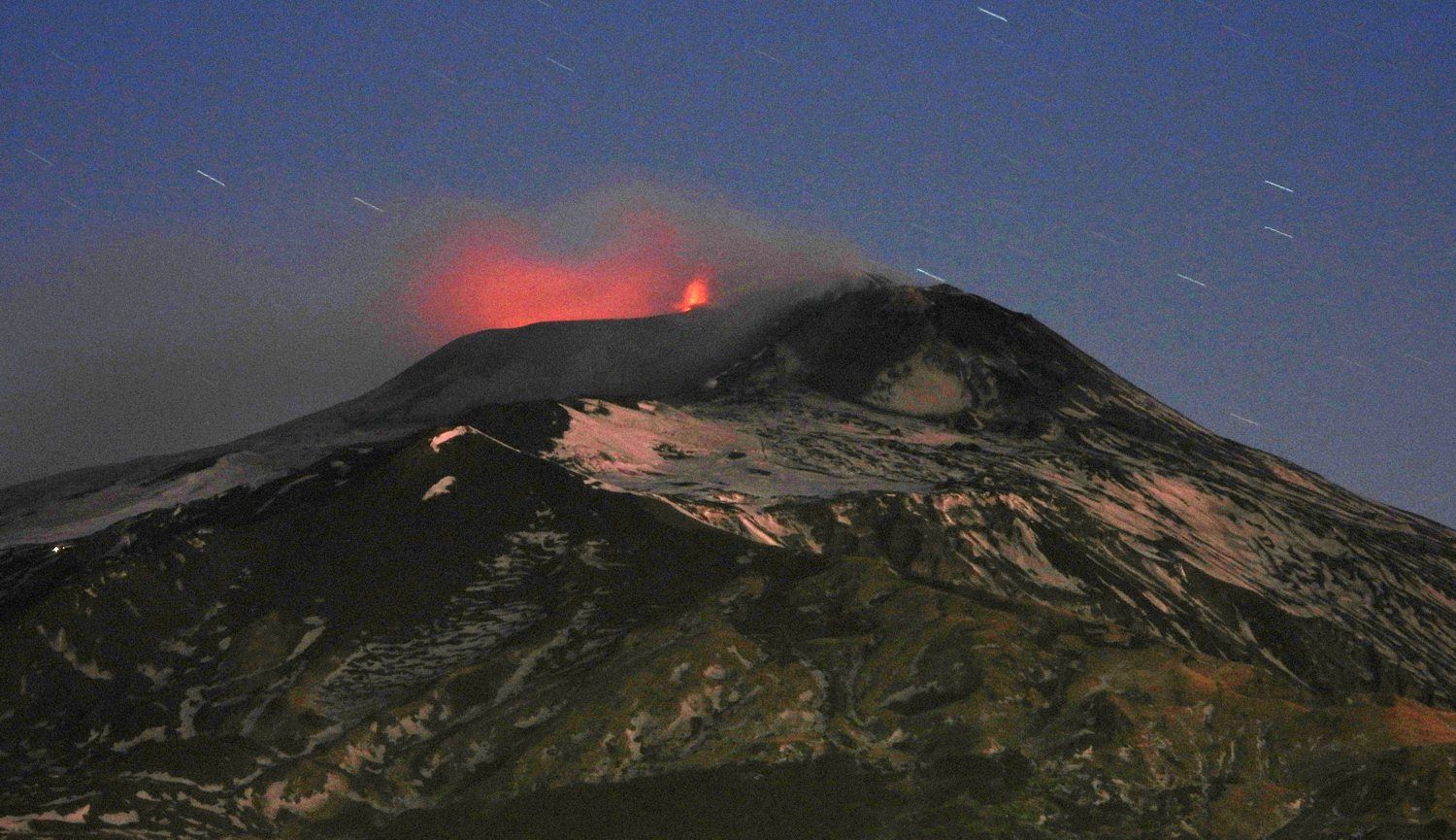 Etna 09.01.2020 / 6:23 am local - Voragine Strombolian explosion and Bocca Nuova glow - photo INGVvulcani
From February 1, the OVPF will be tasked with monitoring the Mahoran volcanic activity zone, in addition to that of the Reunion volcanoes.
" For surveillance, the OVPF already has protocols and daily routines to ensure the proper functioning of the measuring devices, but also to monitor the activity of the Piton de la Fournaise. We also have an alarm device in cases of activity on the rise. These protocols and routines will be extended to the data of the network in place in Mayotte ", according to Aline Peltier, who adds that " Regarding the OVPF, 4 additional positions will be funded from February-March , and additional resources will be allocated to the OVPF for its operation but also for the installation of new monitoring stations on Mayotte. These stations will be installed by the OVPF in collaboration with the partner organizations of REVOSIMA. also funded at IPGP in Paris and a position at BRGM in Mayotte ". (interview at clicanoo.re)
Source: Aline Peltier, via Clicanoo