Publié le par Bernard Duyck
At Popocatépetl, 78 exhalations have been identified in the past 24 hours, in addition to two explosions recorded on January 27 at 11:18 p.m. (reported yesterday) and 11:55 p.m. of moderate and minor magnitude respectively.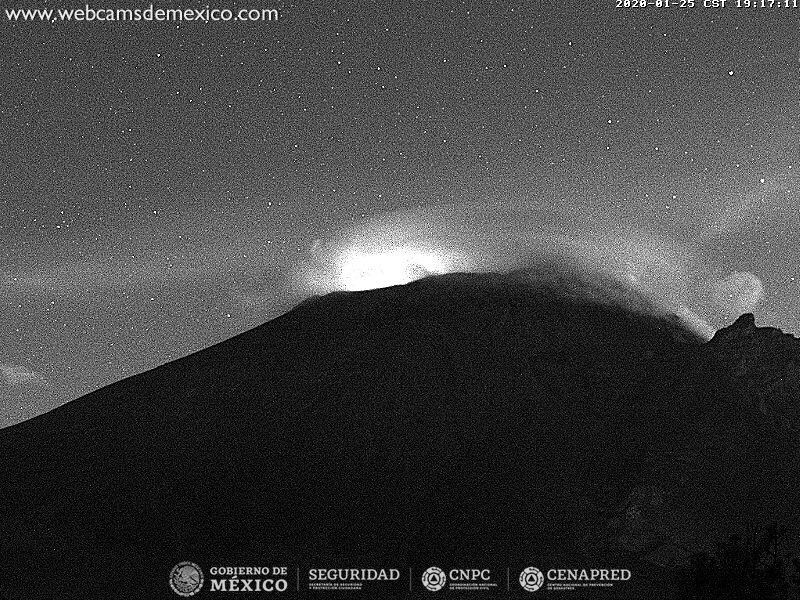 The first had an eruptive column about 1 kilometer high and ejected incandescent fragments on the northeast slope at a distance of 500 meters.
This activity corresponds to a (partial) destruction of the dome set up around January 25 (nocturnal glow observed)
In addition, there was a volcano-tectonic earthquake at 5:06 am on January 28 with a preliminary magnitude of 1.8 and 563 minutes of tremor.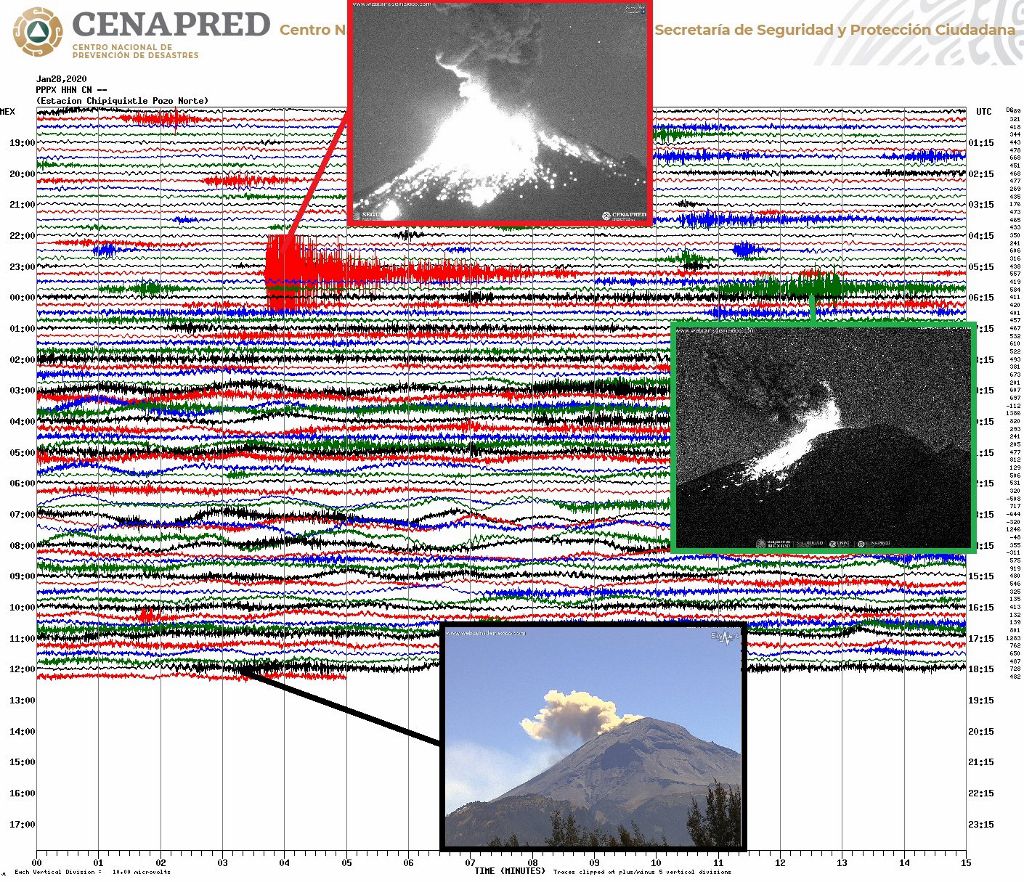 Popocatépetl - activity of the volcano in parallel with the seismic activity of the moment on 28-29.01.2020. (According to the colors of the frames) - Doc. CENAPRED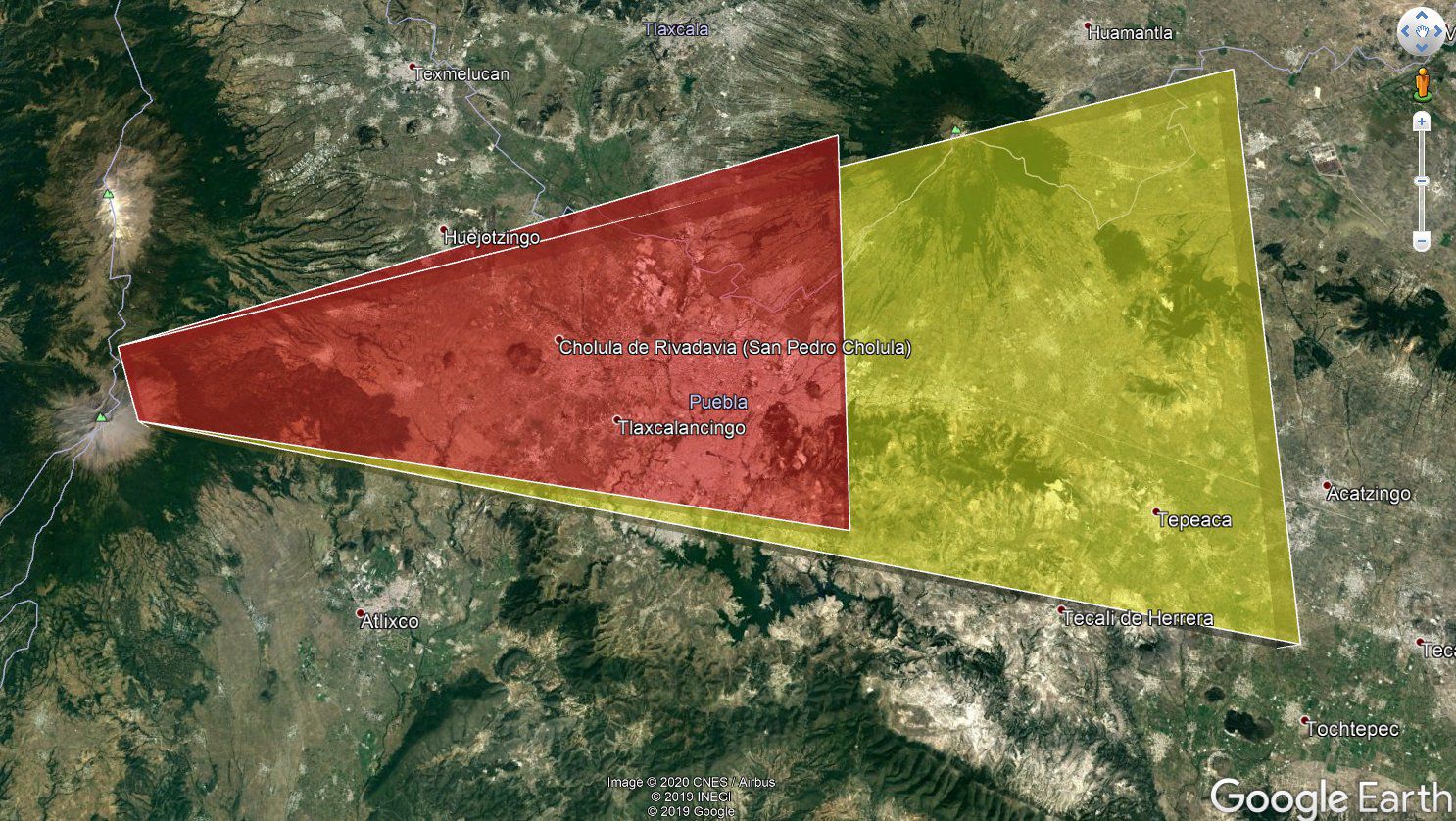 Continuous ash emissions from Popocatépetl heading towards Puebla. Dispersion forecast: observed (area in red) and prognosis at 6 hours (area in yellow). - Doc. VAAC-NOAA. / Skyalert
Emissions of steam, volcanic gases and a low ash content were observed, which the wind preferentially disperses towards the east-northeast.
Sources: Cenapred; webcamsdeMexico
The Ovsicori reported that since Monday, the Rincon de La Vieja volcano has shown an increase in seismic activity, associated with the movement of hydrothermal fluids inside. So far, there are no movements of magma inside the massif that could generate an eruption.
In Poas, fumaroles surmount the acid lake which remains well filled in this season.
The sulfur dioxide concentration on January 26 is max. 24 ppm, down on January 27 with less than 0.4 ppm measured at the ExpoGas station.
Seismic activity remains stable
Sources: Ovsicori
3D animation of the earthquakes under Grindavik / Iceland of the last 60 days. The colors represent seniority, red is recent and blue is older. Bæring Gunnar Steinþórsson
Prepare for the worst to be ready in case of a rash:
A meeting was held in Grindavik to inform residents of emergency plans in the event of a volcanic eruption, reports mbl.is. Even if this scenario is not considered the most likely, according to scientists, residents must be prepared for the worst.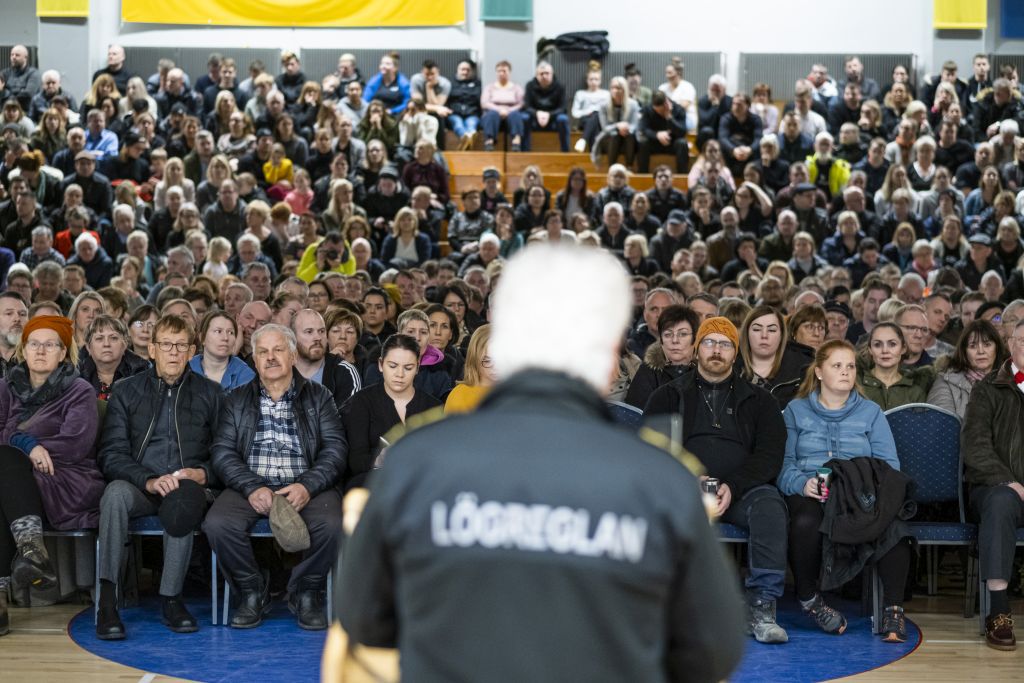 The meeting took place this January 28 in the presence of a thousand people; all participants received an SMS on their mobile phone from the emergency line while the emergency system was being tested.
In the unlikely event that Grindavík houses are to be evacuated, rescue centers will be opened at the Kórinn Sports Center in Kopavogur, the Reykjaneshöll Sports Center in Reykjanesbær and the Þorlákshöfn Sports Center.
Southern police chief Ólafur Helgi Kjartansson advised residents to think about what they should bring in case they have to leave their homes. He was satisfied with the quality of the meeting and encouraged residents to listen carefully to the information provided by the scientists who spoke.
Sources: mbls, is, RUV, is, Iceland Review