Publié le par Bernard Duyck
Ingemmet reports that the lava dome present in the Sabancaya crater lost 65% of its volume between December 2019 and January 2020, and is therefore partially destroyed; one part collapsed and another was expelled in the ash emissions.
According to the analysis of satellite images (Planet Scope, LandSat and Sentinel 2) in February 2017, the presence of a dome inside the crater of the Sabancaya volcano with a diameter of 85 m and an area of ​​5.674 m² has been observed. Subsequently, in 2017 and 2018, significant growth was observed, and in September 2018, the dome already had an area of ​​18,003 m².
During the year 2019, the growth of the dome was greater, reaching an area of ​​around 50,000 m². Thanks to data obtained by OVI professionals, it was possible to calculate a volume of 4.6 million m³ with an extrusion rate of 0.05 m³ / s (cubic meters per second).
Sources: Ingemmet / OVI
In Villarica, despite a qualified activity rate of low, we observed lava fountains on January 18,129,20 and January 22, 2020, expelled by a recurrent gas-piston mechanism for this volcano. The lava well where the lava comes from is only 4-5 meters in diameter, according to the POVI.
Source: POVI
The Ebeko, on the island of Paramishir north of the Kurils, continues this January 2020 with moderate to high intermittent explosive activity and ash emissions.
Such explosions are observed every 4-7 days by satellites, with as many ash dispersal notices by the VAAC Tokyo.
On January 26, volcanologists observed an ash plume at 1,700 meters asl., drifting southeast over 5 km.
The aviation code remains orange since the beginning of the month, due to these possible explosions that can occur at any time.
Source: KVERT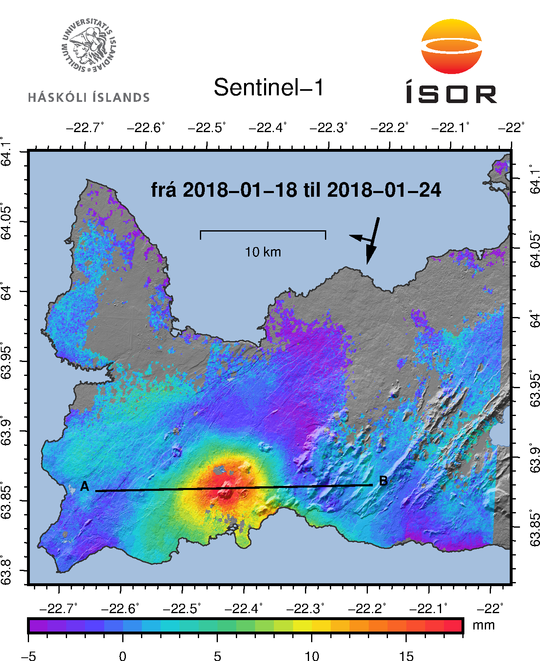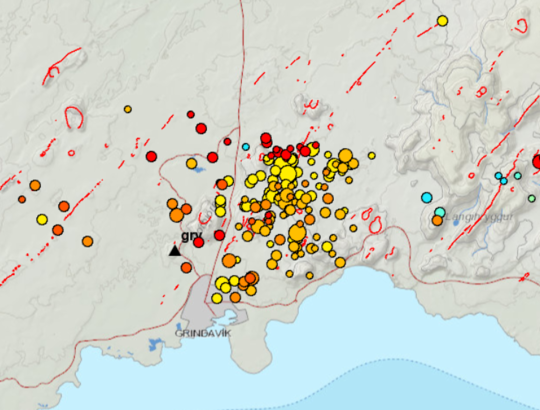 Reykjanes Peninsula / Mt. Thorbjorn (black triangle) - inflation / Sentinel-1 InSAR 18.01-24.01.2020 and seismic swarm - Doc. IMO
In Iceland on the Reykjanes peninsula, the IMO has been reporting a seismic swarm coupled with inflation centered of Mt. Thorbjorn, since January 21, 2020.
This inflation, north-east of Grindavik, is particularly rapid, around 3-4 mm per day and has accumulated on this date up to 2 cm. ; it is detected by GPS stations and InSAR images, and probably in connection with a small accumulation of magma at a depth of a few kilometers, estimated at a volume of 1 million m³.
The activity of the Svartsengi volcanic system occurs at the level of a plate border, and may be due to a magmatic accumulation, or may be linked to tectonic activity ... to follow.
Source: IMO