Publié le par Bernard Duyck
The Shishaldin still produces lava flows on the upper flanks and is the site of a short-lived explosive activity.
This December 3 around 9:30 am AKST, the seismicity started to increase, to lead to a brief period of emission of ash; the ash cloud reached an altitude of 7,300 meters asl. heading southeast, with lightning bolts.
The seismicity then abruptly decreased.

Thermal anomalies considered as very high, with a maximum at 1443MW, indicating a continuous effusion.
The aviation code is maintained at Orange, accompanied by a SIGMET up to an altitude of 7,300 meters established by the National Weather Service
Sources: AVO, NOAA, National Weather Service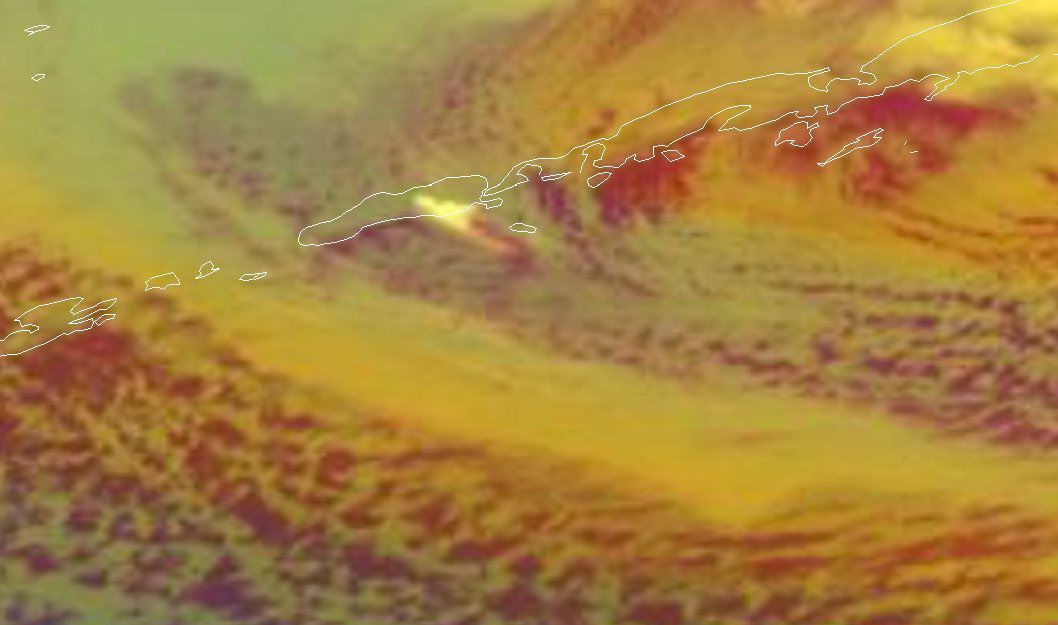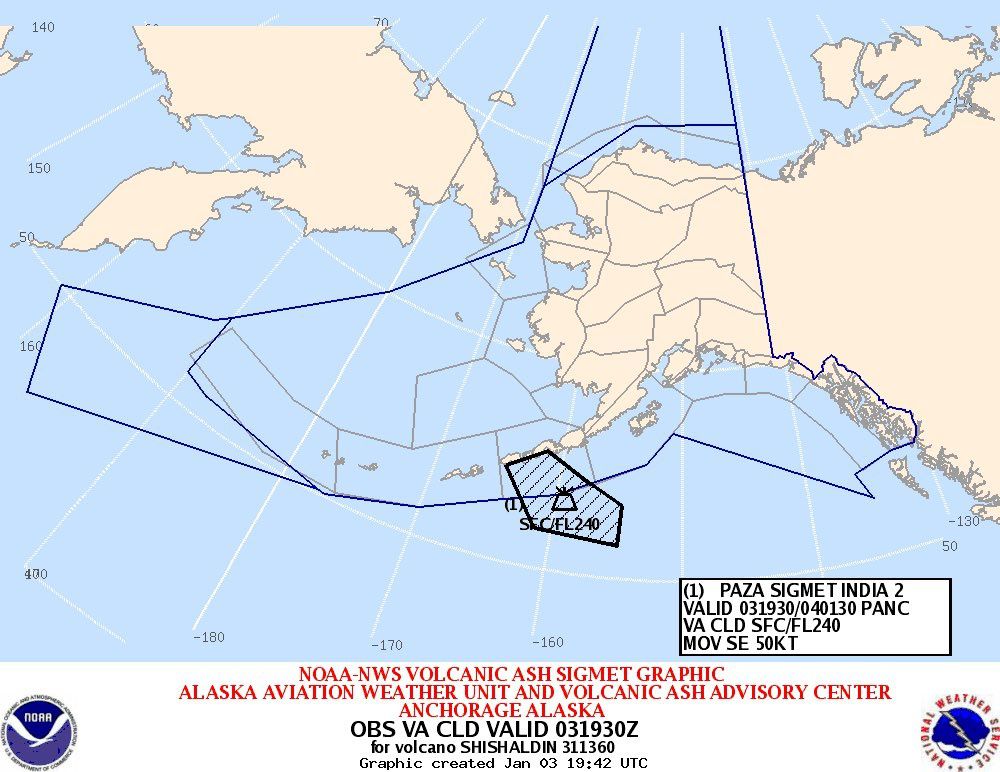 Shishaldin - satellite image of the ash plume and NOAA-NSW volcanic ash sigmet from 03.01.2020 / 19:42 UTC
A new explosion was reported this December 4 at 5:37 am in Suwanosejima, accompanied by an ash plume visible up to 400 meters, before entering the clouds; its direction is towards the south-east.
The volcanic alert level is at 2 / do not approach the crater.
Source: JMA
In Poas / Costa Rica, the Ovsicori recorded high gas levels in the Mirador del Volcán, due to the low wind speed and their unfavorable direction.
The 20 ppm SO2 and 7 ppm H2S registrations recorded, however, visits regulated by the Park Rangers and the corresponding security protocol are maintained.
No eruption is reported for this January 3.
Source: OVSICORI
Volcanologists from the Geophysical Institute of Peru (IGP) climbed last December to the Misti volcano and took thermal images of its crater.
The temperature of the gases expelled through the crater is between 120 ºC and 130 ºC.
The expulsion of water vapor and magmatic gases from the Misti crater is constant. According to previous studies, the main gases expelled correspond to sulfur dioxide and carbon dioxide.
The Misti, monitored since 2005, recorded an average of 45 earthquakes per day, which is a common value in this volcano; added to this is the degassing activity which could be enjoyed sporadically from the cities of Arequipa. Coropuna and Chachani. These parameters did not show any evidence associated with a possible awakening.
Source: I.G. Peru
Misti - crater inspection and thermal images - Doc. PGI