Publié le par Bernard Duyck
In Shishaldin / Aleutians, an increase in seismicity was observed on January 7, 2020 around 5 a.m. AKST, accompanied by ash emissions; the ash cloud is visible on satellite images at a height of 7,000 meters, drifting east-northeast.
Shishaldin - the eruption, seen from Cold Bay, about 58 miles NE of the volcano on 06.01.2020 / 12 a.m. - Photo courtesy of Aaron Merculief. / AVO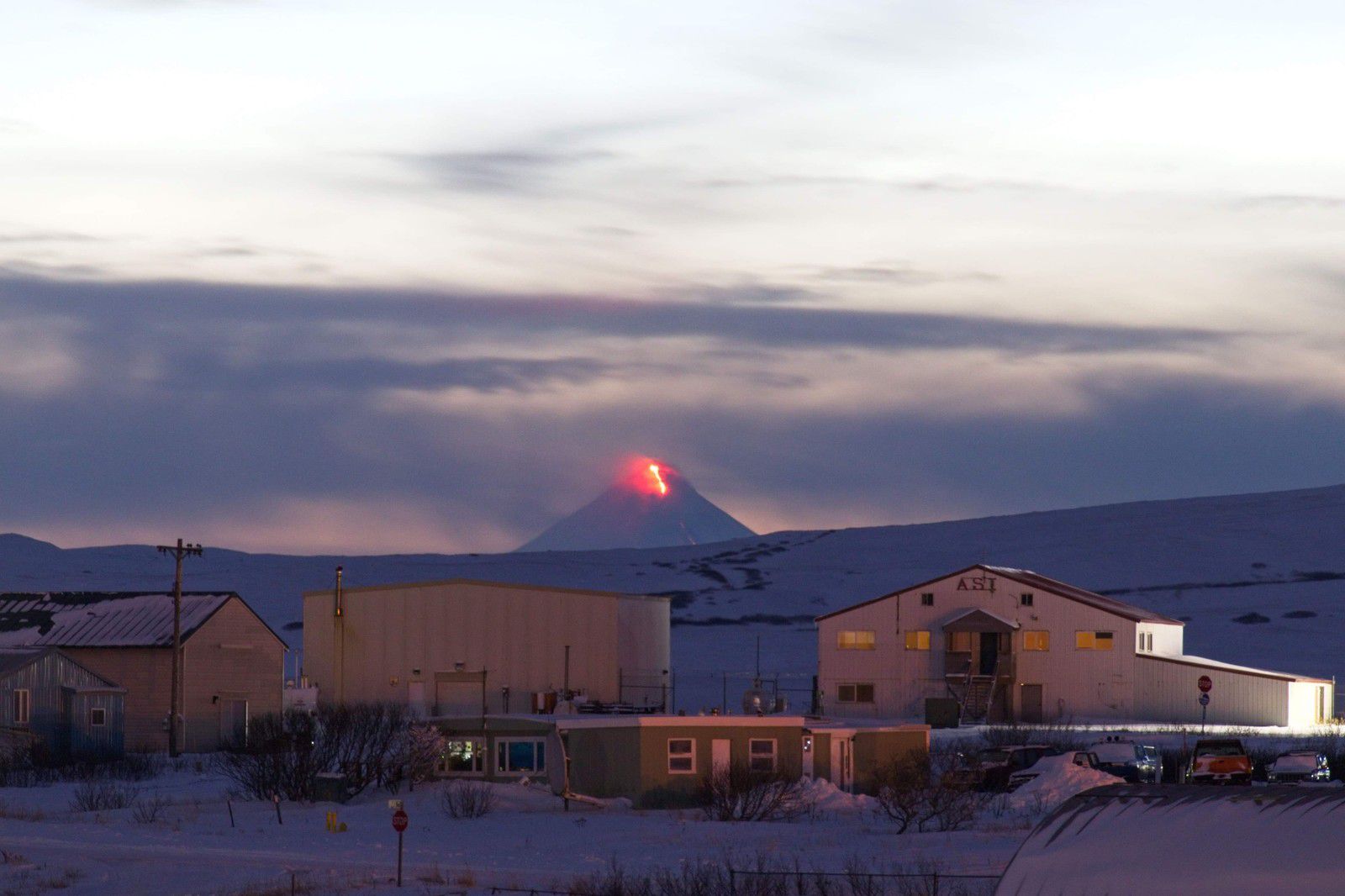 Shishaldin - the eruption, seen from Cold Bay, about 58 miles NE of the volcano on 06.01.2020 / 7 p.m. - Photo courtesy of Aaron Merculief. / AVO
The seismicity then weakened for a few hours, before increasing sharply. The plume was loaded with ashes, justifying an increase in warning levels to Warning, with a red aviation code, around 14:20 AKST.
Satellite images show very high surface temperatures, and three lava flows are observed; volcanic lightning and infrasound are detected by regional measurement stations.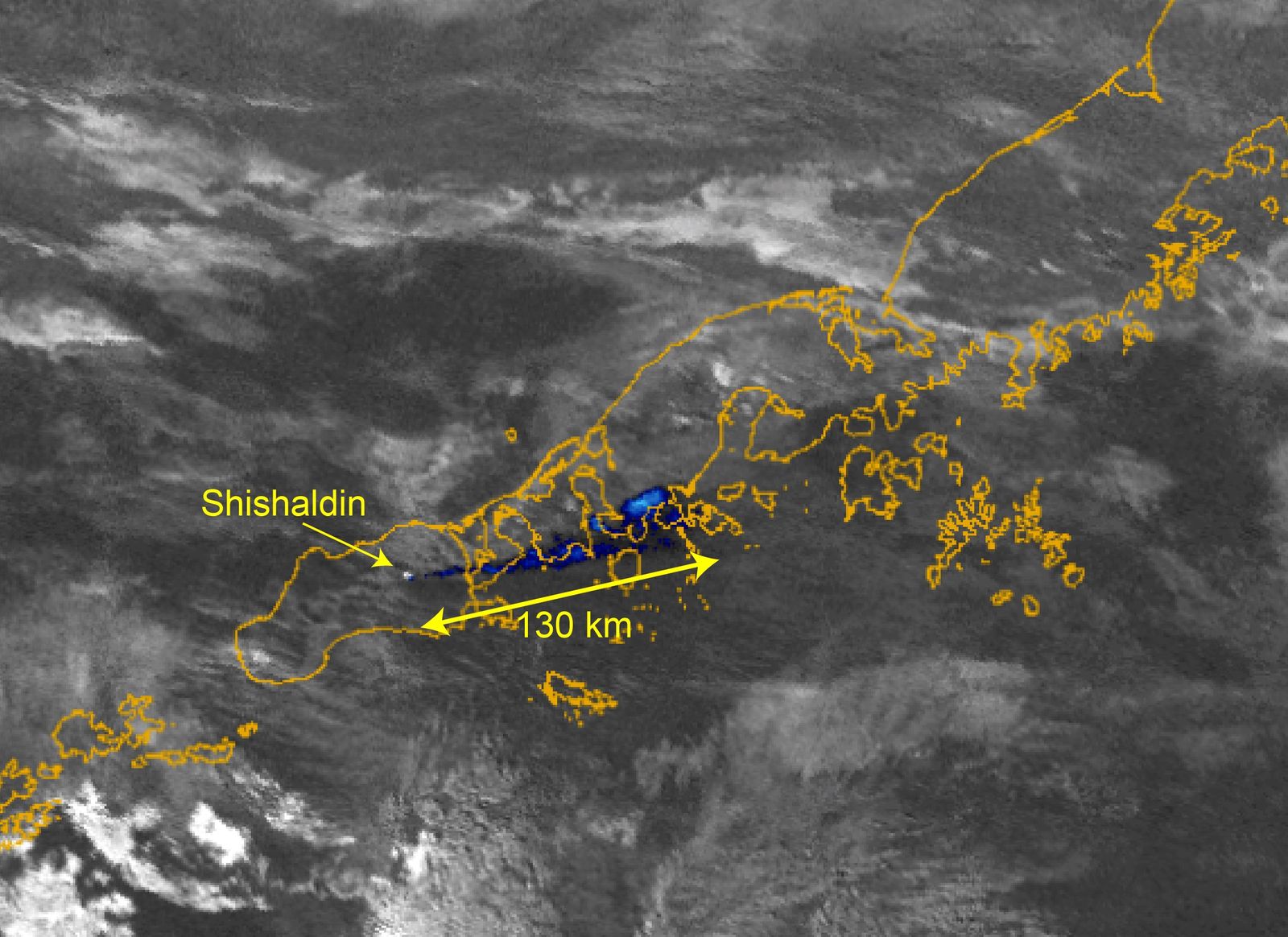 Shishaldin - extension of the ash plume over 130 km. 07.01.2020 at 9:17 p.m. - Doc. Matt Loewen / via AVO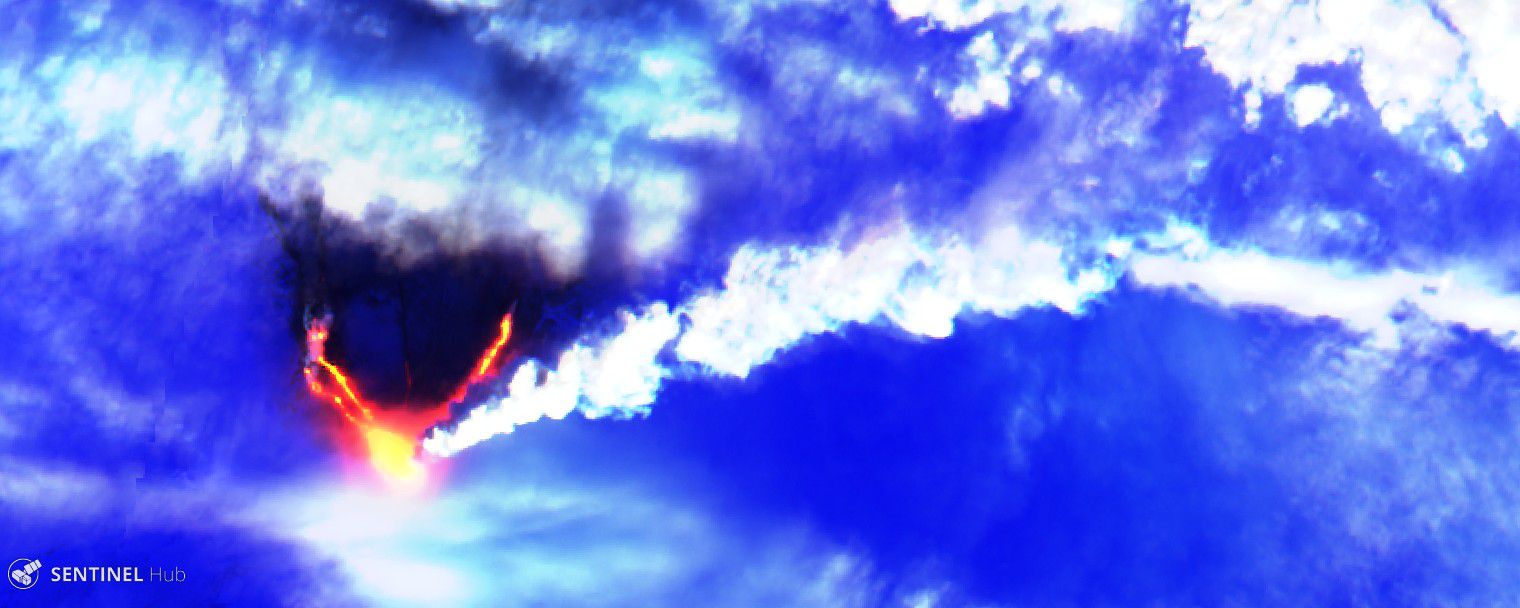 Shishaldi - 3 lava flows and a long plume are visible on this image Sentinel-2 L1C bands 12,11,4 dated 07.01.2020 - one click to enlarge
Around 24:00 AKST, the seismicity fell again, and the ash emissions decreased. The alerts returned to Watch, with an orange aviation code. Ash falls are expected on the communities located to the northeast.
Sources: AVO & Sentinel-2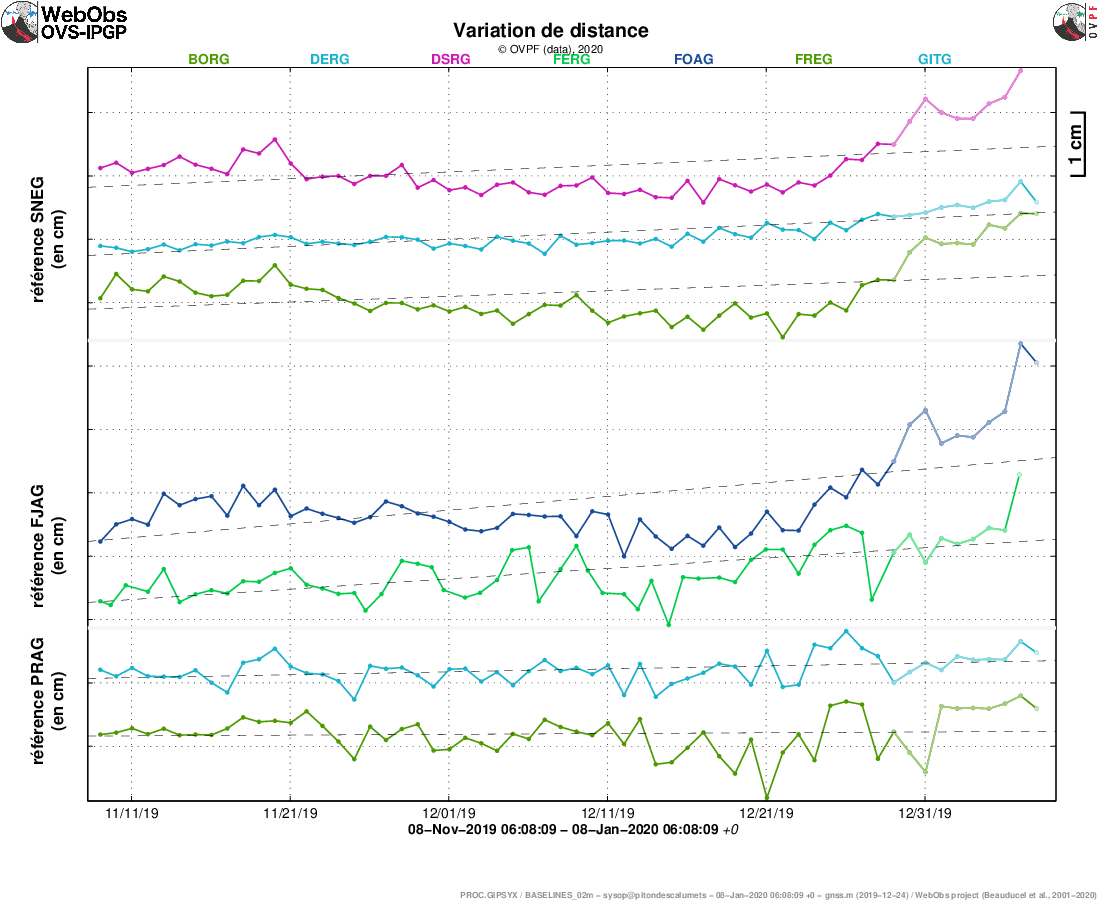 Piton de La Fournaise - Illustration of the deformation between 08.11.2019 and 08.01.2020. Here are represented baselines (variation in distance between two GPS receivers) crossing the Piton de la Fournaise building, at the top (top), at the base of the terminal cone (in the middle) and in the far field (bottom ) An increase is synonymous with elongation and therefore swelling of the volcano; conversely, a decrease is synonymous with contraction and therefore deflation of the volcano. Any periods colored in light pink correspond to eruptions. - Doc. OVPF
At Piton de La Fournaise, conditions are favorable for a possible next eruption.
- The number of volcano-tectonic earthquakes is increasing: 14 on January 6, and 40 on January 7, 2020 under the summit cone. The OVPF reports a magnitude of 1.04 / duration 8.96 sec. for the strongest on 07.01.
Update OVPF 15h45 local time : Of the 40 earthquakes of January 7, 22 were recorded during a short seismic crisis between 9:28 p.m. and 9:44 p.m. UT (i.e. 1:28 a.m. and 1:44 a.m. local time on January 8). Since then only 2 earthquakes have been recorded. This decrease is commonly observed following seismic crises, which release for a time the state of constraint of the medium (the constraint being linked to the accumulation of magma in the surface reservoir located approximately 2 km deep and to its pressurization).
- Inflation has resumed in recent days,
- and in its bulletin of December 30, CO2 concentrations in the far field (plain sectors of Cafres and plain of Palmists) have been increasing since October 25-27, in agreement with an increase in magma towards the surface.
The alert level remains vigilant for the moment.
La Fournaise's activity remains to be followed closely.
Source: OVPF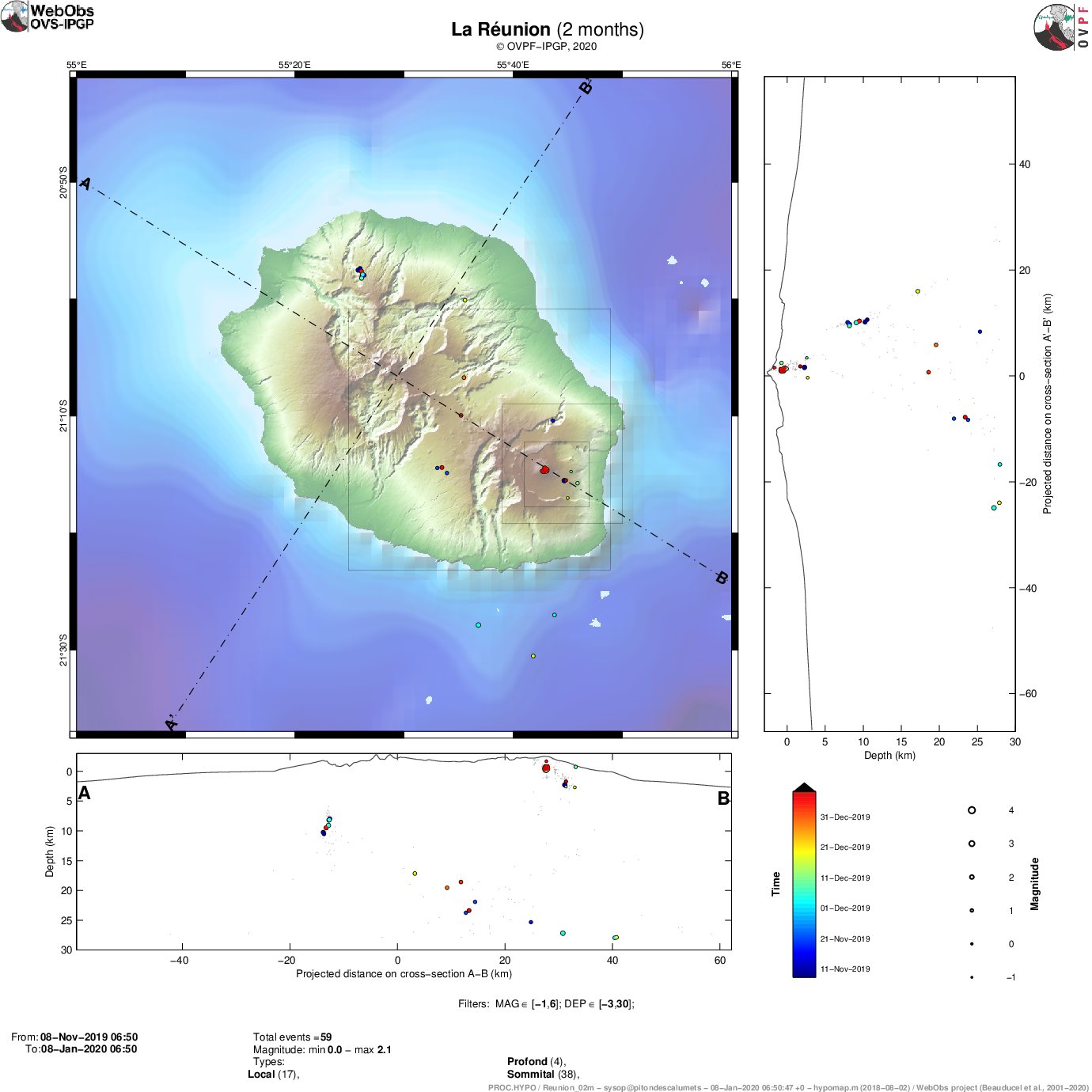 Piton de La Fournaise - 08.01.2020 - Location map (epicenters) and North-South and East-West sections (showing the location in depth, hypocentres) of earthquakes recorded and located by the OVPF-IPGP over 2 months in Reunion . Only localizable earthquakes have been represented on the map. - Doc. OVPF
In Ecuador, an expedition by the Volcanodiscovery group to the Reventador, with Tom Pfeiffer, from January 4 to 7, 2020, reports strong vulcanian-type explosions at irregular intervals between 4 and 12 hours. They are accompanied by loud sounds and shock waves audible from kilometers away, with ejection of incandescent materials at more than 1,000 meters and avalanches on the flanks.
The ash plumes are reported at a height of 1,000 to 2,000 meters max. above the summit, by the IGEPN.
Internal and surface activity levels remain high, with 36 and 43 explosions, respectively on January 6 and 7.
The volcano sector often remains cloudy.
Sources: Volcanodiscovery & IGEPN