Publié le par Bernard Duyck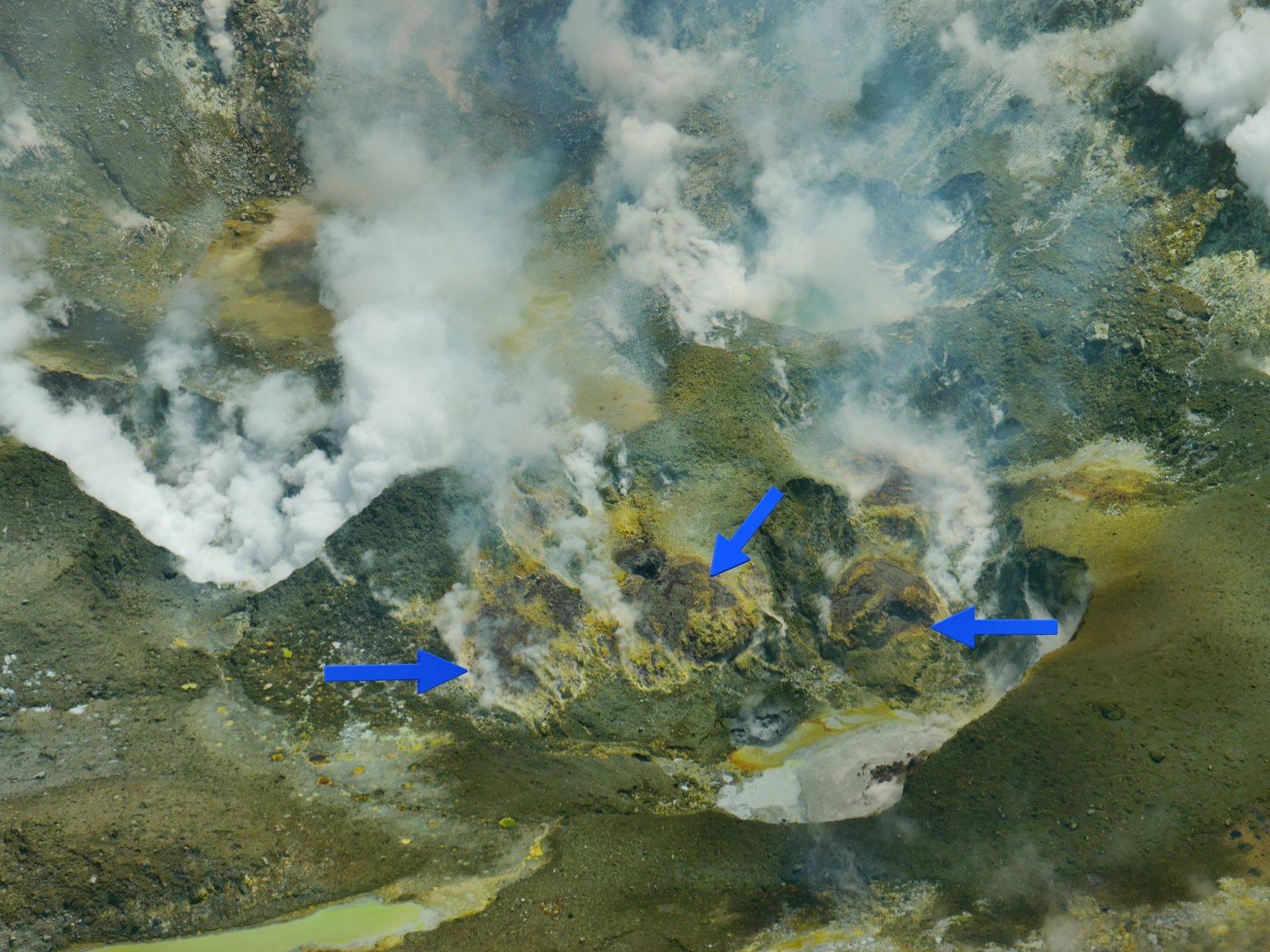 White island - Observation of lava at the level of the vents created during the eruption of December 9, 2019 - photo GeoNet 22.01.2020
Visual observations from last week and Monday, January 20 at Whakaari / White Island show that lava was extruded into the vents created by the December 9 eruption. In previous bulletins, GeoNet reported on the presence of magma at a very shallow level below the crater floor, and confirmed on January 22 that this magma rose to the surface.
Airborne gas measurements on Monday 20 show that they are still at the high levels expected after an eruption, and that the temperature of the vent remains very hot (> 400 ° C).
With the exception of minor ash emissions on December 23 and 26, no significantly sustained or strong eruptive activity has been observed since the eruption on December 9.
In light of these new observations, the volcanologists have revised the expert judgment on the probability of an eruption. It is very unlikely (1% chance) that there will be another rash in a 24 hour period in the next 4 weeks.
The volcanic alert level remains at level 2 The aviation color code remains yellow
The Level 2 volcanic alert indicates moderate to increased disturbances with risk of eruption, including unpredictable and potentially fatal eruptions caused by vapor.
Source: GeoNet
The KVERT reports a continuous eruptive activity in the Klyuchevskoy, with this January 22, 2020 explosions accompanied by ash plumes at 5,000 - 5,500 meters asl, drifting 388 km towards the northeast of the volcano.
These strombolian-style explosive eruptions have continued since November 1, 2019.
The aviation code remains orange, due to the possibility of plumes emitted between 5 and 7 km. at any time.
Source: KVERT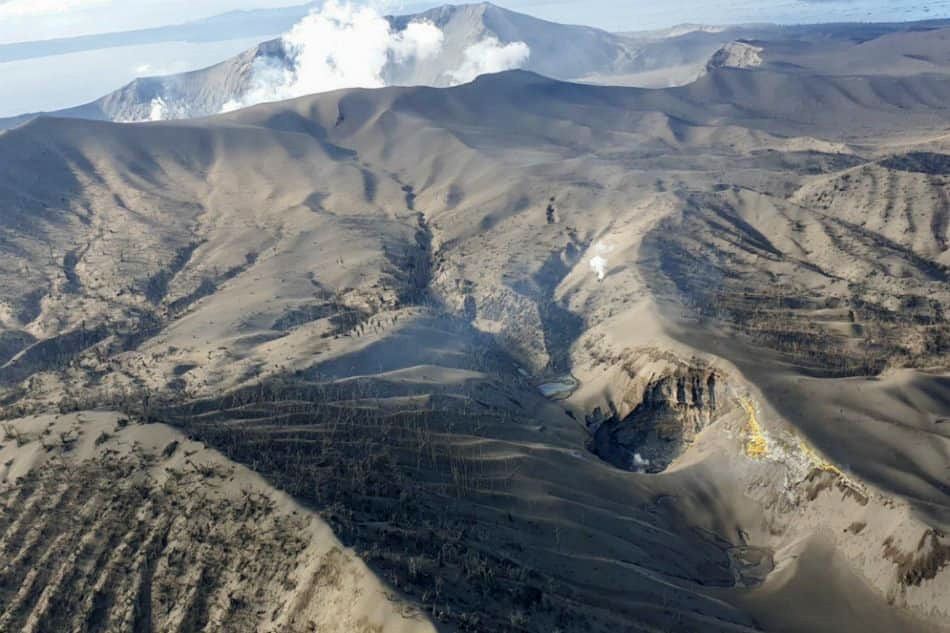 Taal - the entire volcano island ecosystem is disturbed by the ash emitted during the eruptive phase - photo 22.01.2020 via Volcanologia Esia
In the Philippines, a low to moderate emission of white plumes loaded with vapor at 50 to 500 meters in height is observed at the main crater of Taal, drifting towards the southwest. Sulfur dioxide (SO2) emissions were measured at an average of 141 tonnes / day.
In the past 24 hours, the Taal seismic network, which may record small earthquakes undetectable by the PSN, has recorded four hundred sixty-seven (467) volcanic earthquakes, including eight (8) earthquakes to low frequency.
Alert level 4 remains in effect on the Taal volcano.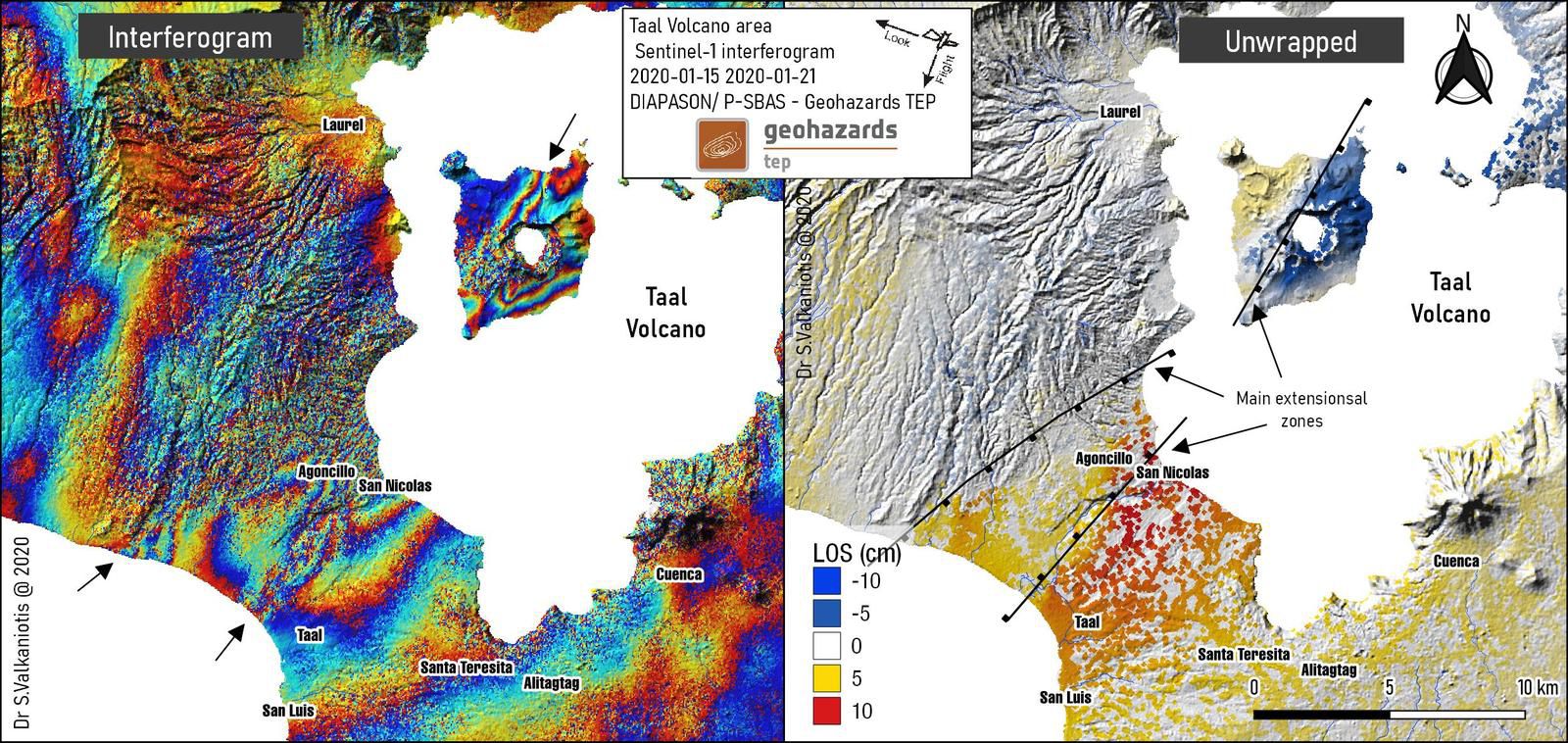 Taal - Sentinel-1 interferogram between 15.01.2020 and 21.01.2020, and extension zones - Doc. Diapason / P-SBAS - Geohazards Tep via Sotis Valkaniotis / Twitter
Some graphs and a radar interferometry by Sentinel-1 show a deformation and surface displacements along a southwest / northeast axis depending on the location of strong superficial earthquakes on the left bank of Taal Lake.
Other images taken from the International space station / Maxar show ash plumes remobilized by the winds (no new emissions due to activity)
Sources: Phivolcs, ISS, MAXAR and Sentinel ESA images
On Monday January 20, 2020, six new mud volcanoes were spotted in southern Trinidad and Tobago. Geologist and researcher Xavier Moonan took advantage of social media to share the new formations of Los Iros, because other geological activities were also discovered.
According to Moonan, the new cones are all occurring along the track of the August 2018 seismic fault rupture, which has completely shifted roads along RE Trace.
"Oil reflections and a strong shipment of hydrocarbons accompany the flow of mud," he noted.
Mud samples were also taken for other studies.
Source: The Watchers