Publié le par Bernard Duyck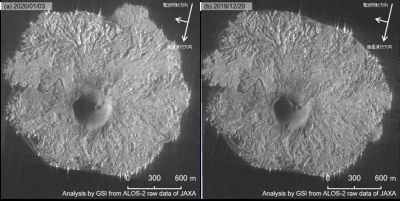 Nishinoshima - morphological changes to the NNE of the island - Daichi-2 / Jaxa / GSI images of January 17 and 3, 2020
Synthetic aperture / SAR radar images on board the Japanese satellite DAICHI-2 (ALOS-2) provided by the GSI, show changes in the coastline to the NNE of Nishinoshima Island (Ogasawara Islands), between 3 and January 17, 2020, in connection with a lava flow from the cone.
The thermal anomalies reported by Mirova oscillated between 7 and 268 MW on January 15-17, 2020 (note that they can be masked by cloud cover and interpreted accordingly).
The eruptive episodes therefore continue well, with relative enlargement of the emerged part.
Sources: GSI / https://twitter.com/GSI_Research & Mirova
Activity in the main crater of the Taal volcano over the past 24 hours has been characterized by a steady emission of steam and weak weak explosions that have generated white to white ash plumes 50 to 600 meters high and ash scattered southwest of the main crater.
Yesterday, sulfur dioxide emissions were measured at an average of 360 tonnes / day, which corresponds to the low activity of the plume in the main crater.
From 5 a.m. on January 17, 2020 until 5 a.m. today, thirty-two volcanic earthquakes have been plotted, recorded at magnitudes M1.5 -M3.3.
The cracks, generally oriented NE-SW, have a tendency to lateral and / or vertical displacements.
Source: Phivolcs
An overflight of the Colima volcano, in Mexico, was carried out on January 16, 2020, under the aegis of the authorities of Colima and Jalisco.
The level of alert remains amarillo, with advice from the Civil Protection not to approach within 8 km of the volcano, for security reasons.
Source: Tv Azteca noticias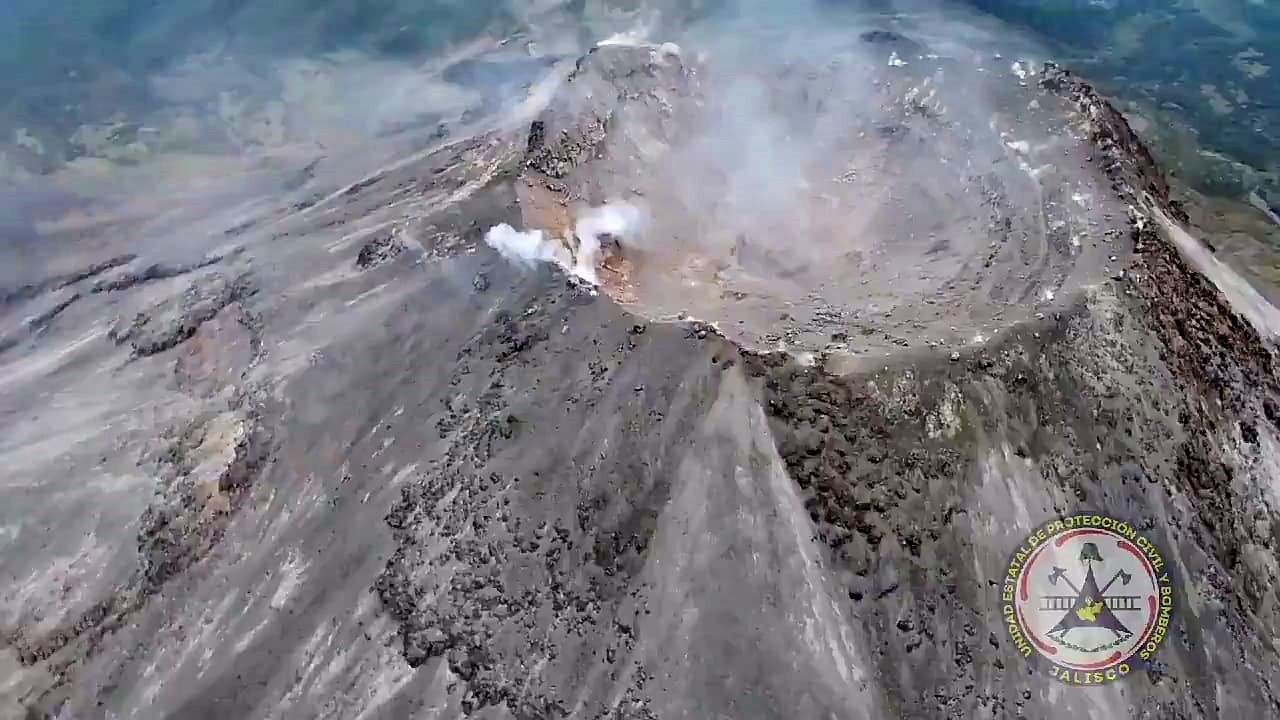 Colima crater - overview of 16.01.2020 - image Proteccion Civil de Jalisco via Azteca Noticias / Twitter
Benjamin Bernard, of IGEPN, has been drawing up for years a report on the annual activity of Ecuadorian volcanoes.
Two volcanoes presented eruptive episodes: the Sangay (new eruptive cycle from May 7, 2019) and the Reventador (active all year 2019).
Two volcanoes presented an exceptional agitation: the Chiles-Cerro Negro and Fernandina / Galapagos.
Development on Benjamin Bernard's Ceniza-Ecuador blog : http://ceniza-ecuador.over-blog.com/2020/01/a66-resumen-volcanico-del-ano-2019-ecuador.html