Publié le par Bernard Duyck
During the period from January 13 to 19, 2020, the IGP recorded and analyzed for the Sabancaya about 1076 earthquakes of volcanic origin, associated with the circulation of fluids (magma, gas, etc.) inside of the volcano.
On average, 7 explosions per day of medium to low intensity were recorded, accompanied by an ash plume reaching up to 2,600 meters above the summit, and dispersed towards a south and southwest sector.
The monitoring of the deformation of the volcanic structure, using GNSS data (processed with fast orbits), does not record any significant anomalies.
Satellite surveillance has made it possible to identify the presence of 2 thermal anomalies of values ​​between 1 MW and 5 MW, associated with the presence of a lava dome in the crater of the volcano about 280 m in diameter. It should be noted that the number of anomalies has been reduced due to the high cloudiness in the region.
This January 24, intermittent ash emissions are reported by the VAAC Buenos Aires, with observation at flight altitude 240, towards the southwest.
Sentinel-5 P mentions an SO2 cloud on the same day.
RECOMMENDATIONS:
• Maintenance of the volcanic alert level in orange.
• Do not approach a radius of less than 12 km from the crater.
Sources: INGEMMET, VAAC Buenos Aires and Sentinel-5 P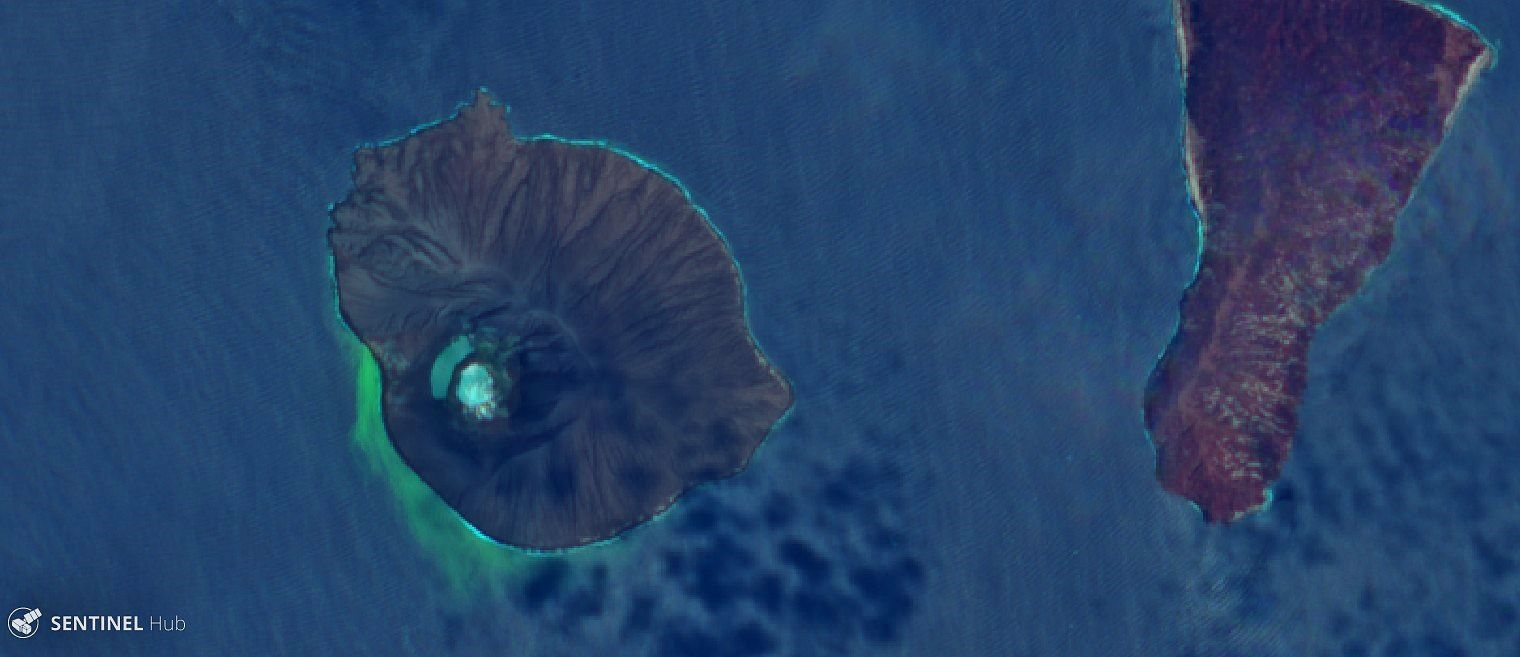 Anak Krakatau - double lagoon visible in this image Sentinel-2 L1C /23.01. 2020 bands 12,4,2 (Geology) - one click to enlarge
In Indonesia, a clear sky over the Anak Krakatau allowed a good view of the double lagoon this January 23. A lagoon is contained in a circular tuff ring, the old crater lake appears in the form of a crescent with rounded edges on one side of the crater.
Magma Indonesia informs for this January 24 from 6 to 12 noon WIB 6 earthquakes of low frequency and of the continuous tremor of dominant amplitude at 1 mm.
The activity level remains at 2 / waspada, along with the unauthorized area of ​​2 km radius
Sources: Sentinel Hub and Magma Indonesia
The activity in the main crater of the Taal volcano over the past 24 hours has been characterized by a low to moderate emission of white plumes loaded with vapor at 50 to 500 meters in height from the main crater which drifted to the southwest. Sulfur dioxide emissions were measured at an average of 224 tonnes / day.
In the past 24 hours, the Taal volcano network, which can record small earthquakes undetectable by the NHP, has recorded four hundred eighty-six (486) volcanic earthquakes, including four (4) earthquakes. low frequency earth.
Note: an IR signal was received by an ESA satellite on January 23, and thermal anomalies recorded by Mirova on January 21-22, between 8 and 20 MW.
Sources: Phivolcs, Sentinel, NOAH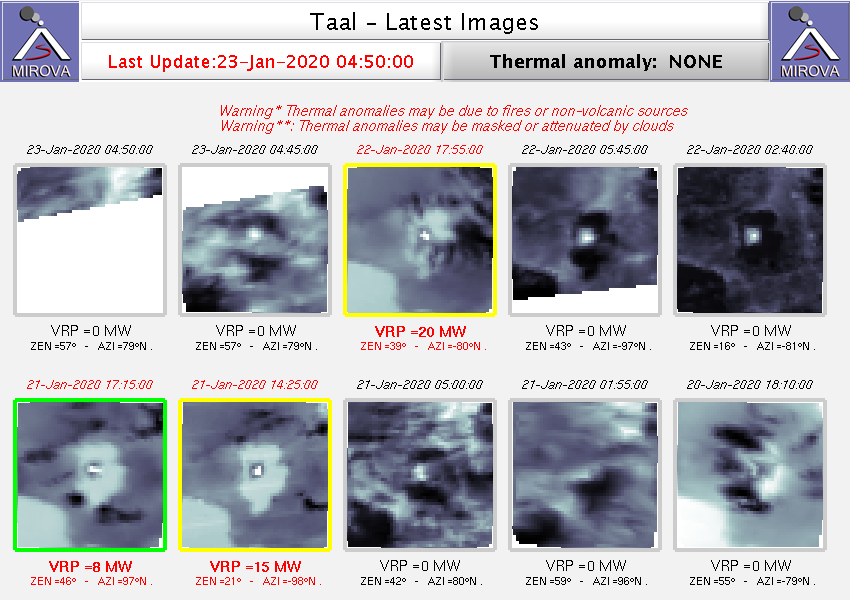 Taal - thermal anomalies of 21 and 22.01.2020 (images of other days disturbed by cloud cover) - Doc. Mirova