Publié le par Bernard Duyck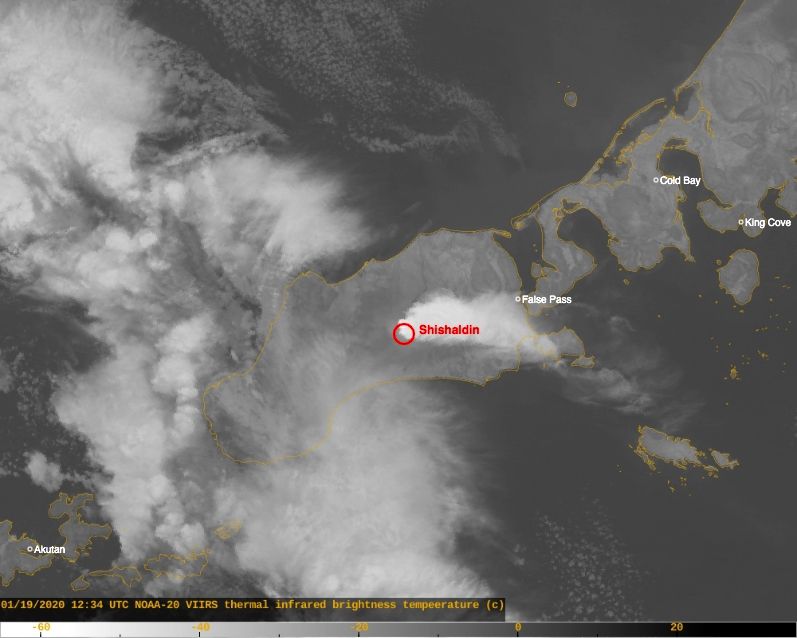 Shishaldin - thermal IR satellite image of 19.01.2020 / 03.34 AKST - Dave Schneider / AVO - one click to enlarge.
The eruption in progress in Shishaldin, in the Aleutians, intensified this January 19 from 12:30 pm AKST, and began to generate a plume richer in ash; this plume extends eastward for 150 km, justifying the change to a red aviation code and a warning volcanic alert.


Seismicity is high as is infrasonic activity.
Ash falls are reported in False Pass.
Update : Ash emissions declined greatly at about 8:30 PM AKST (5:30 UTC 20 January). Seismicity is currently low. The Aviation Color Code is lowered to ORANGE and Alert Level to WATCH.
Source: AVO 19.01.2020 / 1728Z
INGVvulcani reports a small lava flow on January 18 from 9:36 pm UTC located in the northern area of ​​the Stromboli crater terrace; it remains confined in the summit area, and following an overflow at the very beginning of the day on January 19, materials roll in the Sciara del Fuoco. This activity did not last and is considered to have ended in the report from 19.01 at 10:03 UTC. Normal seismicity persists and the deformations of the soil do not show significant variations.
A path will be established by the National Forest Agency up to 400 meters above sea level to safely admire the activity of the volcano and revive the economy of the island strongly penalized by the stop of the hikes after the climaxes of July and August 2019.
Source: INGV vulcani & Eolie News
At Taal, activity in the main crater over the past 24 hours has been characterized by a steady emission of steam and rare weak explosions that have generated ash plumes 500 to 1,000 meters tall and ash scattered at southwest of the main crater. Sulfur dioxide (SO2) emissions were measured at an average of 4,353 tonnes / day.
In the past 24 hours, the Taal volcano network, which can record small earthquakes undetectable by the NHP, has recorded six hundred seventy-three (673) volcanic earthquakes, including twelve (12) earthquakes in low frequency. Such intense seismic activity probably means a continuous magmatic intrusion under the Taal building, which can lead to additional eruptive activity.
Alert level 4 remains in effect on the Taal volcano.
Source: Phivolcs
Following the Taal eruption, the NDRRMC / National Council for Disaster Risk Reduction Management reported that 22,472 families, or 96,061 people, were affected in the areas of Batangas, Laguna and Cavite. From these figures, he notes that 16,174 families, or 70,413 people are temporarily sheltered in 300 evacuation centers.
A total of four sections of road were declared non-passable due to locking as a safety measure due to the eruption.
A total of 643 flights - 383 domestic and 260 international - were canceled due to the volcanic ash from the Taal volcano.
(NDRRMC report 23 - 19.01.2020 / 12 PM)