Publié le par Bernard Duyck
At Popocatépetl, 41 exhalations and 124 minutes of tremors were identified on January 21. Due to the cloudy conditions of certain events, it was not possible to confirm whether they were accompanied by an ash emission.
In addition, a minor explosion was recorded today at 04:14 h with a 1,500 m column. high, with a low ash content, and the expulsion of certain incandescent fragments a short distance from the crater.
The Popocatépetl volcanic traffic light is in YELLOW PHASE 2.
Sources: CENAPRED & WebcamsdeMexico.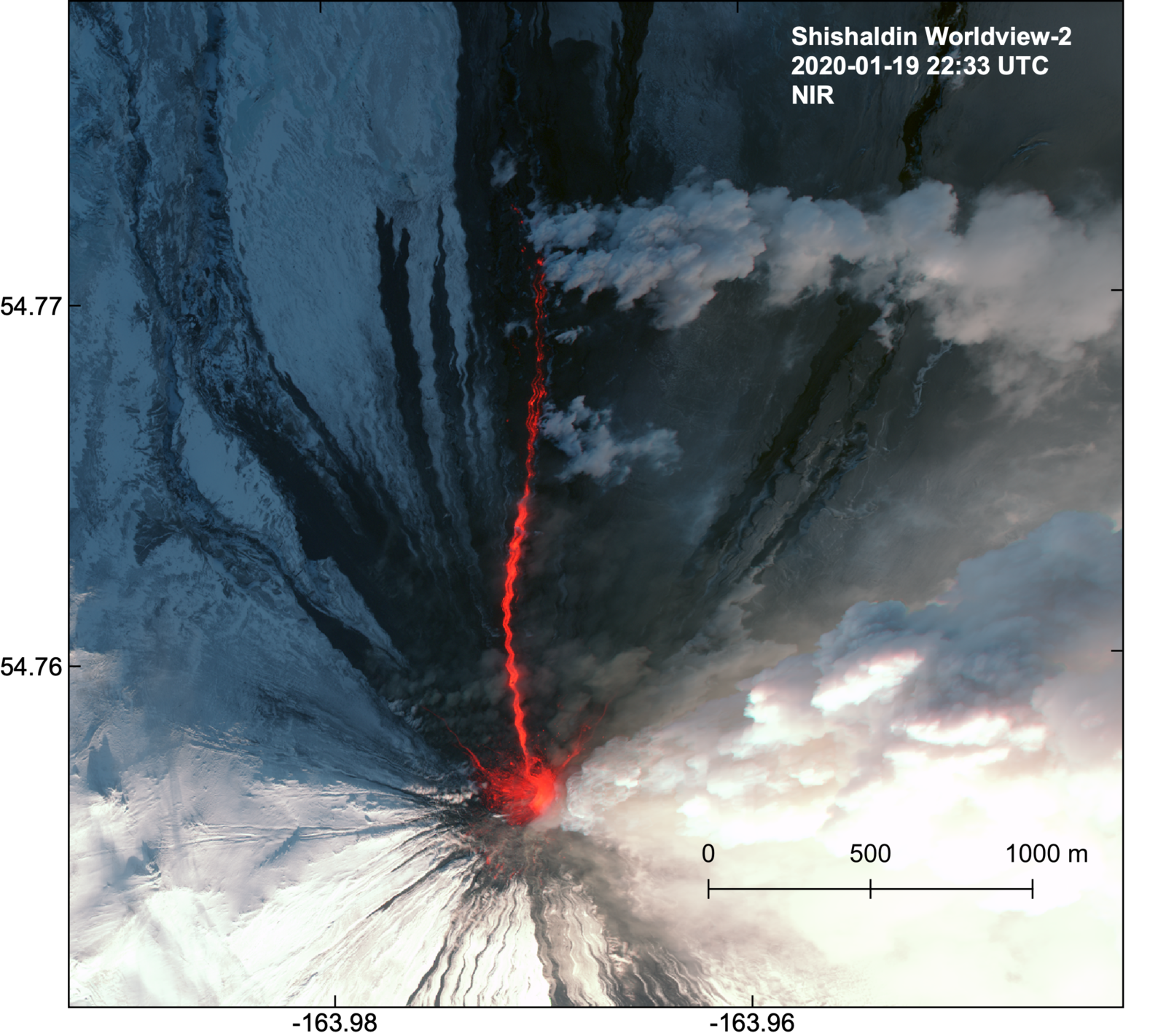 Shishaldin - 19.01.2020 / 22h23 - Near-infrared Worldview-2 satellite image showing a 1.8 km lava flow on the northern flank and active spattering at the summit crater - photo M.Loewen / AVO
In Shishaldin, seismicity dropped sharply to low levels around 3:30 p.m. on January 19, 2020, and ash production increased at about the same time, producing an ash plume that reached 9,000 meters. The eruption continued to produce ash until about 10:00 p.m. when activity slowed.
The aviation color code and alert level were lowered to ORANGE / WATCH shortly after midnight, when it became clear that activity had declined and an ash cloud was no longer produced. The ash cloud that had formed earlier continued to drift east-southeast during the night as it dissipated, but was still visible some 300 km (~ 185 miles) offshore on January 20.
High surface temperatures are still apparent on the satellite images this morning. Webcam images captured after sunrise on the southeast side of the volcano show a weak plume of vapor at the top, new tephras and / or lava deposited on the upper flanks of the cone and a dusting of ash on the snow throughout the area.
Source: AVO
Activity in the main crater of Taal in the past 24 hours has been characterized by a low emission of white plumes loaded with steam at a height of 50 to 500 meters from the main crater which drifted to the southwest. Sulfur dioxide (SO2) emissions were measured at an average of 153 tonnes / day.
In the past 24 hours, the Taal seismic network has recorded 481 volcanic earthquakes, including 8 of low frequency. The alert level remains at 4.
OCHA has issued a FLASH update, recalling the total evacuation order that remains in place for the island of Taal volcano and high-risk areas within 14 km of the crater of the volcano and along the Pansipit river valley where cracking was observed.
According to the Department of Social Protection and Development (DSWD), as of January 21, more than 271,000 people are affected, of whom more than 148,000 are assisted in more than 490 evacuation centers and more than 87,000 people live in host families. The Ministry of Education reports that more than 300 schools are used as evacuation centers, reaching more than 9,700 students.
According to the Department of Agriculture, more than 15,000 hectares of agricultural land have been affected. The financial cost of damage and losses to agriculture and fishing is estimated at 3.17 billion Philippine pesos (US $ 62 million), with the fishing sector accounting for about half of the losses.
A flight by a military helicopter over Volcano Island found a herd of around twenty white cows, and various boats on the shore (source AFP - Task force flies ever Taal for survey)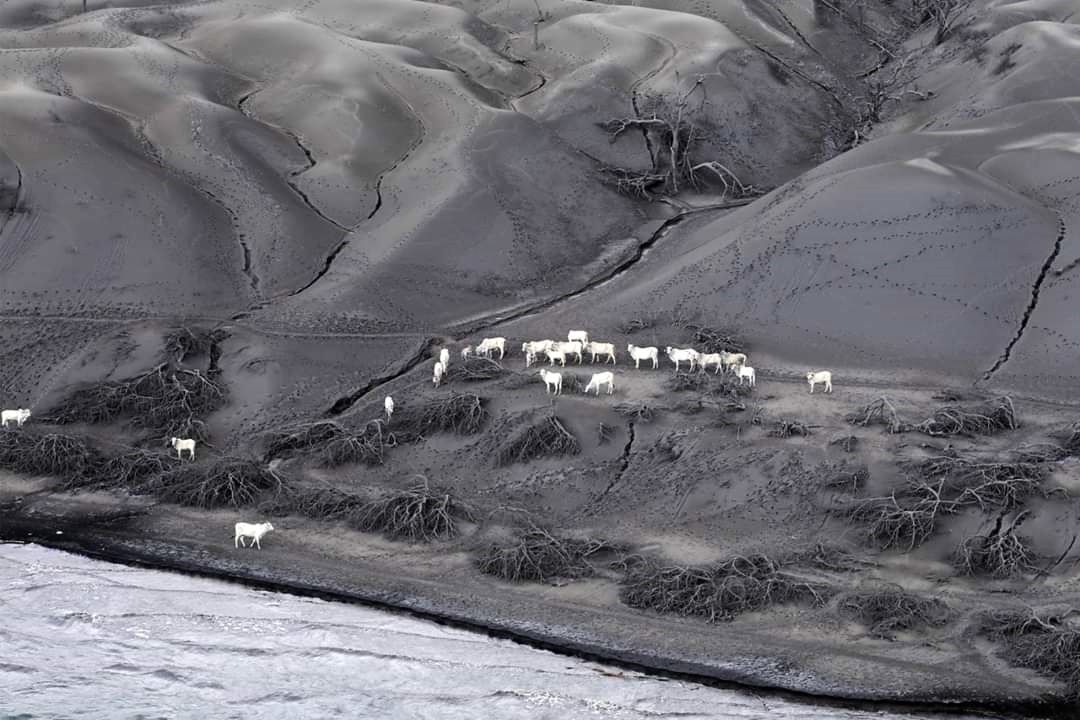 Taal - volcano island - A flight by a military helicopter from volcano island has found a herd of around twenty white cows
The recycling of ashes is done in Binia, mixed with plastic waste and cement for the manufacture of bricks (5,000 bricks / day) for the use of local constructions, with a double environmental and economic goal.
Sources: Phivolcs, OCHA, DSWD, AFP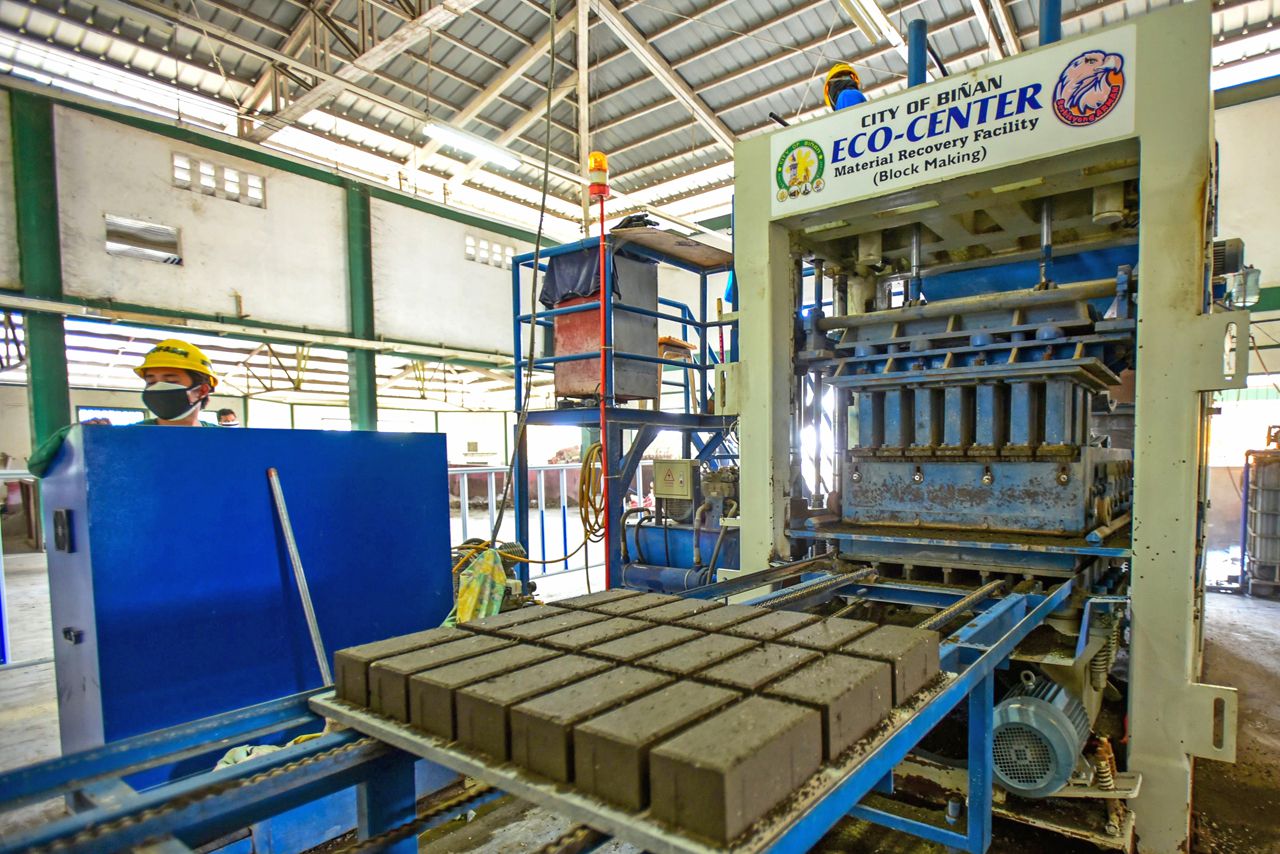 Taal - bricks made of ash, cement and plastic waste by the Binan City materials and recovery facility - photo the Borneo Post
An update of the information on the activity of the Yasur volcano published by the Vanuatu Meteorology and Geological Risks Department on January 22, 2020 at 2:46 p.m .:
The activity of the Yasur volcano continues with frequent more intense explosions and in greater numbers since January 18, 2020. Volcanic bombs can fall in and / or around the edge of the crater.
The volcanic alert level remains at level 2 and the danger zone remains in the permanent exclusion zone which is approximately 395 m around the eruptive vents. Volcanic projectiles, ash and gases are expected in this area.
Source: VGO