Publié le par Bernard Duyck
During the past 24 hours, the activity of the Taal volcano has been characterized by a continuous but generally weaker eruption of the main crater due to magmatic and hydro-volcanic processes. This ongoing eruption generated dark gray plumes loaded with vapor that reached approximately 1,000 meters high and scattered ash to the southwest of the main crater.
The crater lake seems to have largely emptied after the phreatic episode of Sunday, and the fountaining of Monday morning. Volcano island is covered with ashes.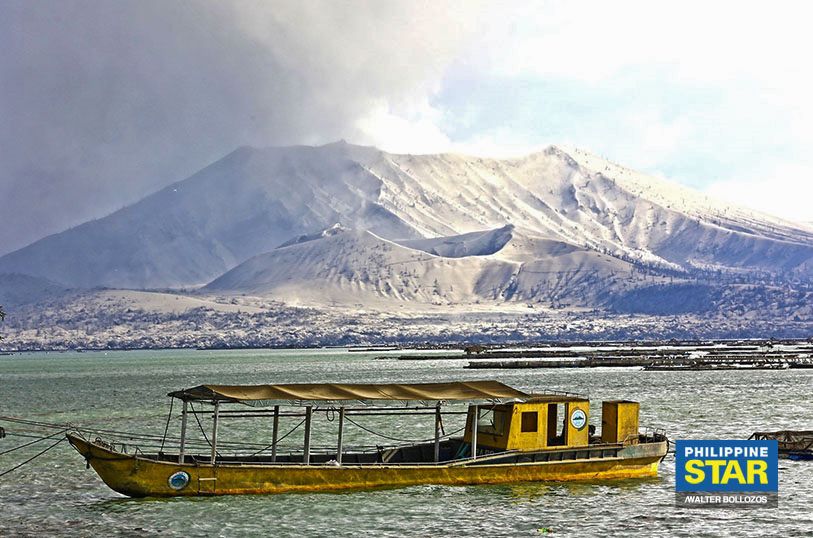 Taal - volcano island covered with ash from continuous emissions - photo Philippine Star / Walter Bolosos
New fissures and cracks have been observed at Sinisian, Mahabang Dahilig, Dayapan, Palanas, Sangalang, Poblacion, Mataas na Bayan, Lemery; Pansipit, Bilibinwang, Agoncillo; Poblacion 1, Poblacion 2, Poblacion 3, Poblacion 5, Talisay and Poblacion, San Nicolas. A crack crossed the road connecting Agoncillo to Laurel, Batangas.
The Philippine Seismic Network has plotted a total of four hundred sixty-six (466) volcanic earthquakes since 1:00 p.m. on January 12, 2020. One hundred and fifty-six (156) of them were felt with intensities ranging from intensity I - V.
From 05:00 on January 14, 2020 until 05:00 today, there have been one hundred fifty-nine (159) volcanic earthquakes and twenty-eight (28) have been felt with intensities ranging from Intensity I to III . Such intense seismic activity probably means a continuous magmatic intrusion under the Taal building, which can lead to additional eruptive activity.
Sulfur dioxide (SO2) emissions were measured at an average of 1,686 tonnes / day on January 14, 2020.
These SO2 emissions from January 12 and 13 dispersed over the western Pacific. A Sentinel-5P TROPOMI image from January 14 suggests a high and partially stratospheric altitude (comment from Simon Carn)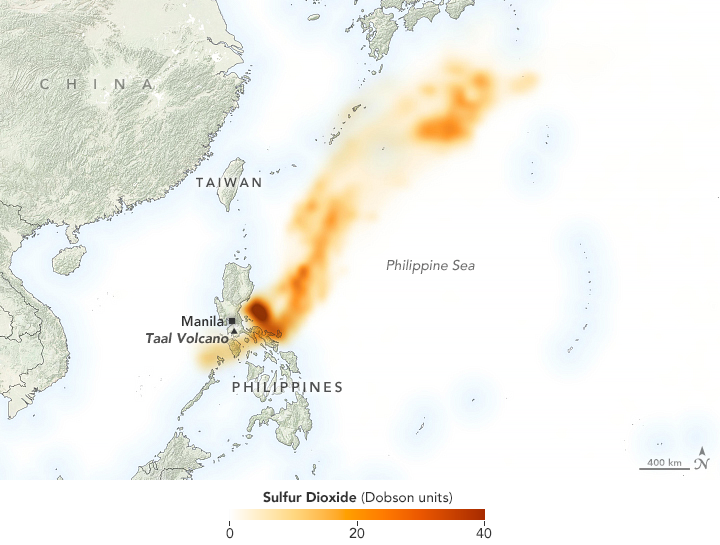 Taal - sulfur dioxide concentrations - detection on 13.01.2020 by Ozone Mapping Profiler Suite (OMPS) on board NOAA-NASA Suomi-NPP satellite.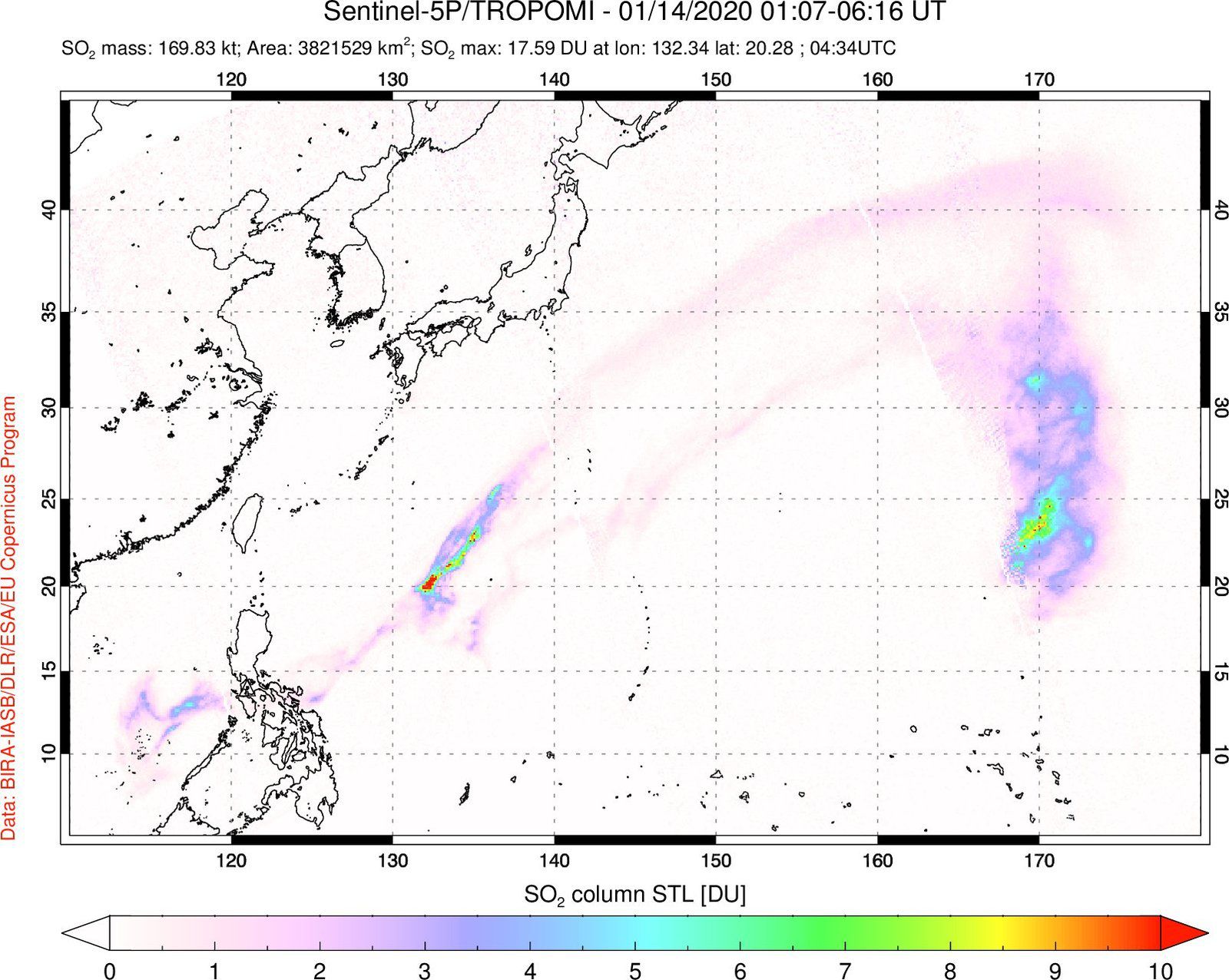 Taal - dispersion of SO2 emitted on January 12-13, 2020 - image detection of Sentinel-5P Tropomi from January 14, 2020 / 1:07 am - 6:16 am UT - Doc. via S. Carn
The impact of the ashes on the populations is important, while some evacuees try to return to the prohibited zone to take care of their animals.
Alert level 4 remains in effect on the Taal volcano. This means that a dangerous explosive eruption is possible within a few hours or days.
Taal - every living being is impacted by the ashes emitted - photos Philippine star 14.01.2020 - one click to enlarge
In the interviews with Phivolcs officials, there is a fear of seeing the scenario of historical eruptions repeated, which were accompanied, after the appearance of cracks, by explosions with a deadly base surge (1911, 1965, 1966).

Sources :
Phivolcs, Philippine Star, Simon Carn, Global Volcanism Program.