Publié le par Bernard Duyck
A joint study by the German Center for Geoscience Research / GFZ and the Institute for Research in Astrophysics and Planetology, entitled "Drainage of a deep magma reservoir near Mayotte inferred from seismicity and deformation", examines the seismicity associated with the seismic crisis that started in June 2018.
It highlighted magmatic movements under the seabed, before and during the eruption of this new volcano off the island of Mayotte.
More than 7,000 volcano-tectonic earthquakes and 407 earthquakes of very long period were studied with new techniques adapted to compensate the lack of instrumentalization (before the MAYOBS 1 campaign with the Marion Dufresne).
The first earthquakes responded to the propagation of a magmatic dyke from the depths of the Moho to the surface.
From June, VLP signals, lasting 20-30 minutes and so powerful that they could be recorded a thousand kilometers away, appeared ... while the subsidence of the soil at Mayotte was measured by GNSS.
The study authors interpret this as a sign of the collapse of the large deep magma chamber, more than 3.4 km³ at about 30 km deep, following its emptying.
The eruption could not be noticed at the start, the seabed being 3 km below the surface.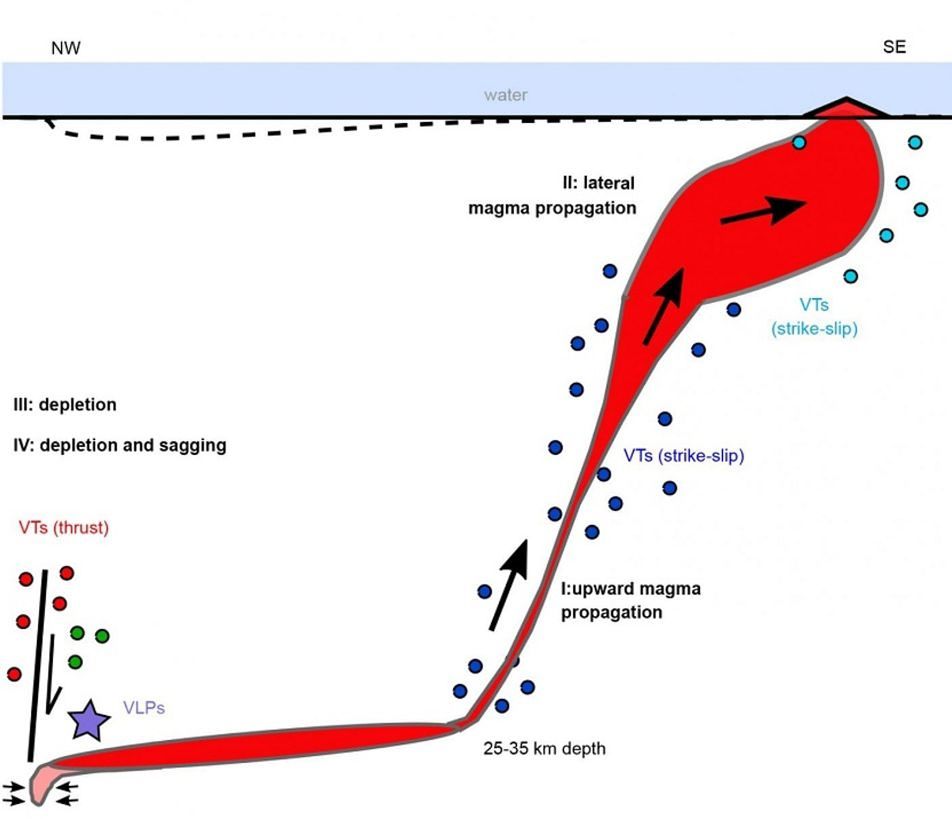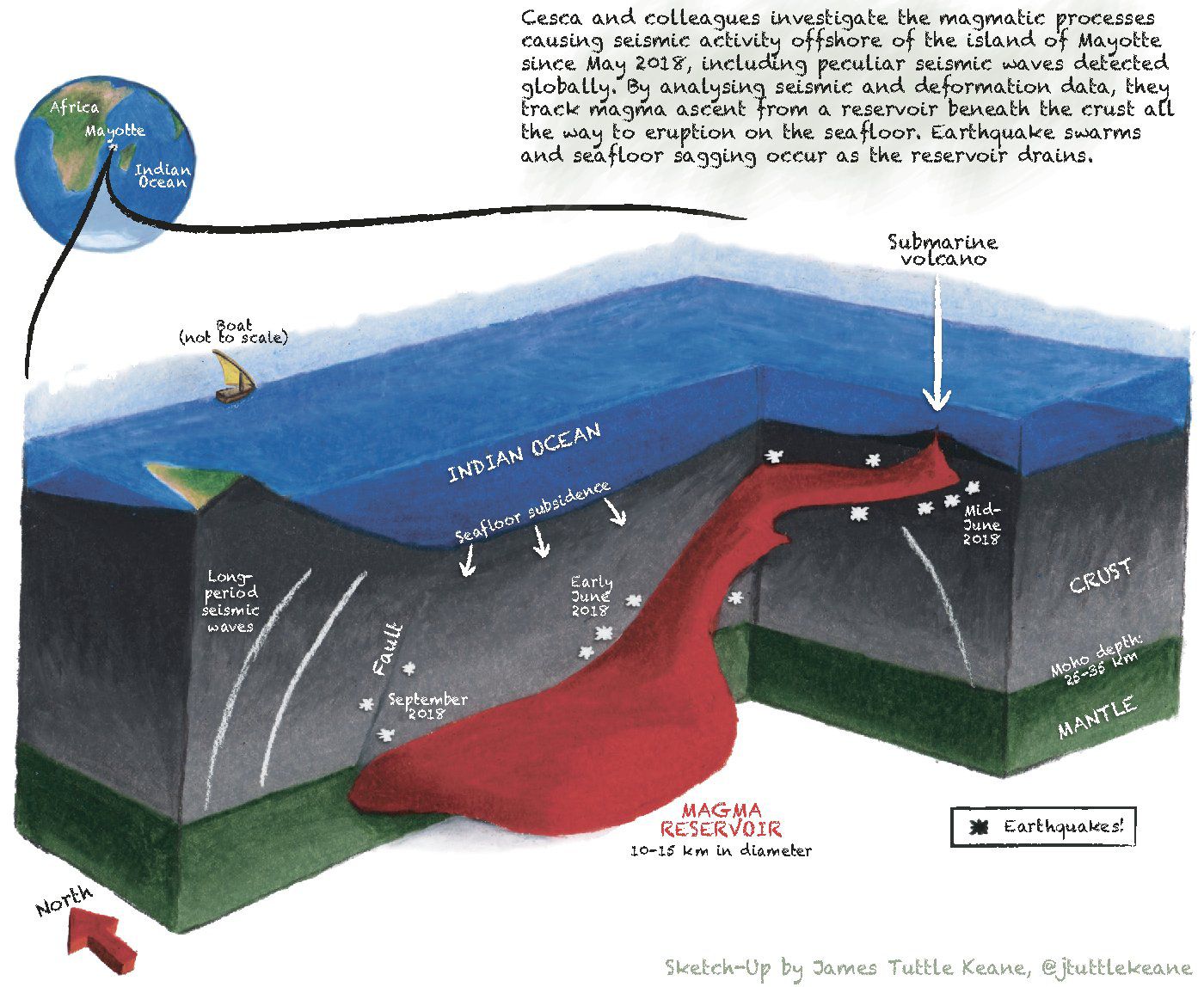 Sketch of the deep magma reservoir and the ascending path of magma to form a new underwater volcano. Different types of seismic and surface deformation accompany the four identified phases of agitation. Doc. CESCA ET AL. 2019, NATURE GEOSCIENCE
The earthquakes continue, even if we speak less: according to data from the RéNass / National Network for seismic monitoring, January 1 was marked by 7 earthquakes, including one of M 4.8. This January 8, an earthquake of MLv 1.8 was noted.
Sources:
- CNRS - Espace Presse 07.01.2020 - Volcano off Mayotte: seismicity sheds light on the stages of its formation - link
- "Drainage of a deep magma reservoir near Mayotte inferred from seismicity and deformation"
Simone Cesca, Jean Letort, Hoby N. T. Razafindrakoto, Sebastian Heimann, Eleonora Rivalta, Marius P. Isken, Mehdi Nikkhoo, Luigi Passarelli, Gesa M. Petersen, Fabrice Cotton & Torsten Dahm
Nature Geoscience, January 6, 2020
- BRGM - Volcano and earthquakes in Mayotte: monitoring of earthquake-volcanic activity - REVOSIMA - link
- RéNass / National seismic monitoring network - link