Publié le par Bernard Duyck
At 8 a.m. on January 15, PHIVOLCS declared that Taal volcano activity was generally lower; dark gray plumes loaded with vapor increased by about 1 km and drifted southwest.
Satellite images showed that the main crater lake had disappeared and that new craters had formed inside the main crater and on the northern flank.
According to the Disaster Assistance Response and Information Center (DROMIC), a total of 53,832 people were dispersed in 244 evacuation centers in 1800 on January 15. (GVP)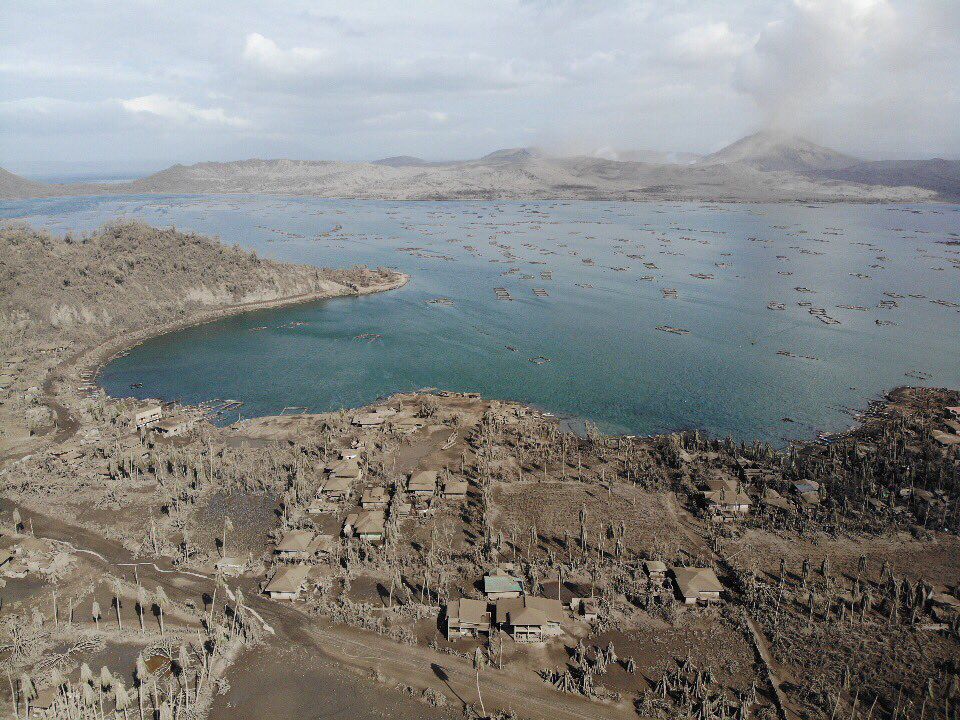 Taal - Agoncillo, east of Lake Taal, covered by the ashes of the eruption - photo 15.01.2020 / Gaston Chino GMA news - One click to enlarge
New ground cracks were reported at Sambal Ibaba (17 km SW) and portions of the Pansipit River (SW) dried up.
At 6:17 a.m. and 6:21 a.m. on January 16, 2020, the Taal volcano expelled short-lived dark gray ash plumes 500 meters and 800 meters high, respectively; the ashes scattered from the southwest to the west of the main crater.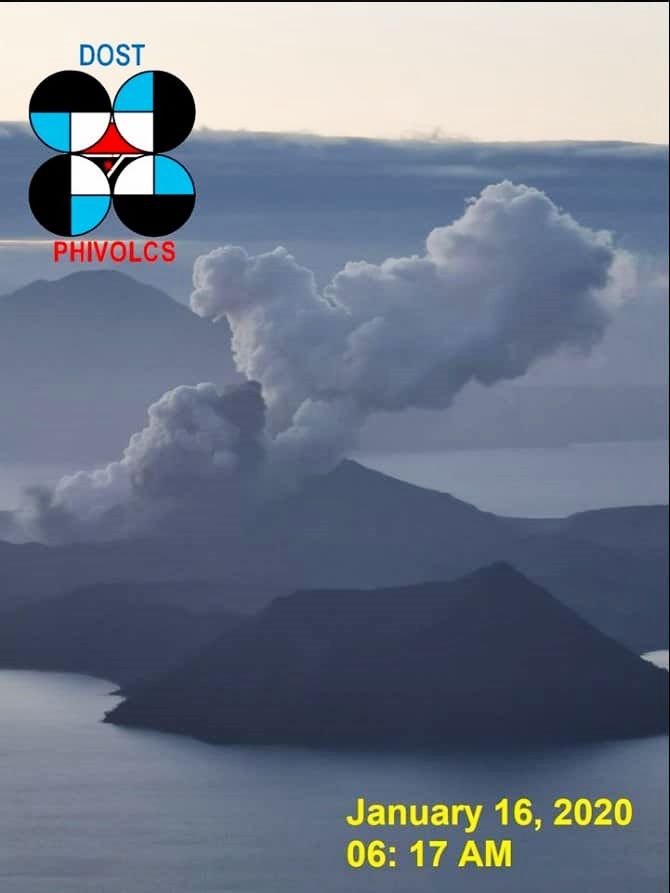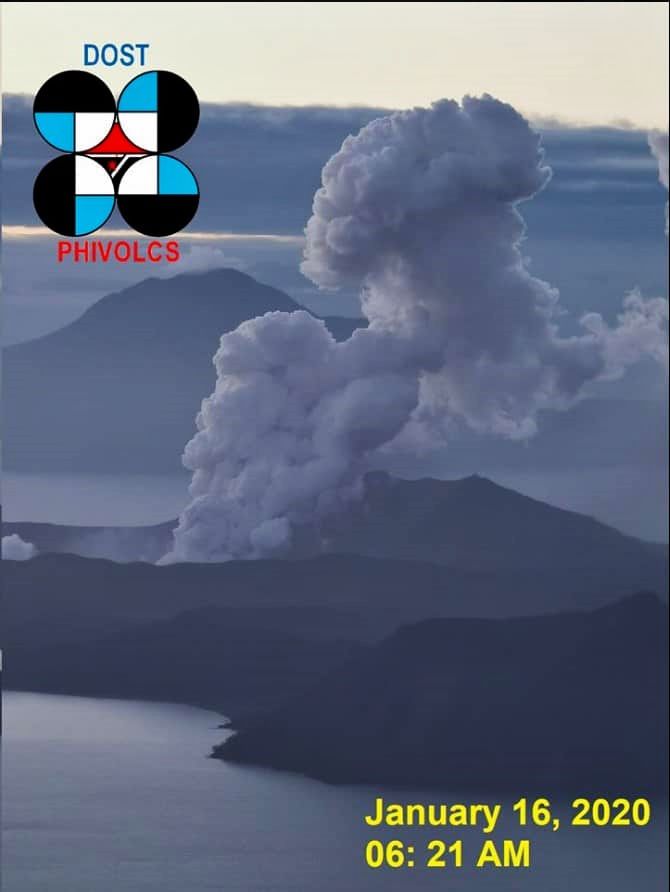 The Taal expelled short gray ash plumes of 500 meters and 800 meters high, respectively at 6:17 am and 6:21 am on Jan 16, 2020 - photos Phivolcs
The Philippine Seismic Network has plotted a total of five hundred sixty-six (566) volcanic earthquakes since 1:00 p.m. on January 12, 2020. One hundred and seventy-two (172) of them recorded at magnitudes M1.2 - M4.1 and were felt at intensities I to V. From 5 a.m. on January 15, 2020 until 5 a.m. today, one hundred and three (103) volcanic earthquakes have been plotted, including fourteen (14) of between them recorded at magnitudes M1.4. -M4.0 and were felt at intensities I - III.
Such intense seismic activity probably means a continuous magmatic intrusion under the Taal building, which can lead to additional eruptive activity.
Sulfur dioxide (SO2) emissions were measured at an average of 4186 tonnes / day on January 15, 2020.
Alert level 4 remains in effect.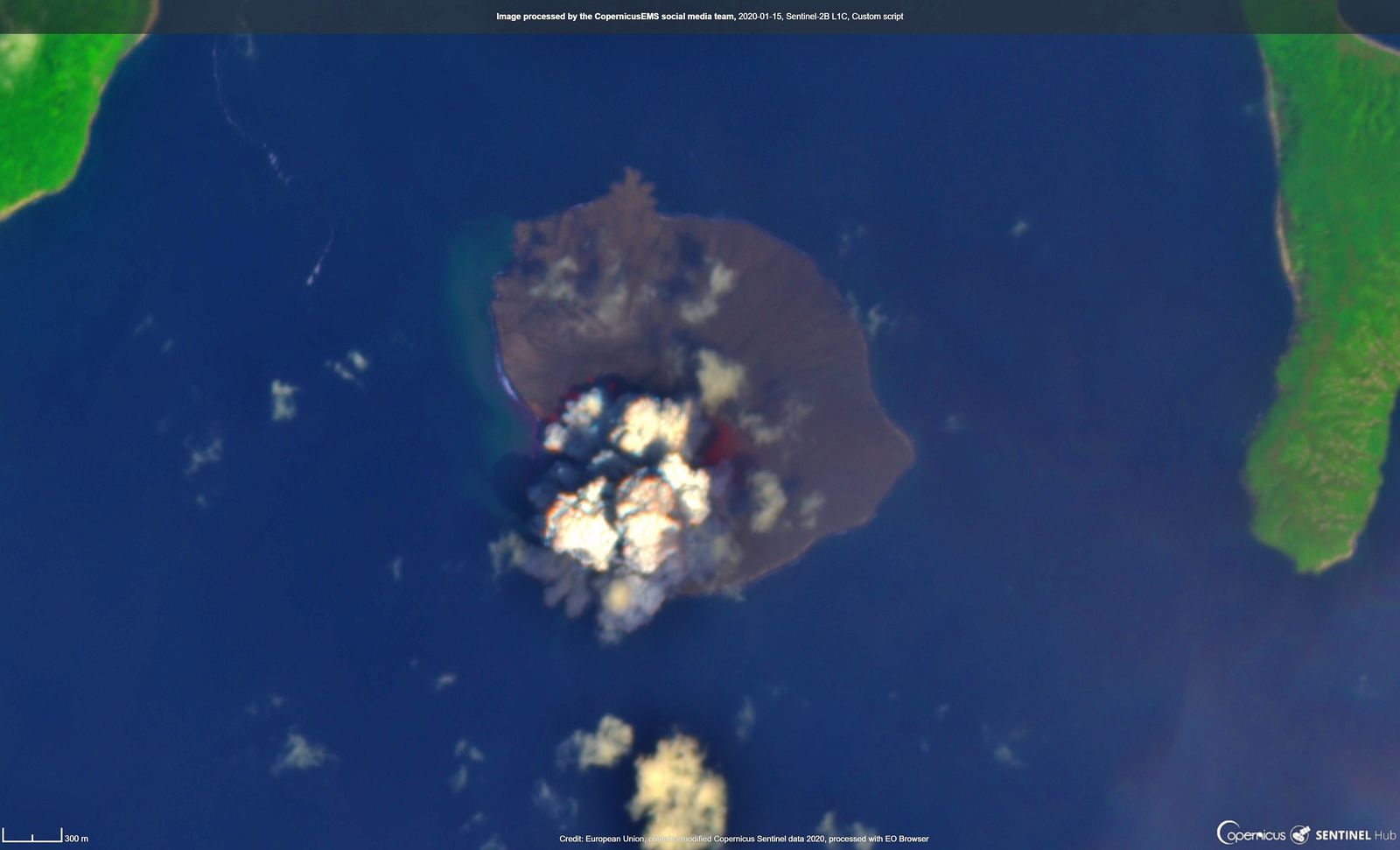 Anak Krakatau - on 15.01.2020, one minute after the eruption, a hot spot is visible on this image Sentinel-2B L1C - Copernicus EMS
At Anak Krakatau, a thin white plume surmounted the bottom of the crater, on webcam images, on January 15 from 100 to 150 meters.
Two eruptive episodes, accompanied by plumes of black ash, and eruption earthquakes, were observed.
Four episodes of continuous tremor of dominant amplitude at 10 mm were recorded.
The alert level remains unchanged and the public / tourists are not allowed to approach the crater within a 2 km radius of the crater.
Sources: PVMBG & Sentinel-2