Publié le par Bernard Duyck
After a few hours of a phreatic eruption at the Taal volcano (see yesterday's article), characterized by an impressive plume of 10-15 km high around 5.30 p.m. with a pouring of wet ash on the north of the island to Quezon . Subsequent phreatomagmatic explosions occurred, producing a plume reaching 17,000 meters and traversing numerous lightnings.
The Phivolcs raised the alert status from 3 / magmatic disorders to 4 / imminent dangerous eruption.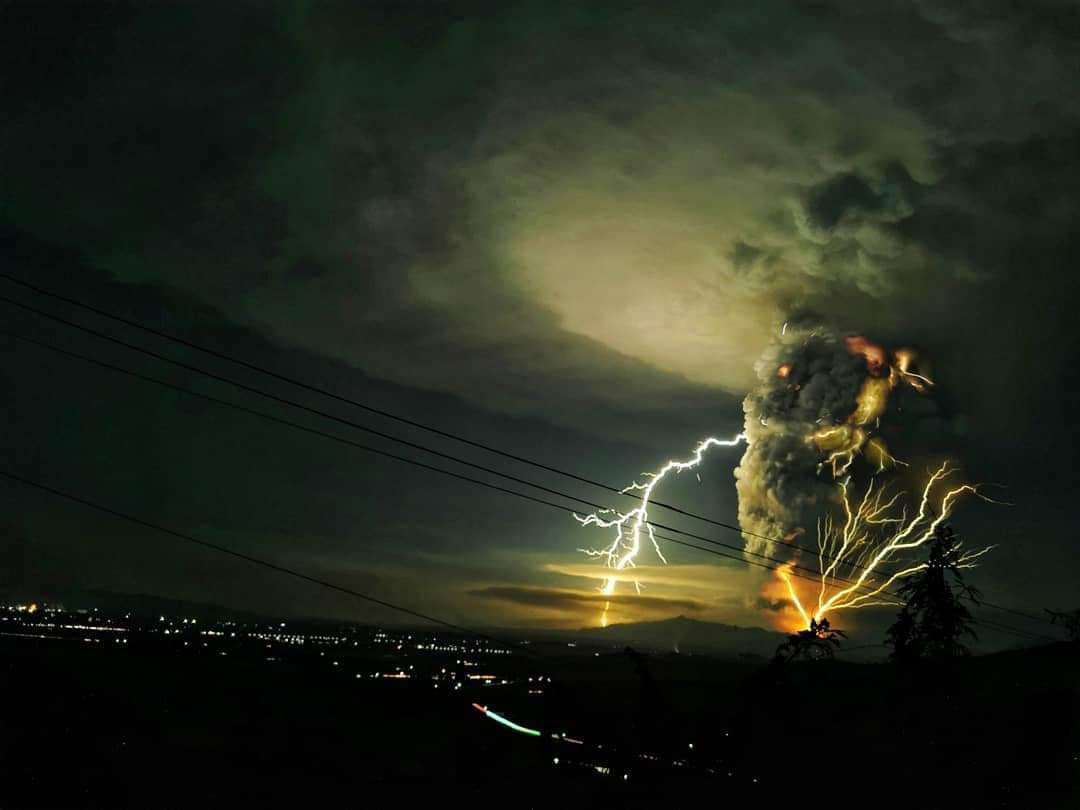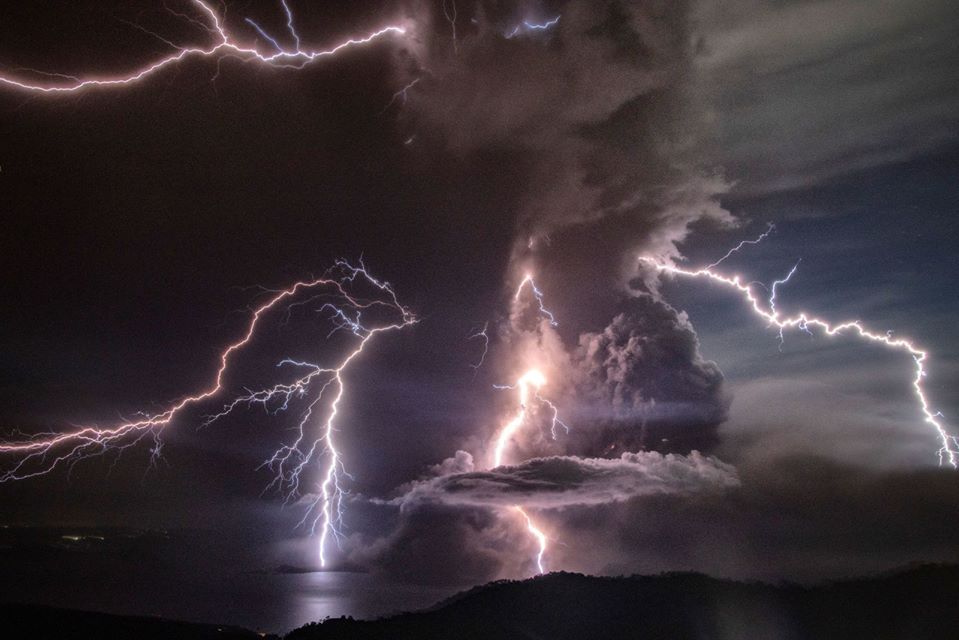 Taal -lightnings in the plume on 12.01.2020 - photos ABS CBN news et Ezra Acayan / Getty Images / via S.Mugnos
TAAL VOLCANO ERUPTION UPDATE : Alert Level 4! Actual Footage and Exclusive Video | January 12,2020
Volcanic tremor episodes have been continuously recorded since 11:00 a.m. and two volcanic earthquakes of magnitudes M2.5 and M3.9 were felt at Intensity III in Tagaytay City and Alitagtag, Batangas, recorded at 6:15 p.m. and 6:22 p.m. PST, respectively.
The DOST-PHIVOLCS strongly reiterates the total evacuation of the island from the Taal volcano and the additional evacuation of high-risk areas against pyroclastic density currents and volcanic tsunami within a radius of 14 kilometers around the main crater of Taal.
The northern regions of the Taal volcano are advised to protect themselves against the effects of heavy and prolonged ash falls. Lapilli falls, between 2 and 64 mm in diameter are reported in the areas of Tanauan, Talisay, Batangas; Tagaytay City; Nuvali and Sta. Rosa, Laguna. Airports have been closed.
Taal - initial distribution of volcanic ash on 12.01.2020 at 8:20 p.m. and 11:20 p.m. - Doc. VAAC Tokyo - one click to enlarge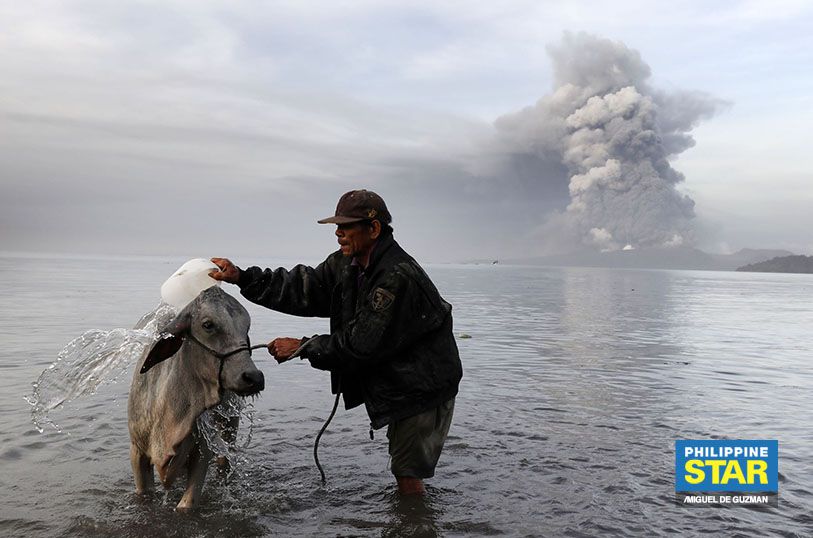 Taal - peasant  washing the ashes fallen on his cattle because of the eruption of 12.01 in Taal - photo Guzman / Philippines Star
On January 13, following a brief weakening of activity, lava fountains appeared between 2:49 and 4:28 am, as well as hydrovolcanic activity, generating plumes charged with vapor from a height of 2,000 meters; new side vents have opened on the northern flank from which emanate 500-meter lava fountains.
Heavy ash falls are still reported on the southwest of the volcano.
The seismic network recorded a total of 144 volcanic earthquakes since 1 p.m. on January 12, 2020. Forty-four earthquakes were felt of an intensity IV in Tagatay, Lemery, Santo Tomas and Talisay ... testifying to the magmatic intrusion which continues under the volcanic edifice.
Sources: Dost-PHIVOLCS, Vaac Darwin, VAAC Tokyo and local photographers / media
The Fernandina volcano, located in the Galapagos province 90 km NW of Puerto Villamil and 140 km NW of Puerto Ayora, presented new seismic agitation, and an eruption followed on January 12, 2020, around 10 local Galapagos time ( continental Equator time -1 h).
After the 4.7M magnitude seismic event occurred at 4:42 p.m., 29 localized events were recorded, the magnitude of which remained below 3.1. Eruptive activity is located east of Fernandina Island along a circumferential fissure.
The last eruption of this volcano occurred 19 months ago (June 16-18, 2018).
Source: IGEPN
 Fernandina - Lava flows in the Bolívar canal sector on 12.01.2020 - Fotografía cortesía del Parque Nacional Galápagos.
Following the short seismic crisis recorded on January 7 between 9:28 p.m. and 9:44 p.m. UT, seismic activity continued under the Piton de la Fournaise (with respectively 8, 9, 11 and 1 volcano-tectonic earthquake (s) ( s) superficial (s) registered under the summit craters on January 8, 9, 10 and 11).
On January 12, between 6:17 p.m. and 6:24 p.m. UT, a new seismic crisis was recorded under the summit area of ​​Piton de la Fournaise with 41 superficial volcano-tectonic earthquakes. A total of 51 earthquakes were recorded during the day of January 12.
No rapid deformation of the soil surface was recorded during this crisis, which shows that the magma has not left the superficial magmatic reservoir.
This new seismic crisis shows that the superficial magmatic reservoir continues to pressurize as also shown by the continued inflation of the building.
Note that this pressurization process can last several days to several weeks before the tank roof weakens and breaks, thus giving rise to an injection of magma towards the surface and an eruption, and can also stop. without giving rise to an eruption in the short term.
Source: OVPF