Publié le par Bernard Duyck
At 3:28 a.m. on February 20, 2020, an eruption occurred in Suwanosejima (Mitake crater), and the eruptive plume rose to 1,400 m above the edge of the crater.


Volcanic ash was swept east of the crater, and a small amount of ash fell in the village of Toshima.
The alert level remains at 2 out of 5.
The GVP / via JMA reports small eruptions on February 9 and 10, with plumes 700 meters above the edge of the crater.
Source: JMA
The CVGHM and the VAAC Darwin report an eruption at the Dukono in the Moluccas on February 20, 2020, accompanied by a plume 400 meters above the summit.
Aviation code is orange
Sources: CVGHM 1 VAAC Darwin
Two measurements and aerial observations from Whakaari / White Island were carried out in the past two weeks. An aerial measurement confirms the constant decrease in the fluxes of CO2 and SO2 since the eruption, although at slightly high levels. The result of this flight is consistent with recent gas measurements and indicates the continued presence of shallow magma under the main ventilation area.
This is further confirmed by an infrared thermal helicopter study of the five lava lobes and fumarole gases in the vent area. Temperatures above 660 ° C mean that the system remains very hot with no signs of cooling for the past two weeks. Despite these high temperatures of the fumaroles, a small pond of water is observed in the main area of ​​the vent and presents small-scale jets. This is similar to the activity observed in September-December 2019.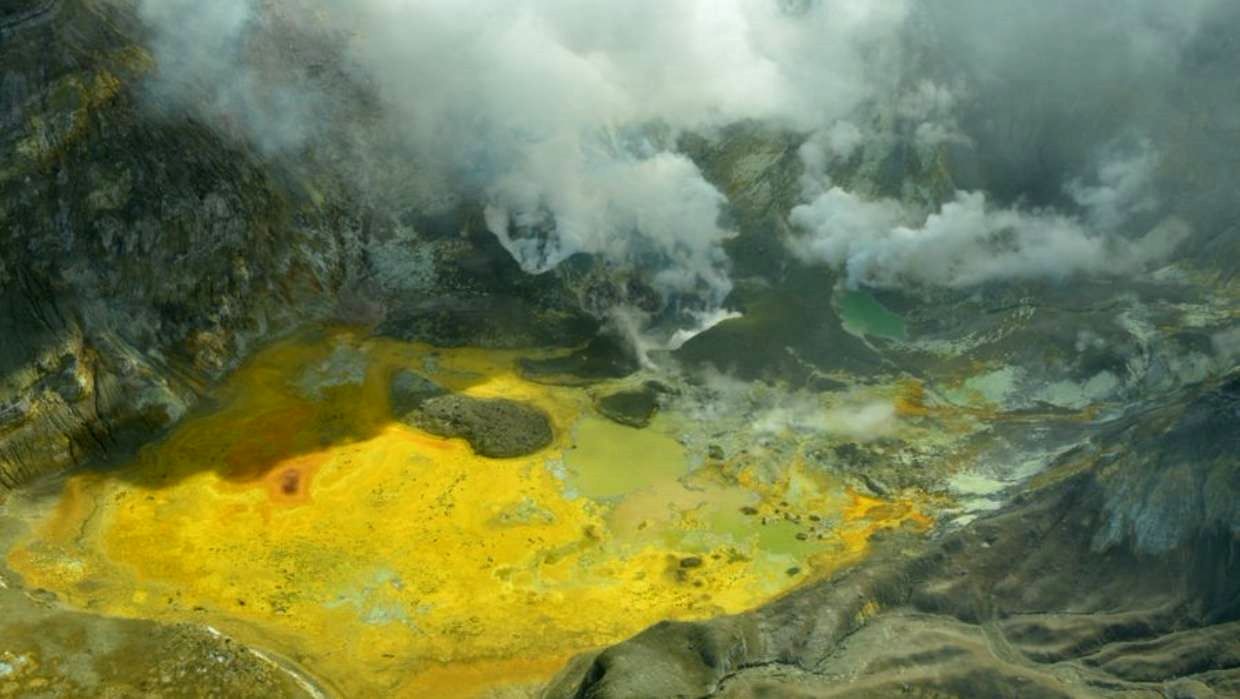 Whakaari - 13.02.2020 - area of ​​active vents seen during a flight intended to measure gases - GNS photo
The Volcano / GeoNet Monitoring Team met on Monday February 17 and assessed the probability of an eruption, based on recent data and observations. The team considers that a rash is very unlikely (1%) over a 24-hour period. We will reassess next month, or sooner if necessary.
Although very unlikely, the area of ​​active vents remains potentially unstable and an eruption could occur with limited precursor activity. Plausible eruption styles include the collapse of unstable materials around the vents, or a significant decrease in gas emissions to allow rapid entry of water to the shallow magma body, causing a brutal explosive event.
The volcanic alert remains at level 2 and the aviation code in Yellow.
Source: GeoNet & GNS science
The activity that resumed on Nishinoshima, in the Ogasawara Islands, since December 20, 2019, continues actively with thermal anomalies noted by Mirova and SAR images testifying to flows which enlarge its surface.
Sources: Mirova and video of the Japanese Coast Guard
Nishinoshima February 17, 2020 - The Japanese Coast Guard photo video of Nishinoshima has been converted to photo video so you can view it in high resolution @ 4K. If you watch on a high resolution monitor, you can clearly see the lava flow when you watch it in 4K, in Full HD image quality on YouTube. Image source: Created by R1