Publié le par Bernard Duyck
An explosion occurred at the Mitake crater in Suwanosejima on February 28 at 1:30 a.m., accompanied by a white plume 700 meters above the crater, drifting west.
The status of volcanic activity remains unchanged (since December 1, 2007), at level 2 / do not approach the crater.
Source: JMA
INETER recorded small explosions on February 26 at Momotombo; the activity started at 13:55 with an increase in gaseous emissions, then small gas explosions at 14:45 and 15:30, the last accompanied by an earthquake of M1.4.
The last eruptions date from December 2015 and January 2016.
Source: INETER via tn8. TV
The PVMBG reports morphological changes to the dome of Merapi, on Java, following the activity in February.
The volume of the lava dome at the top of the Merapi volcano decreased after the February 13 eruption which generated an ash plume which reached about 2,000 m above sea level. The materials were ejected at 1,000 m and caused ash falls within a 10 km radius.The volume of the dome the day before the event was estimated at 407,000 cubic meters, then on February 19, estimated at 291,000 cubic meters.
Visual observations were disturbed by weather conditions between February 17 and 23; however, on February 18, an ash plume was observed 100 meters above the summit.
A 3 km exclusion zone around the active crater remains in effect.
Source: PVMBG / Global Volcanism Program weekly report 27.02.2020
Moderate eruptive activity continues at Ebeko (active since October 2016 - GVP / link), in the northern Kurils. An explosion, observed from Severo-Kurilsk, was accompanied by an ash plume at 1,700 meters asl, before drifting southeast from the volcano.
Activity continues and ash explosions are likely to occur at any time.
The aviation code remains orange.
Sources: KVERT and VAAC Tokyo
At Piton de La Fournaise, in "Vigilance" alert level (upper part of the enclosure accessible and limited to three marked trails), the latest OVPF bulletin provides:
- a total of 73 landslides
- and the recording of inflation in the summit zone and far field, respective witnesses of the pressurization of a surface and deep source.
Source: OVPF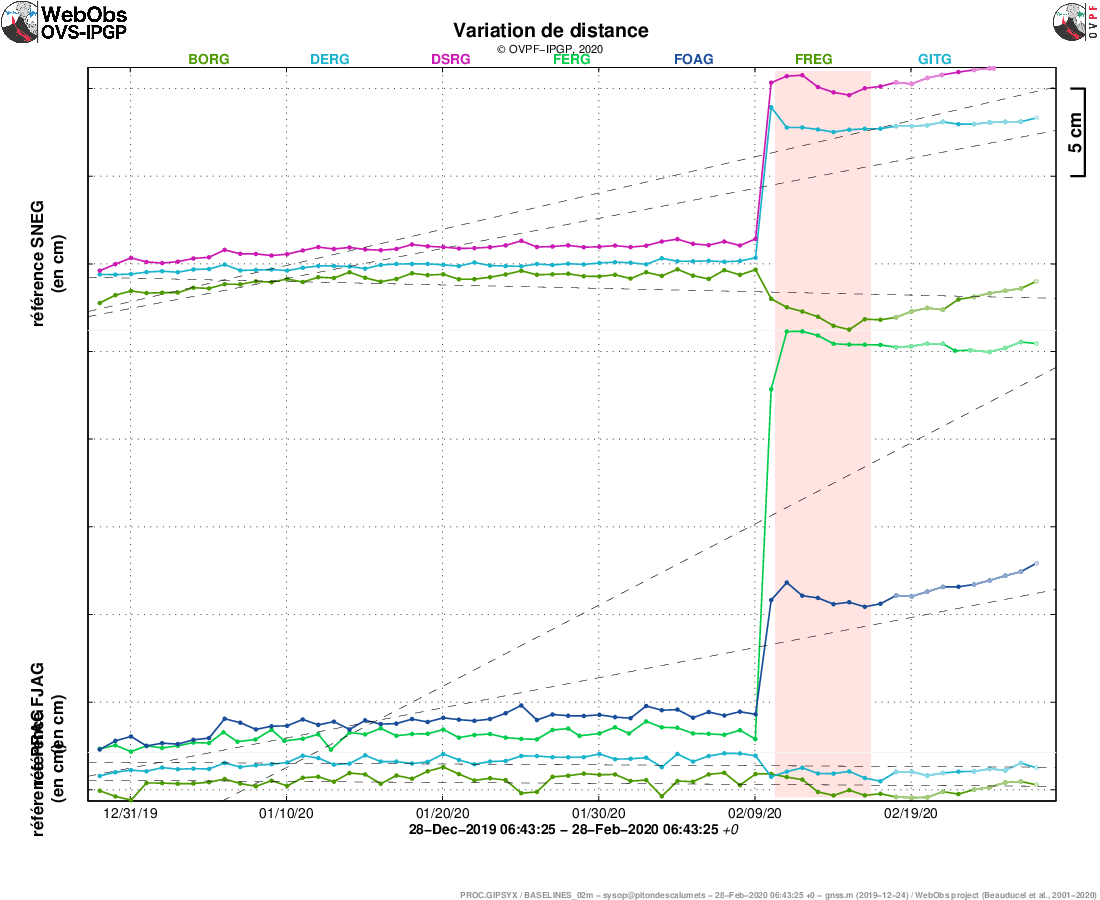 Piton de La Fournaise - Illustration of the deformation over 2 months (28.12.2019 / 28.02.2020). Here are represented baselines (variation of distance between two GPS receivers) crossing the building of Piton de la Fournaise, at the top (top), at the base of the terminal cone (in the middle) and in the far field (bottom ) (see location on associated maps). An increase is synonymous with elongation and therefore swelling of the volcano; conversely, a decrease is synonymous with contraction and therefore deflation of the volcano. Any periods colored in light pink correspond to eruptions. - Doc. OVPF