Publié le par Bernard Duyck
The latest observations and daily analysis of seismic data from the Yasur volcano monitoring system confirm that explosive volcanic activity continues in Yasur, on the island of Tanna in Vanuatu.
The activity consists of explosions in progress and eruptive vents can emit volcanic gases and / or clouds of ash. Some explosions have intensified and projectiles or volcanic bombs may fall in and / or around the edge of the crater. These are linked to its ongoing explosive activity and the presence of weak layers of volcanic ash at the summit crater (for example landslide observed in October 2019). The smell of gas continues as you approach the caldera and the summit crater.
The warning bulletin indicates that the ballistic impacts of volcanic bombs and pyroclastic flows could affect an area approximately 395 m away from the eruptive vents.
The volcanic alert level Yasur (VAL) has been at level 2 since October 18, 2016. Current observations are consistent with the activity of the volcanic alert level 2. Level 2 indicates "a major level of agitation; The danger zone remains 395 m around the vents. "
Source: Vanuatu Meteorology and Geohazards Department update of volcanic activity February 28, 2020
Yasur - glow respectively on 28.02.2020 / 7.30 p.m. and 29.02.2020 / 6.45 p.m. local - VMGD webcam - one click to enlarge
Thanks to the monitoring systems of the Popocatépetl volcano, 278 exhalations and 216 minutes of earthquakes were identified, some of these events were accompanied by gas emissions and slight amounts of ash.
In addition, two minor explosions were recorded at 6:56 a.m. and 8:29 a.m. Two volcanotectonic earthquakes were also recorded today at 05:48 and 07:12 h with an estimated magnitude of 1.2 and 1.7.
During this morning and until 17:00 GMT, there have been emissions of volcanic gases and slight amounts of ash which are scattered east-southeast, with a maximum height of 1100 m.
Volcanic alert level remains at Amarillo Fase 2
Source: Cenapred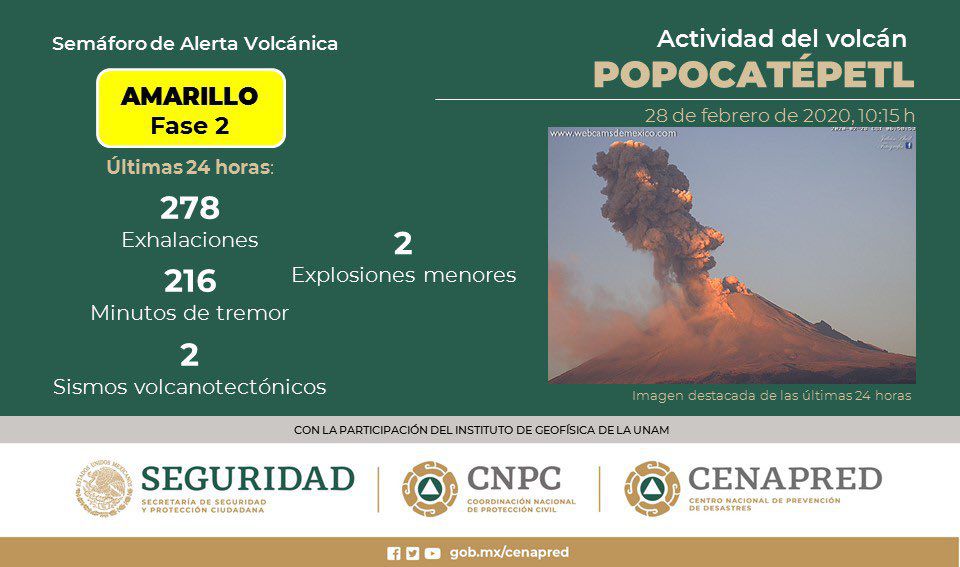 In Papua New Guinea, a strong thermal anomaly was reported at the Ulawun volcano on February 29 by Mirova.
The last eruptive manifestation of this volcano dates back to October 2019; the RVO reports emissions of white vapor between January 17 and 31, 2020 at the level of the main crater and some emissions of vapor on the crack of the OSO flank.
Sources: Mirova and Global volcanism Program
In the Reykjanes peninsula, seismic activity continues.
Activity in Grindavík has been reduced significantly, with around 100 earthquakes located, more than half less than last week. They were all smaller than M2.0.
The earthquake in Reykjanestá continued and was the most active, with around 450 earthquakes detected this week and there was also the largest earthquake of the week, M3.1 on 22 February.
Six small earthquakes were detected in Fagradalsfjall, two in Kleifarvatn and also in Krýsuvík.
Four earthquakes were detected on Reykjanes Ridge, the largest M2.9 on February 21.
Source: IMO