Publié le par Bernard Duyck
Many Reunion Islanders went to the lava road at dusk to see the lava flows from the eruption in progress at Piton de La Fournaise.
The vision was short-lived, the fog having invaded the Great Slopes for hours, then the rain added.
The duration of the eruption remains a mystery ... the volcano decides!
More news as soon as possible.
Sources: see yesterday's two articles on this blog.
OVPF & local media.
Find all the information relating to the activity of Piton de la Fournaise on the various media of the OVPF-IPGP:
- the website (http://www.ipgp.fr/fr/ovpf/actualites-ovpf),
- the Twitter account (https://twitter.com/obsfournaise?lang=fr),
- and the facebook account (https://www.facebook.com/ObsVolcanoPitonFournaise/)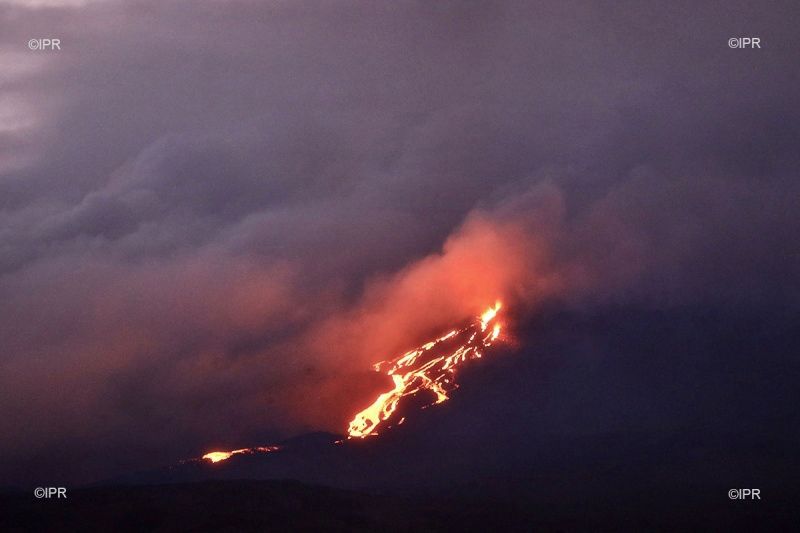 Piton de La Fournaise - Lava flow and fountaining in the early evening on 10.02.2020 - Photo rb / www.ipreunion.com)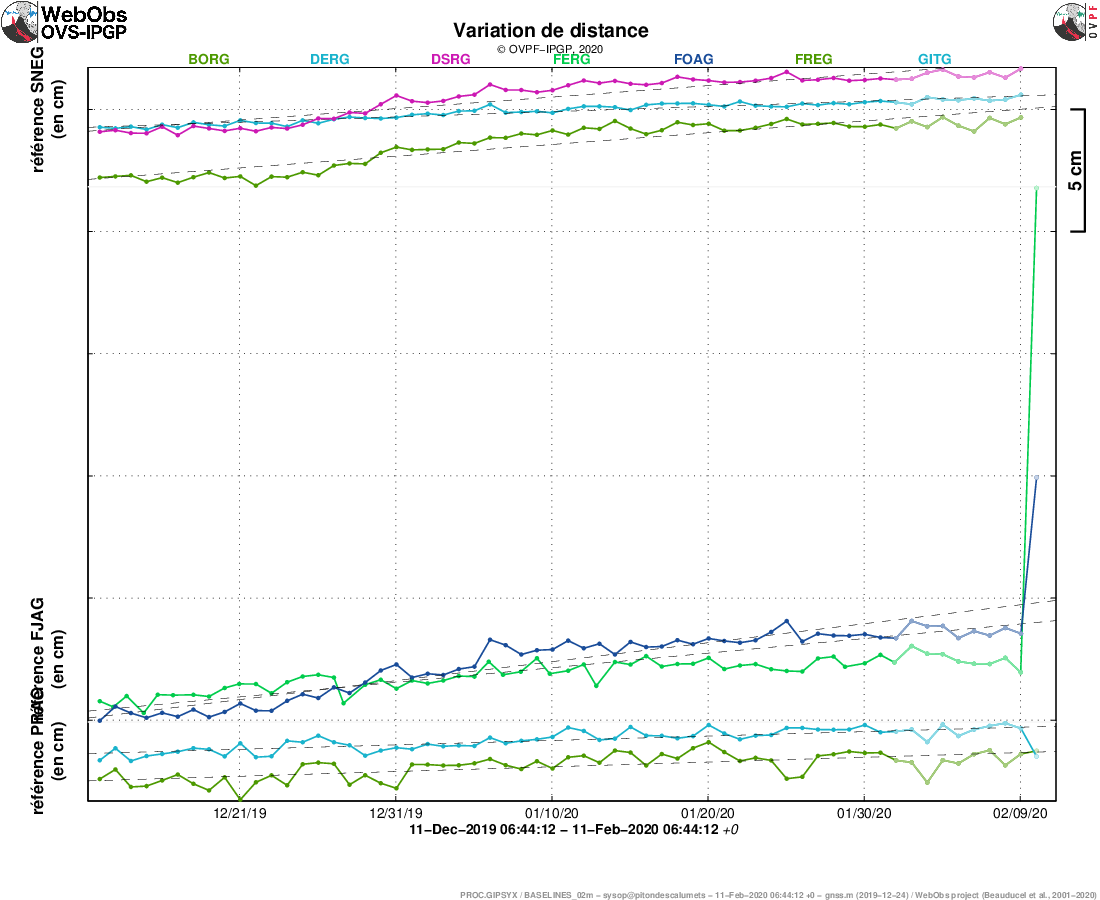 Piton de La Fournaise - Illustration of the deformation between December 11, 2019 and February 11, 2020 at 6:44 am. Here are represented baselines (variation of distance between two GPS receivers) crossing the building of Piton de la Fournaise, at the top (top), at the base of the terminal cone (in the middle) and in the far field (bottom ). An increase is synonymous with elongation and therefore swelling of the volcano; conversely, a decrease is synonymous with contraction and therefore deflation of the volcano. - Doc. OVPF
At Anak Krakatau, an eruptive episode occurred on February 10 at 6:37 p.m. local, accompanied by a plume of black ash at about 1,157 meters asl. ; the eruption lasted 94 seconds.
Magma Indonesia informs for this February 10 a seismicity characterized by 8 earthquakes of eruption (amplitude of 27 to 40 mm and duration of 58 to 127 seconds), 5 earthquakes of breath, a tectonic earthquake, and of the continuous tremor of amplitude dominant at 2 mm.
Sources: PVMBG, BPPTKG and Magma Indonesia
On Bali, the top lava cake of Agung is hemmed with white fumaroles visible on the webcam images.
Magma Indonesia reports, for February 10, a blast earthquake with an amplitude of 1.5 mm, for 35 sec. And a local tectonic earthquake with an amplitude of 3 mm.
Sources: PVMBG & Magma Indonesia
The BPPTKG mentions for February 9 at Merapi, on Java, 4 avalanche earthquakes, 19 hybrid earthquakes, 7 low frequency earthquakes, 5 volcanic earthquakes and 4 tectonic earthquakes.
For February 8, 2 avalanche earthquakes, 41 hybrid earthquakes, 18 low frequency earthquakes, 3 blast earthquakes and 2 tectonic earthquakes were recorded.
Source: BPPTKG