Publié le par Bernard Duyck
If I tell you about the Michoacán-Guanajuato volcanic field, that doesn't mean much to you ... but if I say that it shelters the Parícutin, you can see better.
This extensive volcanic field in central Mexico, 250 km by 200 km, contains more than 400 vents. The predominant volcanic form is cinder cone, but small shield volcanoes, lava domes, maars and tuff rings, lava flows without cones are also present.
The two best representatives known are the Jorullo, which was built in the 18th century and the Parícutin, which formed in a grain field between 1943 and 1952.
Why come back today ... because from January 5 to February 3, 2020 (in progress), the National Seismology Service (SSN) reported a seismic sequence with 1,824 earthquakes located near Uruapan, in the State of Michoacán, and more generally in the Mexican Neovolcanic Axis.
The largest earthquakes in the sequence were magnitude 4.1, one of them occurred at 2:49 a.m. on January 23, 2020, two others on February 2 at 7:47 p.m. and 10:58 p.m. respectively.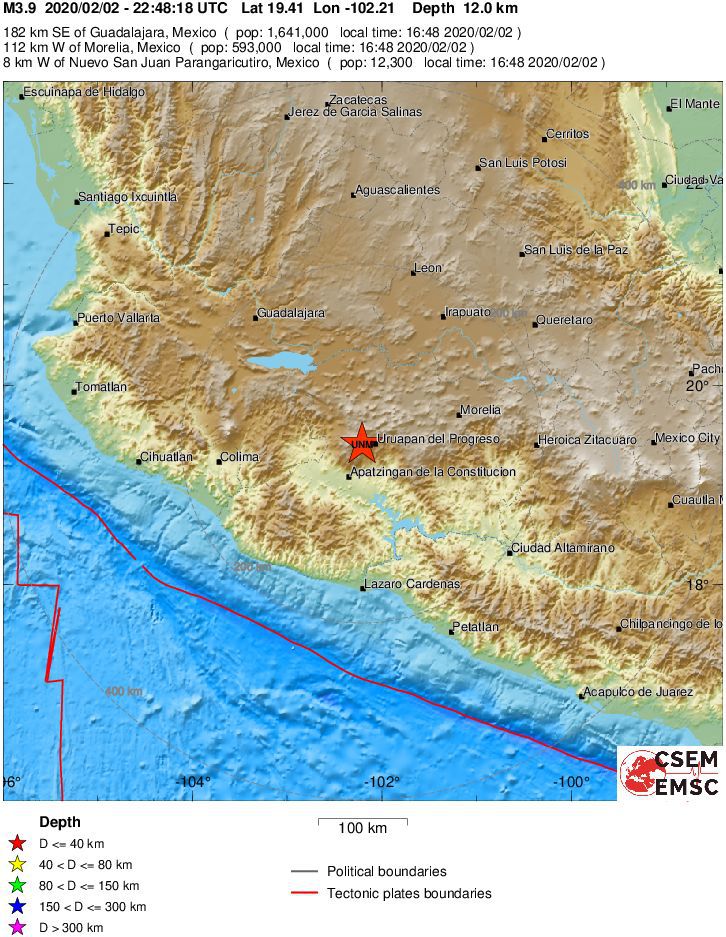 Uruapan / Michoacan - epicenter of the M3.9 earthquake / depth 12 km from 02.02.2020 / 22:48 - Doc. EMSC - EMSC
This region is characterized by intense seismic activity, related to the subduction of the Cocos plate under the North American plate. Under this part of the North American plate, the Cocos plate plunges with a very small angle almost horizontally, then after about 250 km, almost under Mexico, the diving is done abruptly.
Regional tectonics & Diving of the Cocos plate in 2 stages / © Perez-Campos et al., GRL 2008 - one click to enlarge